To ensure the role of the company secretary remains fit for the future, organisations need to provide structure, support and technology.
As the company secretarial role changes from a traditionally administrative position to that of a strategic partner to the organisation and the board, it is important that the role is properly resourced. Unfortunately, increased responsibilities have not always been matched by additional support or recognition.
But as governance guidance evolves, so does the role of the company secretary and those tasked with its implementation.
In our cross-sector report 'Is the role of the company secretary fit for the future?, we surveyed company secretaries, directors and other governance professionals. We looked at the role of the company secretary in the setting, managing and promotion of governance standards.
What used to be an administrative role is expanding. In many organisations, the company secretary is an essential conduit between the board and the organisation.
Increased responsibility
As a result of increased regulation and compliance, four out of five company secretaries feel their role has increased in responsibility and breadth. There is a greater expectation that they be involved in strategic aspects of governance and board effectiveness. Many feel they have insufficient resource or support, 38% have no team to support the role and 31% have no formal governance, financial or legal qualifications.
Download the report
Download PDF [1805 kb]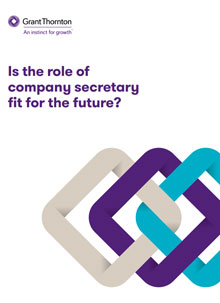 Report
Uncover our analysis of trends in compliance and disclosure