NAVIGATING BREXIT
Need practical advice on navigating Brexit?
Discover our practical steps for business leaders
Could affordable housing drive economic recovery? Paul Dossett, Head of Local Government looks at the role of the house market in promoting opportunity and prosperity.
It is no co-incidence that the two most consistent and successful phases of house building in this country have come in the aftermath of the cataclysmic events of World War I and World War II1.
The upheaval brought about by war uncovered many things about Britain, but most particularly the deep inequalities in society, brutally exposed through the lack of basic provision of education, healthcare and affordable housing. The devastation wreaked by wartime bombing between 1940 and 1944 also meant that there was a basic rebuild needed in many of our towns and cities.
The economic shock of coronavirus
The COVID-19 pandemic has already strongly shocked our economy and exposed glaring health inequalities with early data suggesting that coronavirus takes a particularly hard toll on the more deprived communities in our society.
The notion of 'key workers' and the collective recognition of the huge, and underappreciated value they add to our nation has been perhaps one of the defining themes of the past three months. The contributions of health workers, care workers, refuse collectors, delivery drivers, transport and food retail workers are now trumpeted in many quarters.
While recognising that stereotyping is not helpful, and with some obvious exceptions, it is a fact to observe that there are a number of key characteristics that our country's key workers' can often share, which include low pay and living in rented, often poor quality and overcrowded, accommodation.
What's been done for affordable housing so far?
It was evident that there was a housing crisis before coronavirus came along. Demand was outstripping supply, there were capacity issues in construction, a lack of public sector building, low affordability and many other issues. Government and the housing sector have clearly recognised this, as evidenced by the many initiatives taken forward.
Led by the work of Homes England, this has included:
the release of government land and improvements in the planning system
new schemes for first-time buyers
the increased use of modern methods of construction alongside mixed tenure development
expansion of housing association activity
innovative use of section 106 monies
the introduction of local authority housing companies to ensure affordable, state subsidised rents.
Though these actions are of value as individual initiatives, the approach does not often feel cohesive. Rather than an overarching and comprehensive strategy, the actions taken instead provide a 're-active response' to the latest version of the 'housing crisis'. By definition, these initiatives reflect the piecemeal and limited policy initiatives that tend to characterise relative periods of economic stability.
Coronavirus has shattered economic stability to a similar degree as the two world wars2. The Chancellor is borrowing huge sums to fund businesses and workers, as well as responding to the cost of addressing the pandemic. Local councils have seen their income drop significantly as the impact of the lockdown shatters local economic activity, from tourism and leisure to high street retail.
Affordable housing to support key workers and the economy
So how do we address 'the housing crisis' in the context of an existential threat to the British economy? Just as importantly, how do we ensure our key workers, our new heroes of the Thursday-night applause, are front and centre of such a response? The housing response needs to move away from the piecemeal towards a comprehensive and strategic response, with five key pillars with the key worker demographic at its heart.
These should include:
Public housebuilding
This will involve more borrowing, but we need a bold and ambitious target to build at least one million new public sector properties as social rents by 2025. This should involve a comprehensive and deep partnership between Homes England and local authorities, underpinned by a need to minimise the carbon footprint.
Private sector housing needs a rocket boost
...with significant government-supported investment in modern methods of construction and consideration of required workforce needed to meet capacity. This needs to go hand in hand with a major recruitment drive into all facets of the housing industries. This should include national training initiatives to support workers from other sectors whose employment has been affected by the pandemic.
Strategic authorities based on existing local government footprints...
...across the country to remove the inconsistent patchwork quilt of current arrangements, so that there is consistency between local, county and national strategic priorities. They should be legally tasked and funded for development of comprehensive infrastructure plans to support housing initiatives in their areas with a strong remit for improving public transport, supporting green energy initiatives and developing public realms, which create a sense of community and belonging.
Building on existing initiatives to improve security of tenure and quality of accommodation
A new partnership is needed between landlord and tenants that provides a consistent national/regional footing to ensure that housing is a shared community responsibility. This should, like the response to the pandemic, be part of a shared community narrative based on state, business and local people.
Putting key workers at the heart of the housing strategy
The country appears to have discovered the importance of key workers: the people that keep the country running and whose contribution is never usually recognised financially or in terms of social esteem.
Affordable housing is a basic need
There are several existing key worker accommodation initiatives, but they are local and inconsistent. We need a comprehensive strategy that focuses on key worker needs, including quality of accommodation, affordable mortgages and rents, proximity to workplaces and above all, a sense of priority on the housing ladder for those who keep the country running in good times and bad, and are the best of us in every sense.
Affordable housing is a basic need and, if key workers feel valued in their place in housing priorities, we will have made a giant step forward. Key workers are not the only group in need of help, of course. Utilising the momentum behind key workers that their role in COVID-19 has brought into focus could help kickstart housing initiatives that help all those in need.
To discuss affordable housing for economic recovery further, get in touch with Paul Dossett for more information on Localis' report, 'Building for renewal – kickstarting the C19 housing recovery' visit their website.
Footnotes
The Bank of England's May 2020 economic forecast indicates that COVID-19 could push the British economy into the fastest and deepest recession in 300 years.
MHCLG and Construction Products Association house building data.
Download Localis' report
Download PDF [629 kb]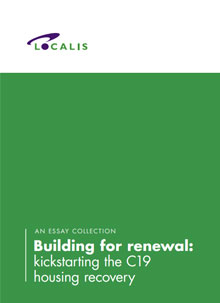 Get the latest insights, events and guidance about the public sector and local government, straight to your inbox.
Subscribe here