NAVIGATING BREXIT
Need practical advice on navigating Brexit?
Discover our practical steps for business leaders
Increasing demand, rising costs and a difficult recruitment climate all mean the primary care system is under strain. These pressures are only set to increase, creating real risks that the current system will become unsustainable.
Setting up a GP super practice is one approach for commissioners to consider to ensure long-term sustainability of primary care in their communities. While there are a number of alternative models available, such as vertical integration with hospitals, the advantages of merging with another GP practice is that they are obviously very similar organisations - with the same purpose of treating patients in their local environments.
They also tend to have similar operating models and the same regulators, income sources and cost bases. All of this makes it easier to set up a merger and make it work.
GP super practices
By coming together in larger groups, GP practices can achieve significant cost savings, secure wider benefits from more specialist services and offer a more attractive working environment for new recruits. As such, primary care will be better able to adapt to the new ways of working we expect to be heralded in the forthcoming 10-year NHS plan.
GP super practices are created through a formal merger of a number of independent GP practices into a single larger entity. The numbers of practices involved can vary and the exact working of the model can be tailored to local needs.
What are the benefits of super practices?
There are a number of potential financial, non-financial and qualitative benefits that can be achieved through GP super practices:
Economies of scale help improve profitability and sustainability, including providing potential savings in administration and locum costs (such as sharing cover or offering the potential to employ salaried doctors), medical insurance and professional services costs, such as accountancy and legal fees. A super practice will also have greater bargaining power with suppliers allowing it to secure better value for money.
Financial benefits can be secured through improved organisational design, greater operational efficiency and amalgamation of back office functions. A super practice should also provide opportunities for increased income, for example by being able to carry out more work in a primary care setting and boosting Quality Outcomes Framework income.
Improved recruitment and retention of staff can be achieved due to the better working environment, and more effective and efficient use of staff. It also provides opportunities for greater specialisation and career development of both clinical and administrative staff.
Improved quality of care can be gained from standardised operating procedures, better peer support for clinicians and improved supervision within practices.
A practice changing its clinical approach
In the West Midlands we have seen a super practice focus on changing its clinical approach to drive up the quality of care by:
sharing good practice to provide consistently high standards of care and increase income
developing and monitoring of a new quality and performance framework to improve quality
developing a visiting team of GPs and advance nurse practitioners to look after housebound patients (and to use the same system to build services for all patients with long term conditions, such as diabetes)
developing closer links with pharmacies to help patients get their medicines more efficiently
developing closer links with acute and community hospitals with the aim of becoming a multidisciplinary community provider
developing lead clinicians for conditions, such as respiratory disease
sharing learning to develop an effective telephone appointment service.
By improving the quality of care, commissioners and the wider health economy benefit. Super practices make it easier to share best practice and utilise skills cross-practice. This should lead to improved care and outcomes for patients which, in turn, should be reflected in quality outcome frameworks and better ratings from the care quality commission.
Download our new report GP super practices: a prescription for sustainability in primary care [ 576 kb ], which explores the benefits, success drivers and steps behind setting up a GP super practice, based on our work with various practices of this kind. To discuss in more depth, contact Mark Stocks.
Download the report
Download PDF [576 kb]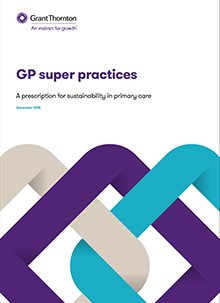 Get the latest insights, events and guidance about the public healthcare sector, straight to your inbox.