NAVIGATING BREXIT
Need practical advice on navigating Brexit?
Discover our practical steps for business leaders
Accelerated pace of digitalisation
While most of the financial services industry was able to adapt to remote working and continue its operations and service customers, the current circumstances have forced financial institutions to look at their legacy technology and re-evaluate their future strategies and technical capabilities.
Back-office and core transformation remain key priority areas for large incumbents, with cost efficiency, functionality, resilience, flexibility and regulatory compliance key considerations when investing in new technologies and partnerships.
Fintechs have transformed customer expectations, creating new and ever-improving standards for user experience. Those changing customer demands have created additional pressures on financial services providers for up-to-date and easy-to-use applications, interfaces and customer journeys. User experience and interface design is a key factor in attracting and retaining customers.
Likewise, offering a unique customer experience is growing in importance, with application programming interfaces (APIs) and the rapid acceleration in cloud adoption acting as enablers for fintechs to offer innovative products and services to meet evolving customer needs.
We are also seeing big tech and non-financial services firms enter the financial services space, with white-labelled fintech solutions likely to accelerate. Some of the data advantage possessed by incumbent banks is starting to be lost through open banking, highlighting the future potential of open finance in other areas such as investments, pensions and insurance.
Resurgence in fintech M&A
UK M&A deal volumes by acquirer type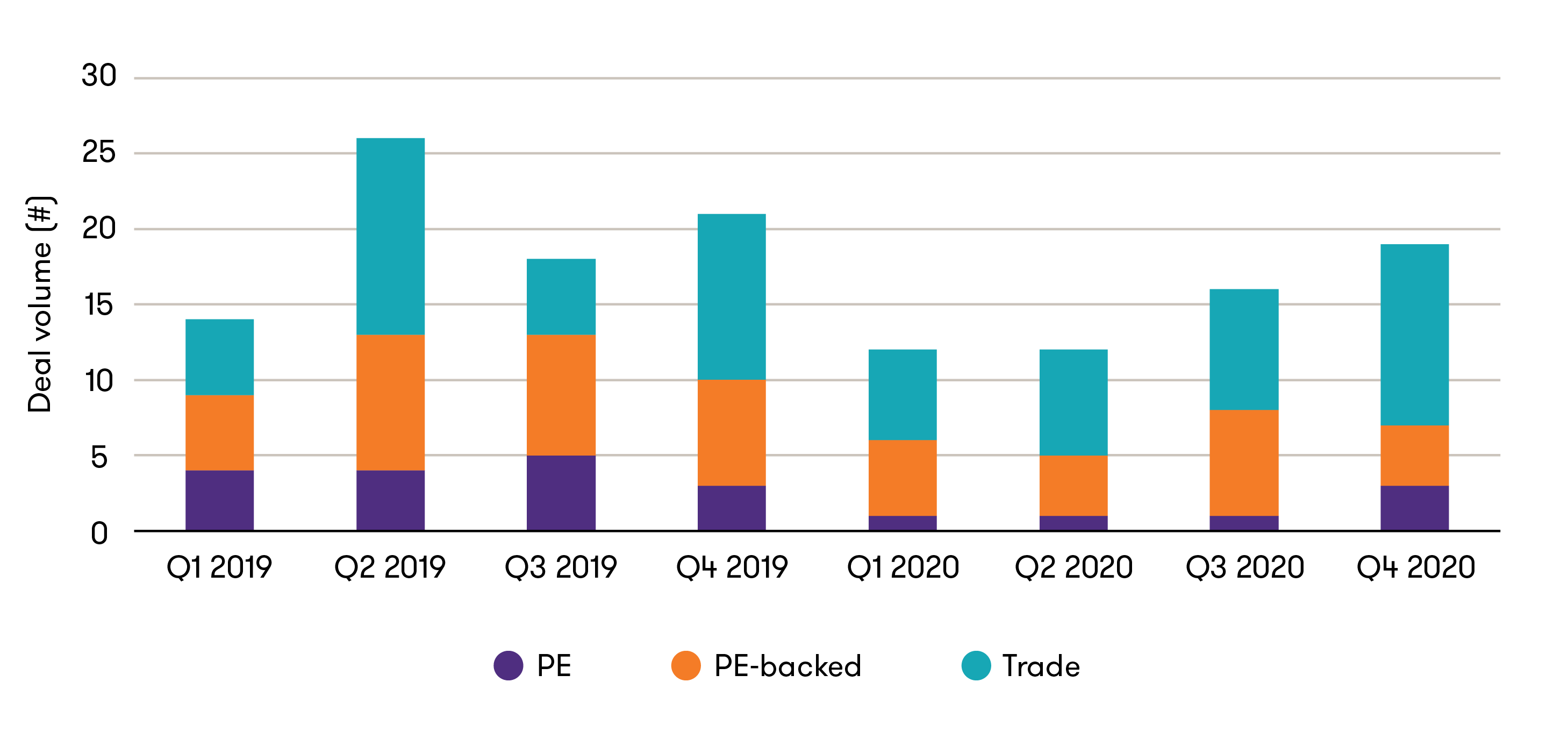 Source: Mergermarket, Megabuyte, CapitalIQ, Grant Thornton Research
Notes: # of announced deals by quarter
Unsurprisingly, overall M&A deal volumes were down year-on-year by approximately 25%. However, there was a resurgence in deals in H2 2020, down by only approximately 10% compared to H2 2019, which has continued into 2021.
This was driven by pent-up demand and increasing confidence that transactions could be undertaken in a predominantly virtual environment, as well as an acceleration in the pace of digital adoption across financial services.
Interestingly, the majority of deals made were by trade and financial institutions, which accounted for 56% of the total in 2020, compared to 43% in 2019, highlighting both the capital available and increasing need for incumbents to rapidly enhance their technical capabilities and provide the digital tools and user experience that is demanded of them.
Interest from private equity (PE) in fintech is also expected to remain robust in 2021, with capital available to deploy into strongly performing assets. This is supported by continued growth in demand for digital tools across the sector, robust business models and growth opportunities in the UK and abroad.
Demand for digital
Fintech valuations have actually increased compared to pre-COVID-19 levels, driven by the uptick in digitalisation and increasing demand for digital tools across the financial services sector and supported by the surge in investment and M&A activity in H2 2020 and into 2021.
Quoted comparables by peer group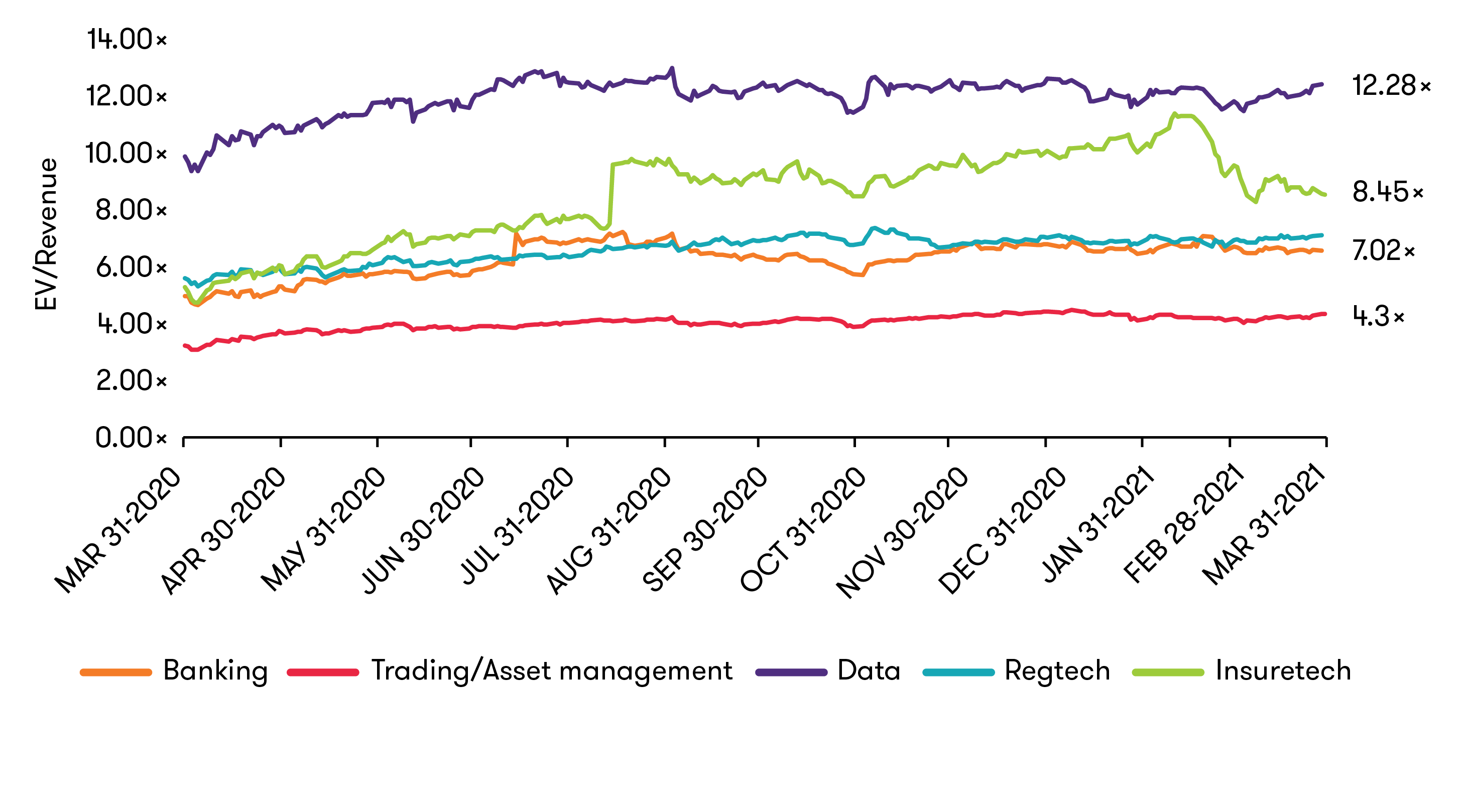 Source: CapitalIQ, Grant Thornton Research
M&A deal multiple by target subsector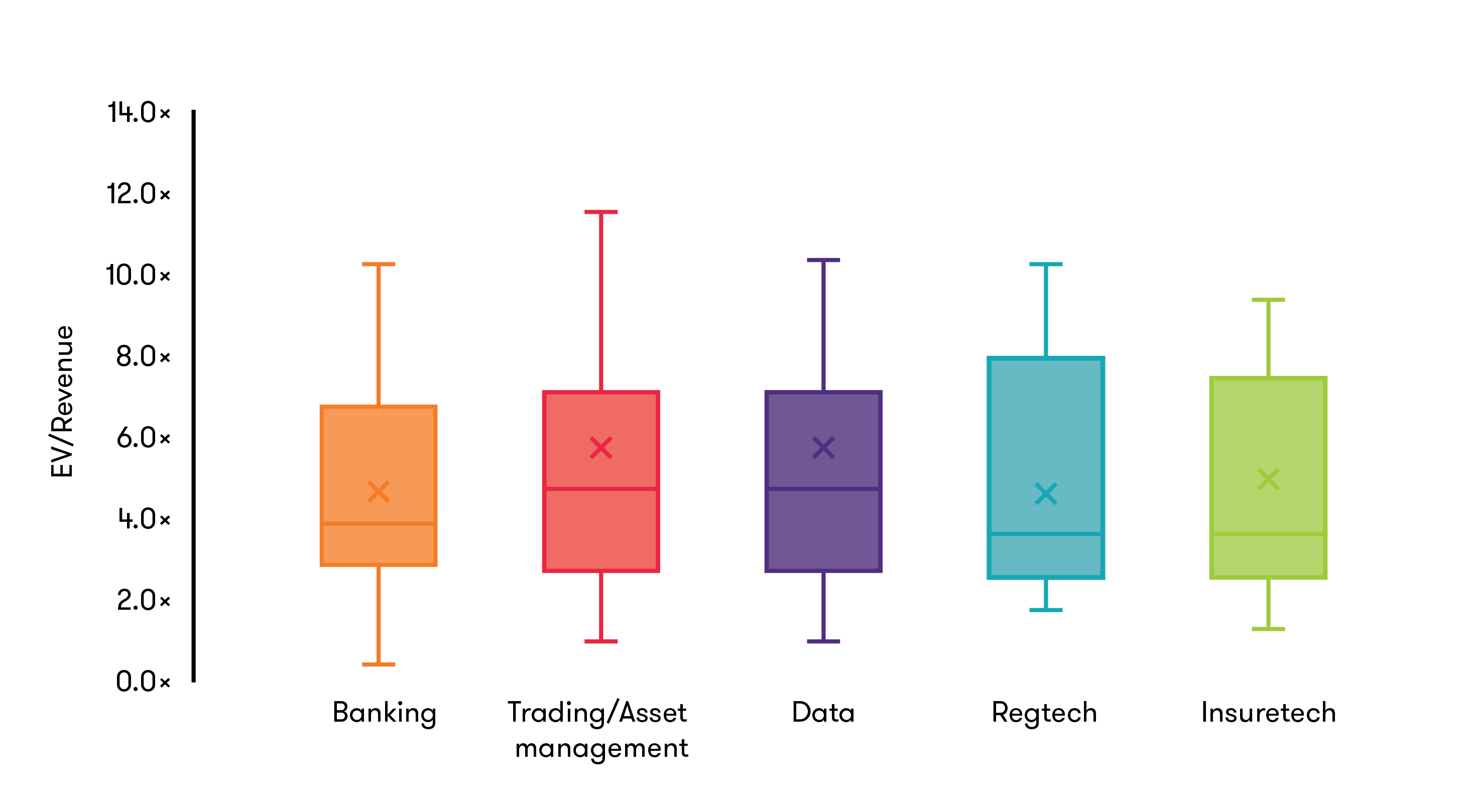 Source: Mergermarket, Megabuyte, CapitalIQ, Grant Thornton Research
Notes: analysis of recent global deals in each subsector
Continued growth through M&A
According to recent investment figures published by Innovate Finance, the industry body representing UK fintech, the sector has retained its role as the top-ranking investment destination in Europe.
USD 4.1 billion of capital and growth PE was invested across a total of 408 deals in 2020, reinforcing the UK's position as a global and European leader. Although this represents a 9% drop year-on-year, UK fintech investment saw a 76% increase in H2 2020 compared to H2 2019, an upward trend that has continued into 2021.
In 2021, we will likely see continued acceleration in levels of partnerships, investment and M&A. Fintechs are increasingly attractive to incumbent financial services institutions seeking to team with more emerging technology companies to access readily available solutions, as well as greater scale, efficiencies and breadth of the product and service offerings.
Recent examples include Royal London's acquisition of Wealth Wizards, a digital platform for advisors, as well as Aion Bank's acquisition of ETFmatic, a London-based 'roboadvisor'.
M&A is driving scale for fintech
For fintechs, consolidation and partnerships can drive scale via distribution and extend customer networks, access to new markets and deliver international growth. They can also offer access to valuable data, industry and regulatory knowledge, while also providing capital from incumbents often lacking the highly desirable digital solutions.
For example, Lloyds Banking Group has attempted to accelerate the bank's digital transformation through its partnership and £11-million investment in UK-based fintech Thought Machine, a cloud-native, next-generation banking platform.
Fintech players are also looking to defensively or strategically grow market share, product offering or geographical reach through acquisition. We have seen several divestments of non-core fintech assets from larger incumbents, including Hargreaves Lansdown's sale of UK-based FundsLibrary to US-headquartered Broadridge, and Euronext selling its asset and fund management platform Centevo to Profile Software.
Fintech regulation
The regulatory environment in financial services continues to develop a sharper focus. As consolidation opportunities present themselves, we are likely to see competition authorities playing closer attention.
The recent Competition and Markets Authority (CMA) ruling blocking the proposed merger between the UK's two largest equity crowd-funding platforms, Crowdcube and Seedrs, is a case in point.
With the challenges faced by the fintech sector in 2020 and the ongoing potential uncertainty of the shape of the Brexit deal for the financial services industry, the role of government in supporting UK fintech will be important in maintaining the UK's position as the top investment destination in Europe.
The Kalifa review of UK fintech, which was published on 26 February 2021, sheds some light on the government's priorities with regards to fintech and highlights a number of recommendations for strengthening the UK fintech market.
Regtech driving investment
Given the growing size and importance, as well as potential risks, the fintech sector is likely to attract more attention from regulators in 2021 and beyond, while also playing a greater role in helping incumbents manage regulatory pressures.
As we explained in our Regulatory Handbook:
"As the various regulators continue to provide additional focus on data collection, regulatory reporting, preventing financial crime prevention, data protection, advances in tax data collection and reporting; regulated firms need to develop an effective regtech strategy to respond to the challenges and indeed opportunities this creates".
There are significant opportunities for regtechs to provide the necessary reporting tools to enable larger incumbents to remain compliant in the ever-evolving regulatory landscape, with further complexities and regulatory uncertainty likely to emerge as a result of Brexit.
The growth and importance of the role of regtech in financial services has not gone unnoticed, attracting investment not only from incumbents, but also the broader investment community.
Recent examples include the investment by Tenzing Private Equity into VIPR, a software company that provides data, reporting and compliance solutions to the Lloyds of London insurance market. More recently SEP backed AutoRek, a provider of financial controls and regulatory reporting software.
The evolution of the fintech industry
The broad definition of the fintech landscape is continuously evolving, but it is undoubtedly transforming how financial services are being consumed. It's moved from the edge to the mainstream, and the structural changes accelerated by recent events are here to stay.
Regulatory tailwinds will be both drive and necessitate further change and there's a huge opportunity in helping the broader financial services sector reposition and accelerate the pace of digitalisation, providing customers with enhanced user experiences, products and services.
We anticipate a step up in the pace of M&A, as business models increasingly overlap and the benefits of the scale economics, which are so evident in financial services, drive further deals.
To discover more about how we're supporting M&A in fintech and other sectors, read our Leading The Way credentials report. For more information, contact Adam Furrer or Andy Morgan.