NAVIGATING BREXIT
Need practical advice on navigating Brexit?
Discover our practical steps for business leaders
Every local authority shares a common aim – to secure the best possible outcomes for local communities and a healthy and productive local economy.
But local government has been significantly affected by a decade of austerity. The sector is facing unprecedented demand and financial pressures, and the risk of financial failure has never been more acute. Ensuring their financial sustainability is now the number one issue facing councils. And the extreme lack of certainty beyond the current financial year means that strategic financial planning is taking place in an unprecedented and challenging environment.
The ongoing Brexit negotiations continually amplify that the relationship between central government and local places is broken and needs to change. The ongoing disconnect between local needs and central funding is reinforced with every national fiscal event and Brexit has only exacerbated this, with no sign of it being easily resolved. To the best of its ability, local government will need to fix itself. This can only be done if the sector is able to both accurately identify its medium-term financial challenges and find effective, sustainable ways to address them.
Financial forecasting for strategic planning
Each place has its own unique challenges that require tailor-made solutions. The increasing pressure from demand-led services will vary depending on levels of deprivation, rurality and local demographics. The opportunities to generate income locally also differ and will depend on both the national and local economy, and the individual risk appetite of council officers and members.
To move forward effectively, local authority leaders need to have an in-depth understanding of their own place, their medium-term financial sustainability and the financial impact specific changes, such as increasing council tax, would have. But forecasting has long been a challenge for the sector, becoming especially difficult given the continued rise in demand led services and their increasing disproportionate impact on the budget.
Our Financial Foresight model with the Chartered Institute of Public Finance and Accountancy (CIPFA) is designed to empower councils to prepare effectively for the future. It brings together future spend forecasts with future income streams and combines this with placed based data to reflect the impact of local demographic and economic changes. Foresight helps to provide a window to the future by measuring the impact key decisions would have on reserve levels, and map an alternative financial path by assessing the financial impact of increasing council tax or reducing spend on specified services.
There is no point in taking commercial risk if its impact is marginal. There is no point cutting services too far and storing up costs in the medium term, if it will not solve your immediate challenges. The answer most likely will be a combination of measures, but it is currently incredibly difficult for councils to model different scenarios effectively.
Foresight provides an opportunity for councils to equip themselves to respond to the greatest challenges the sector has faced in its history. Only strong leadership, meaningful medium term financial planning and collaborative working will keep local government sustainable.
Download our report to uncover current insights on local government financial sustainability [ 2193 kb ]. To find out more about foresight, contact Phillip Woolley.
Download our report on financial sustainability in local government
Download PDF [2193 kb]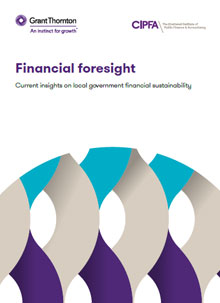 Get the latest insights, events and guidance about the public sector and local government, straight to your inbox.
Subscribe here