NAVIGATING BREXIT
Need practical advice on navigating Brexit?
Discover our practical steps for business leaders
As the new Prime Minister takes office and focuses on the UK's departure from the EU, Theresa May's aim of promoting business ties with Africa will return to the agenda. Britain's search for new post-Brexit trading arrangements comes as African countries are seeking to realise long-held ambitions and move up the value chain.
Africa's gross domestic product (GDP) growth has tripled since 2000 at an annual rate of 4.6%, according to data from the International Monetary Fund, with total GDP set to reach USD3.2 trillion in the next five years. The continent has a booming startup sector - startups raised 50% more venture capital in 2017 than in 2016 - and is experiencing rapid growth in its technology sector. This was highlighted by Jumai's recent NYSE listing in April 2019.
There are also clear opportunities for African countries to develop their manufacturing sectors. For example, Ghana and the Ivory Coast produce around 52%(1) of the world's raw cocoa but, while chocolate is a USD100 billion industry, a significant proportion of the profits are made by other countries where the chocolate is processed and sold. Less than USD5 billion of profits are attributable to the whole of Africa (2).
Not to mention that, with the world's fastest-growing population, companies active in Africa will have access to a large slice of the world's consumers by 2050. This is based on a predicted increase in population from 1.2 billion in 2018 to 1.7 billion in 2030 and 2.5 billion in 2050, when one in four people will be African (3).
Despite its growth and potential opportunities to move into more value-added manufacturing, the current reality is that African economies remain heavily dependent on natural resources and, to a lesser extent, agricultural produce.
The race to invest in Africa
Part of the process of developing Africa's economy is dependent on attracting significant investments in infrastructure and the commercial sectors. This opportunity to spur industrialisation in Africa is being grasped by major non-African economies.
The leading examples are China and the US. China has shown willingness to deploy large amounts of capital to secure African resources, recently announcing around USD60 billion investment with more to come (4). Spurred on by China, the US is also doubling its own scheme to USD60 billion (5), acknowledging the need to do more to support its companies commercially across the continent, albeit details of how this will be deployed remain vague.
Beyond these two superpowers, African economies are also diversifying their trading relationships with other emerging market partners, from the Indian subcontinent to Latin American and the Caribbean states.
However, a great deal of current investment is being made with a view to opening up African markets to foreign goods, rather than building up domestic manufacturing.
While the UK can't compete with the level of investment on offer from China and the US, it can gain a competitive edge by partnering with African companies to strengthen their own offering.
The UK as a mutually beneficial trade partner for Africa
The UK is strategically placed to work with African economies to develop manufacturing capabilities and move up the value chain. Countries such as South Africa, Nigeria, Uganda and other Commonwealth members already have strong historical ties and links to diasporas in the UK, as well as similar legal systems, based on UK common law.
With Brexit creating uncertainty for future UK trade with the EU, businesses and the UK government are looking at opportunities for growth in other international markets. In August last year, Theresa May led a business delegation on a visit to South Africa, Nigeria and Kenya to promote economic ties with Africa. During this trip, she confirmed an agreement with the Southern African Customs Union and Mozambique, which will roll over the terms of their trade deal with the EU to apply to the UK after Brexit. Theresa May also announced deals worth more than £300 million with a variety of sectors, creating close to 3,000 jobs across Africa (6).
It is exactly this type of localised job creation that will help African countries fulfil their potential as manufacturers and exporters. The scope for growth in exports from Africa is enormous, as the Graph 1 below demonstrates.
Graph 1 : Evolution of the value UK imports from the top 10 African countries, 2010-16,£m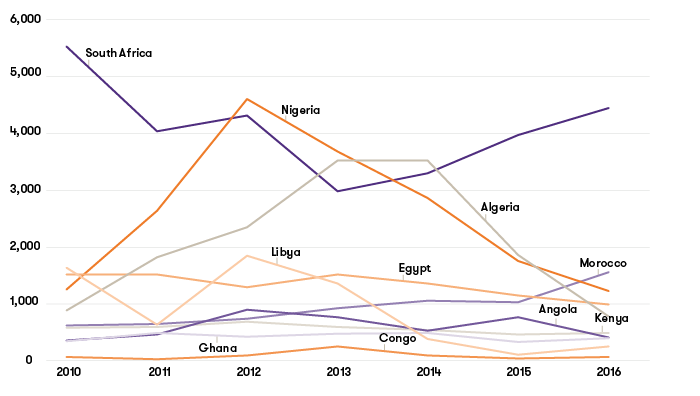 Source: Office for National Statistics database
While goods and services from the continent currently account for just 2% of all UK imports, our research shows that African countries are well-placed to export products from across a range of sectors currently serviced by Europe. These include animal and vegetable oils and fats, clothing and textiles, beverages and tobacco, food and higher value agricultural products, chemicals and cars.
Fuel, precious stones and fresh fruit are the top three products currently exported to the UK. Some African countries are already exporting clothing and textiles (Egypt, Morocco, Uganda); cars (South Africa); electrical machinery (South Africa), tobacco (Nigeria), ships and boats (Nigeria), and other manufactured goods in lower quantities, but these can be scaled up to meet UK demand.
The opportunity in these sectors (see Graph 2) will only grow as Asian economies become more developed and manufacturers face the same rising costs that encouraged them to relocate to Asia a few decades ago. African exports are also likely to continue to benefit from weaker currencies, making their goods cheaper than their competitors.
Graph 2: UK breakdown of goods imports from the rest of the world, 2017, £m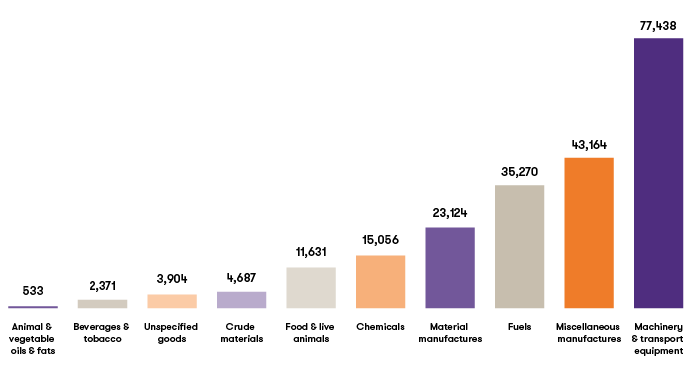 Source: Office for National Statistics database
Of course the potential lies in tapping into both strong existing and up-and-coming markets, such as finance and technology, industry and manufacturing, and energy and environment. These are sectors for which Theresa May has already agreed deals, with further support promised in the form of a UK target to be the largest G7 investor in Africa by 2022.
Addressing the barriers to trade
From our experience working with African and UK businesses, we know there is a strong base of mid-market UK companies poised to take advantage of this developing opportunity as Brexit unfolds. Those firms are keen to expand their overseas connections but have often struggled to find credible local partners, identify investable opportunities or secure funding.
Part of the challenge is that, regardless of the availability of opportunities, there are barriers to doing business in most African countries. Security concerns and political instability remain an issue in some areas and customer perception of African manufactured exports is not as high as it should be. Not to mention infrastructure constraints, the high cost of doing business in Africa and limited options for financing.
African countries should prioritise addressing these challenges in order to expand their export markets, improve their balance of payments position, create higher skilled jobs and remain an attractive investment destination for global investors.
Business partnerships will also open doors for UK companies to reach a wider African consumer base. UK Export Finance has increased its ability to support exports to a further eight markets across Africa and made an extra £5.5 billion available to UK exporters and their African buyers to finance export deals, in a move to grow British exports to Africa, which exceeded £17 billion in 2017(7).
So, despite the challenges, Brexit presents an opportunity for UK firms to reappraise the role that African companies might play in their future growth, and in turn a route for African countries to turbocharge the development of higher-value manufacturing. And for the next British Prime Minister, Africa is a great opportunity to grow trade as we navigate Brexit.
For more information on both the opportunities available and advice on navigating the barriers to investment in Africa contact Amaechi Nsofor
References
(1) Food and Agricultural Organisation of the United Nations database
(2) President of Ghana's speech at the Financial Times Africa Summit in London, October 2018
(3) United Nations Department of Economic and Social Affairs
(4) China raises fears of 'new colonialism' with $60 billion investment across Africa,The Telegraph, September 2018
(5) US to set up $60bn agency to counter China in developing world, FT, September 2018
(6) PM announces more than £300 million worth of deal with African nations, Press release UK government, August 2018
(7) PM announces more than £300 million worth of deal with African nations,Press release UK government, August 2018