NAVIGATING BREXIT
Need practical advice on navigating Brexit?
Discover our practical steps for business leaders
A total of 48 deals were announced in Q4 involving a UK/Irish acquirer and/or target; a very similar volume to Q3's 47 deals 1. Across 2017, there were a total of 206 deals, compared to 202 in 2016 (Figure 1). The sale of Unilever's spreads business added £6 billion to a total disclosed deal value of £7.7 billion for Q4 2. Without this deal, the total disclosed deal value stands at £1.7 billion. This compares to £1.2 billion in Q3, having also excluded the mega-deals that took place in that period.
There were several sizeable deals in Q3 and Q4 which contributed to a total disclosed deal value of £21.4 billion for the year, significantly higher than £8.4 billion in 2016 and £10.8 billion in 2015 (excluding the £71 billion SABMiller deal). 2017 was a year of increased deal sizes on the whole, bolstered by those such as Tesco's purchase of Booker and Reckitt Benckiser's sale of its food business to McCormick. Excluding deals over £1 billion, the total value for 2017 comes to £6.2 billion, another increase on 2016's £4.3 billion.
2017 ended with the long-awaited sale of Unilever's global spreads business to US private equity house Kohlberg Kravis Roberts (KKR) for £6 billion. The brands divested include Flora, I Can't Believe It's Not Butter and ProActiv. Following Unilever's rejection of a takeover proposal from US food giant Kraft Heinz, this was its first major action resulting from the company's strategic review of its portfolio.
The last few weeks of December saw a number of other deals announced. Raisio announced the sale of its confectionery business (including brands such as Fox's Glacier Mints and Poppets) to Valeo Foods Group for £89 million. Also in the confectionery sector, Polish group Colian added Irish chocolate manufacturer Lily O'Brien's to its portfolio, following its acquisition of Elizabeth Shaw in 2016.
A review of annual M&A statistics demonstrates the sharp rise in total deal value this year.
Figure 1 - Announced M&A activity in food and beverage - annually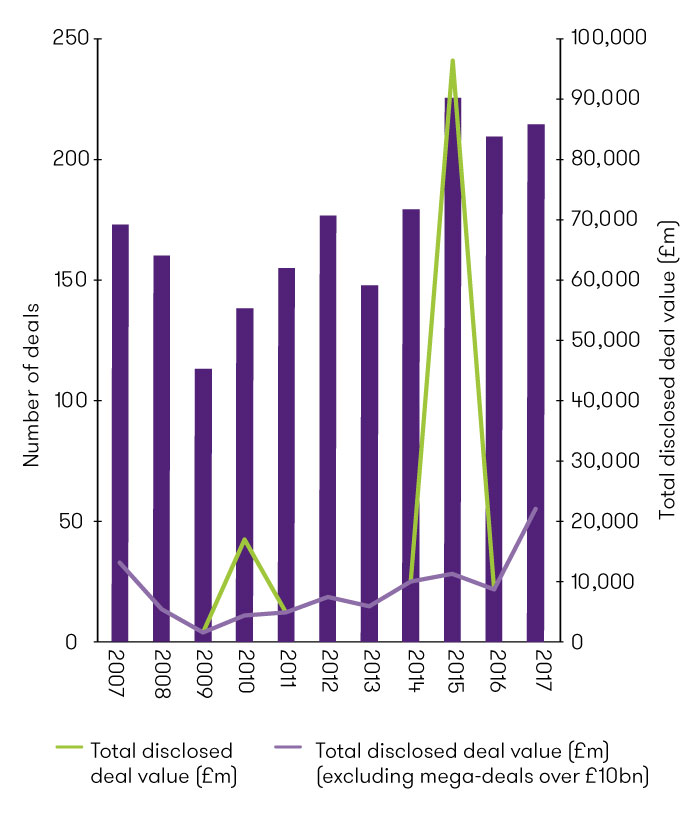 Tables 1, 2 and 3 show a summary of deals within Q4 2017


Cross border interest
In 2017 we saw an ongoing, high level of cross border deal activity. A number of European and US firms showed interest in acquiring UK brands, while UK private equity firms shored up their portfolios overseas.
Of the 163 deals in 2017 involving UK/Irish targets, 33.7% had overseas acquirers. This is an increase on the 32% in 2016 and 28% in 2015. Notable deals include the sale of Bart Ingredients to Fuchs Group of Germany, as well as ready meals producer KK Fine Foods being bought by Ter Beke of Belgium.
The uncertainty triggered by the Brexit vote worked as a catalyst to drive up the appetite of overseas buyers. For European investors, guarding or establishing a UK presence has been key; owning a British brand may well ward off the effects of any unfavourable legislation once Britain leaves the Union. UK assets are also around 20% cheaper after the post-referendum currency swing so this has also heightened interest and activity. For those who foresee the pound recovering in 2018, 2017 was an opportune time to acquire, and certainly enabled overseas buyers to take a more competitive stance in auction processes than in previous years.
Private equity picks up
Private equity (PE) activity was particularly strong in 2017. 22% of deals across the year involved PE investment, the highest level in the F&B sector since we have been tracking the data (Figure 2).
The sale of Unilever's spreads business to KKR was by far the largest private equity transaction of the year, following a fiercely contested auction amongst the large buyout groups. Investment in UK firms also originated from overseas PE houses at the smaller end of the scale. Singapore-based DSG Consumer Partners made early-stage investments in baby food brand Piccolo Foods as well as healthy drinks manufacturer Simplee Aloe.
PE investors are highly focused on making smart investments in brands that are genuinely innovative and that will become a sector leader in a short space of time. Examples of those that have undergone explosive growth in recent years include Fevertree tonic water, Dorset cereals, Tyrrells crisps and Nākd snack bars. Mayfair Private Equity, a previous investor in Fevertree, invested in Promise Gluten Free bread in July, expressing hopes that the business has the same potential for exceptional growth. Consumer demand for 'free from' products is expected to continue booming in 2018, as is the demand for vegan and vegetarian products.
Ultimately, investment in the F&B sector has remained strong - and for good reason. While the demand for non-essential items like cars, electronics or luxury goods can fluctuate, the need for food is essential. For PE investors, this makes the F&B sector a less risky investment opportunity compared to other industries, particularly during times of increased uncertainty.
Figure 2 - Announced PE activity in food and beverage - annually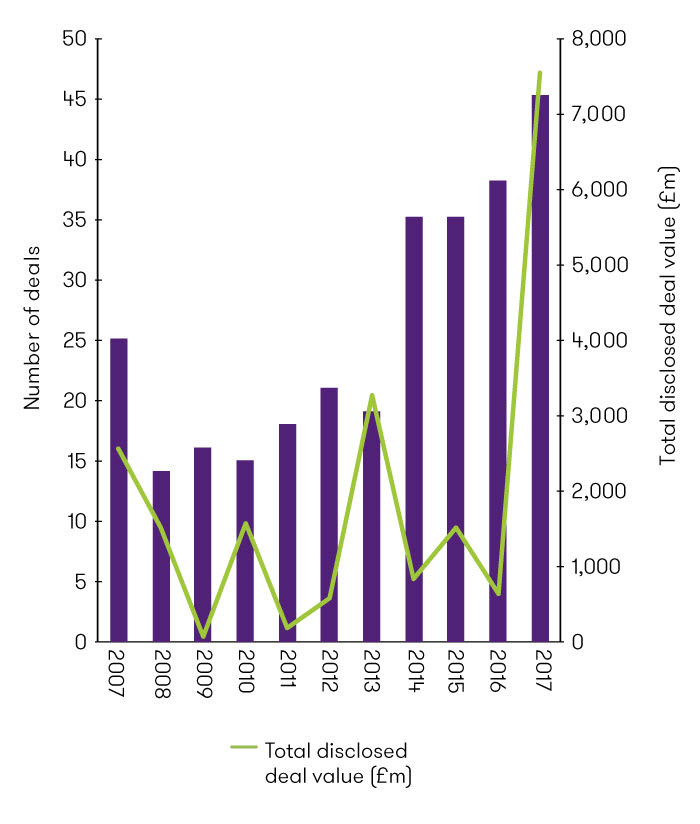 Hot sectors
Alcohol continued to dominate deal activity in 2017. It accounted for 34 acquisitions across the year and 16.5% of activity. This was primarily led by spirits and craft beer.
The most significant deals were purchases of UK brands from US businesses. PE firm L Catterton acquired a 27.9% stake in Scottish craft brewery Innis & Gunn for £15 million, equating to an enterprise value of £58 million. The deal followed fellow US PE house TSG Consumer Partners' acquisition of a 22.3% stake in BrewDog, giving the group an enterprise value of circa £1 billion. Conversely, Diageo committed to a potential $1 billion investment in US-based tequila company Casamigos Spirits Company, in line with its strategy to concentrate on the high growth super-premium segments of the category.
2017 also saw a pick-up in M&A activity in the ingredients sector. Both food manufacturing and off-the-shelf consumer products saw 25 deals across 2017. Big ticket transactions were McCormick's acquisition of Reckitt Benckiser's food business and the sale of Unilever's global spreads business to KKR. Smaller and cross-border transactions included Langholm's sale of Bart Ingredients to Fuchs Group of Germany; Frutarom of Israel's acquisition of food flavours and colours manufacturer Flavours and Essences UK; and Norwegian firm Orkla's purchase of bakery ingredients supplier Orchard Valley Foods.
There was also significant consolidation in the bakery sector in 2017, accounting for 12 deals. Alongside the acquisition of Promise Gluten Free, BGF provided £8.5 million to Coopland & Son, the UK's third largest bakery chain, to accelerate the rollout of its shops across the North of England. Elsewhere, Luxembourg-based holding company, Iberia Industry Capital Group, acquired Cornish baker and pastry maker, W.C.Rowe.
Faced with increased competition and rising costs for raw ingredients, many bakery groups have turned to consolidation as a means of increasing efficiencies and enabling businesses to stay profitable. For example, the price of butter alone went up by 50% in the past 12 months. For some bakery businesses, this has caused a spike in the cost of production that they haven't passed onto customers, so consolidation has been a solution to shore up against these challenges.
All deal activity is based on announced date of the deal and includes deals where there has been any UK or Ireland involvement (target or acquirer). Administrations, liquidations and receiverships are collated but not counted as M&A unless they have subsequently been acquired.
Deal values are primarily sourced from corporate websites, however if no press release is available they are sourced from deal databases including BvD Zephyr, mergermarket or press commentary released at the time of the deal. Deal values may subsequently be amended pending earn outs or other finance arrangements and/ or as further detail is released by the acquirer.

The latest food and beverage insights