NAVIGATING BREXIT
Need practical advice on navigating Brexit?
Discover our practical steps for business leaders
The UK is witnessing a battle to restore trust in business. Governance is more in the spotlight than at any time since the 'Maxwell years' which immediately preceded the 1992 Cadbury report.
Grant Thornton's 17th Corporate Governance Review analyses the FTSE 350's progress on governance using their annual reports and delivers both frustrating and encouraging findings.
Compliance reaches a new high
Seventy-two per cent of the FTSE 350 claim full compliance with the UK Corporate Governance Code – a new high mainly driven by the FTSE 250. However, with the new Code focusing on the application of the main principles, strict compliance is no longer enough.
Do they claim full compliance with the UK Corporate Governance Code? (%)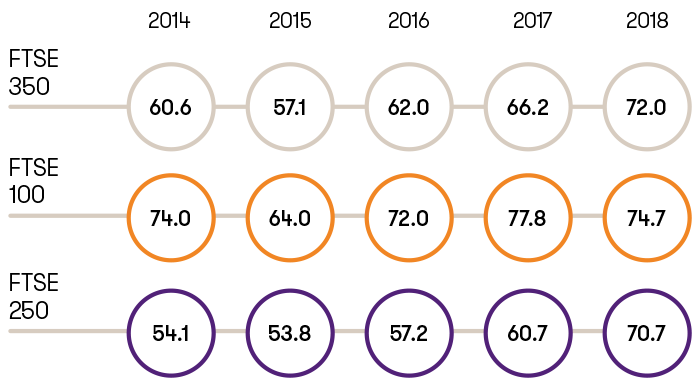 The Listing Rules require companies to include a statement about how they have applied these principles – a fact often overlooked: 63% of the FTSE 350 provide some sort of statement, including only 27% who discuss the application of the principles in a meaningful way.
Download the full Corporate Governance Review 2018 [ 4836 kb ]
Technology weighs heavy on minds
81% of companies now provide high-quality risk disclosures with most linking risks back to their strategies.
Categories of principle risks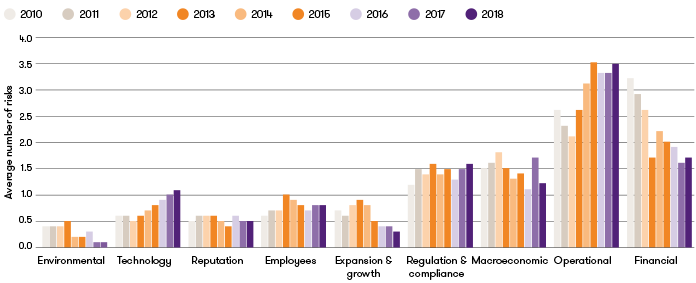 20% more companies said technology was a key risk. This aligns with our research Planning for growth which identified technology as the biggest barrier to mid market growth.
However, more than half of the companies that cite technology risks do not disclose having relevant expertise on their board. Of particular concern are the consumer goods and financial services sectors, with a notable discrepancy between the high perceived technological risks and the apparently low level of tech expertise represented on their boards.
Limited insight into succession planning
Succession planning at board level remains an area of concern. The number of companies providing extra detail on what they do, who is responsible, and how they ensure succession addresses the perceived needs of future board composition remains low.
This year we reveal new data on succession planning below the board level. Seventy eight per cent do mention senior management succession planning, but just 6% of FTSE 350 companies provide useful insight into the process. The new Code requires the nomination committee to identify future skill needs, introduce greater diversity and develop future leaders several layers below the board; our results suggest such challenges should be pressing items for the next agenda.
Quality of culture reporting falls
In contrast to last year, when there was a flurry of initial enthusiasm around corporate culture and nearly 40% of the FTSE 350 provided good or detailed accounts of their culture, this fell to 33% this year. This decline in good and detailed disclosure is common across both the FTSE 100 and 250.
To what extent does the annual report address culture and values? (%)

Corporate culture – and the role of boards in articulating and embedding culture – has been a significant FRC focus in recent years. These disappointing results suggest that previous commitments to cultural change have not been heartfelt. To make real change will require stronger, vocal and ongoing commitment from the top.
No improvement in the quality of viability reporting
Despite a requirement to look beyond the statutory 12-month going concern period when considering financial resilience, we have seen no improvement in the quality of viability reporting. While all but two companies make a viability statement, just over half (53%) give little or no insight into their viability in the face of key strategic risks. Their statements remain largely disconnected from principal risks and make little specific reference to business strategy. They do not report explicitly on their methodology and give only basic or general disclosure as to the assessment period and why this is appropriate. This figure was similar to last year (51%), suggesting this issue will continue to be a key focus for regulators and of growing interest to investors.
Financial KPIs still dominate share plans
Just 14% of the FTSE 350 disclose non-financial metrics in their long-term incentive plans yet, while on average, companies have five financial and 4.5 non-financial KPIs; this suggests a disconnect between what companies say they value and how they measure performance.
Average number of non-financial KPIs disclosed

Companies' choice of performance conditions is concerning in light of the strong new Code emphasis for directors to consider their wider stakeholder responsibilities under section 172 of the Companies Act. Focusing on financial metrics alone means that remuneration is not aligned to long-term sustainable success.
A fresh look at governance
In July, the FRC published its new 'shorter, sharper' UK Corporate Governance Code which, among other things:
emphasises better – rather than more – disclosure, focusing on how companies apply its main principles
has fewer provisions
recognises the shared interests of boards, shareholders and wider stakeholders.
Some companies have already started to address issues raised by the new Code, which takes effect from 1 January 2019 but others appear to have pressed the pause button. Companies need to start remodelling their annual reports now in order to show how they apply the principles effectively in the future.
Download the Corporate Governance Review 2018 [ 4836 kb ]
Or get in touch with Simon Lowe at Grant Thornton's Governance Institute.
Download the report
Download PDF [4836 kb]