Now in its seventh year, our Tou Ying Tracker research confirms the increasingly significant contribution Chinese companies are making to the UK economy.

Our 2019 Tou Ying Tracker covers almost 800 Chinese companies1 that together have combined revenues of £91 billion, up from £68 billion for the 750 companies identified in 2018. They report overall revenue growth of 17%, an increase of 12% on 2018. Between them, they employ over 71,000 people, up from 62,000 in the year before2.
These 800 businesses represent only a fraction of the Chinese companies doing business in the UK. In total, we identified over 13,000 companies that are part of a China-owned corporate group or are majority held by a Chinese national, and 100 representative offices.
30 fastest-growing Chinese companies in the UK report strong growth
This year, the 30 fastest-growing Chinese companies in the UK (TY30) continue to grow at an impressive rate, reporting an average increase in annual revenues of 62%. Between them, these 30 companies employ over 5,500 people. Manufacturing and industrial companies dominate the TY30, accounting for 86% of TY30 revenues. Meanwhile, the fastest-growing companies are in the TMT (technology, media and telecoms) sector, recording average growth of 81%.
M&A China-UK deals down from 2017 peak
During 2019, the Chinese government's restrictions on outbound investment showed a clear impact on deal volumes. Excluding real estate, 44 deals took place in 2019, down 20% from the 2017 peak. The total value of this year's deals was £3.6 billion, down 78% on the £16.6 billion recorded in 2017. Our report includes a full list of the deals driven by Chinese investment over the course of the year.
This year, for the first time, we looked at how the growth rate varies according to how the original investment was made. Among the TY30, the highest average growth rate, 72%, was found among companies that were a direct UK investment. Those that were an indirect investment via a foreign parent acquisition reported average growth of 64%, while average growth through organic expansion was 55%.
The UK's exit from the EU may reshape Chinese-UK trade and investment opportunities
The UK's withdrawal from the EU could signal the start of a new era in China-UK trade and investment. Simon Bevan, Head of our China-Britain Services Group, commented: "The UK government elected in December 2019 is likely to build trade and investment channels with countries like China as an antidote to the greater friction in UK-EU trade. How soon this might result in a UK-China trade deal remains to be seen."
"While the outbreak of Convid-19 is currently impacting travel to and from mainland China, which may interrupt the ability of Chinese businesses to pursue and complete overseas deals and to visit their existing international operations, one thing is clear – the UK is committed to strengthening its relationship with China. But a wide range of international events and trends will continue to shape trade and investment patterns between the UK and China for some time to come."
Download the report [ 1098 kb ]
For further information or advice, contact Simon Bevan.
Footnotes
See full report for qualifying criteria
The 2018 figure excludes 18,000 employed by House of Fraser, acquired by Sports Direct in August 2018 and therefore no longer under Chinese ownership in 2019.
Download the report
Download PDF [1098 kb]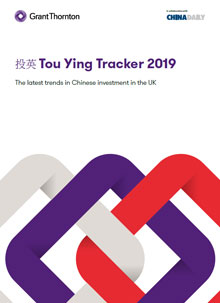 Get the latest insights, events and guidance for Chinese businesses in the UK, straight to your inbox.