NAVIGATING BREXIT
Need practical advice on navigating Brexit?
Discover our practical steps for business leaders
It is a pivotal moment for the UK care homes market. In the next few months the government is to reveal the contents of its much-vaunted plans for the long-term funding of care for older people. Its heralded as the most sustainable solution to solve the bed-blocking crisis within the NHS. And it is the leading healthcare sector in terms of transactional activity. It is, without a doubt, one of the most important and dynamic sectors in the UK service economy.
Our report draws together the most recent and relevant research, including our own sizeable market knowledge and expertise, to determine where the sector is now and understand where it is heading in the future. We have spoken to investors, providers and market consultants to showcase the diversity and innovation that care homes can offer.
Care home operators in this relatively fragmented sector vary from large corporate providers with in excess of 10,000 beds to sole traders with one or two homes. Private equity-backing plays a key role in sustaining many of the larger operators. At the same time, care homes operated by charities and other not-for-profit organisations also make up a significant part of this key service.
This £16 billion market has grown organically and is a true mixed economy with just under half of residents receiving state support, with the remaining self-payers wanting high-quality services in hotel-standard rooms.
The security that these property-based businesses offer has made it very attractive to investors, with care home deals accounting for more than half all healthcare transactions in 2017. The range of investors, from UK- and US-based REITs to social enterprises has led to a spectrum of new financing options, including ground-rent deals and a revamped sale and leaseback model.
A sustainable solution to delayed discharges
Patients remaining in hospital beds who no longer require acute medical care is one of the biggest problems facing the NHS. There are more than 11,000 care homes that can offer beds to provide step-down or intermediate care outside hospital wards.
The government has allocated finance for health and social care services to work more closely together so that older people can experience a seamless pathway both in and out of hospitals. In addition, by using surplus care home beds, which have lower costs, millions of pounds could be saved to reinvest in the NHS.
Meeting the needs of an ageing population
An ageing population is driving demand for residential care home services with forecasts predicting around 75,000 beds needed by 2030. New purpose-built homes with high-spec rooms, en-suite showering facilities and the latest technology on hand are at the forefront of this charge. Older homes are being redesigned to meet the higher-acuity needs of older people both now and in the future.
But it is not just the quality of the property that will be in the spotlight. Maintaining the standard of services as the market expands will be crucial.
A vital social service
Caring for the old and vulnerable is one of the hallmarks of a civilised society. The UK care home market isn't just a vibrant economy - it is a vital one. Operators are responding to current funding pressures through innovation, creating new service models and using ground-breaking technology to improve residents' lives.
Public awareness of the importance of these essential services is growing and never before has social care been higher up the political agenda, with the UK care homes market leading the way.
To find out more download our report [ 3521 kb ] or contact Daniel Smith.
Download the report
Download PDF [3521 kb]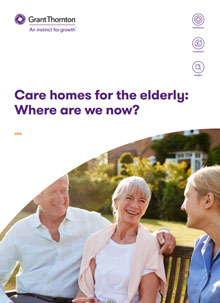 Get the latest insights, events and guidance about the public healthcare sector, straight to your inbox.