NAVIGATING BREXIT
Need practical advice on navigating Brexit?
Discover our practical steps for business leaders
A stable economy, buoyant business confidence and the need to acquire disruptive technologies look set to drive corporate deal activity in India throughout 2018.
The Indian government's focus on reform, along with resilient capital markets and a favourable credit environment will continue to stimulate investment opportunities and encourage corporations to implement their acquisition strategies.
In addition to traditional M&A drivers, such as consolidation and greater market penetration, deal activity will be increasingly triggered by disruptive technologies and digitalisation, as companies look to acquire capabilities that give them a competitive edge.
The expected closure of several large insolvency cases under India's new Insolvency and Bankruptcy Code may also throw up some interesting opportunities for both domestic and foreign investors.
The manufacturing, energy and IT sectors are expected to be the focus for M&A, while real estate, fintech, food-tech and e-commerce start-ups are expected to be of most interest to the private equity and venture capital community.
Domestic M&A and big-ticket PE investments drive Q1 deal activity
There were a number of big-ticket transactions in 2018, including four deals in the 'billion-dollar club'.
There were over 300 transactions recorded in Q1 2018, with a total value of USD22.5 billion. This is more than double the deal value seen in Q1 2017, not including the USD23 billion Vodafone-Idea merger which dominated the first quarter last year.
The revival in major deals reflects the government's relentless efforts to make it easier to do business in the country and upgrade to a more formalised economy.
Table 1. Deal summary Q1 2018
Deal summary
Volume
Value (UDS mn)
2016
2017
2018
2016
2017
2018
Domestic
65
54
67
2,459
2,495
13,179
Cross boarder
51
46
45
4,860
1,717
3,170
Merger and internal restructuring
7
5
6
563
23,265
2,180
Total M&A
123
105
118
7,881
27,477
18,529
Private equity
283
196
205
2,989
2,271
4,006
Grant total
406
301
323
10,870
29,748
22,535
Source: Grant Thornton India LLP, Grant Thornton Dealtracker, 2018
Q1 M&A activity
M&A transactions were valued at USD18.5 billion in Q1 2018. There were 118 transactions in the quarter, compared to 105 in Q1 2017, with increased activity across the domestic, inbound and outbound sectors.
Cross-border deal values almost doubled compared to Q1 2017, while domestic deal values saw an even more impressive five-fold increase (excluding the Vodafone-Idea deal). This hike in deal value was driven by a range of corporate strategies. This included debt reduction, expansion into new markets,capitalising on digital disruption and convergence of different market sectors.
Domestic and outbound transactions were the key drivers of this 300%-plus surge in M&A activity in Q1.
Big-ticket domestic acquisitions in the energy and telecom sectors were driven by companies seeking to create critical mass to compete in global and domestic markets, entering new vertical markets or strengthening their delivery capabilities by acquiring stressed assets. Three large domestic transactions totaling USD12.5 billion accounted for 95% of domestic deal value.
Outbound transactions reached USD1.2 billion in Q1 2018, compared to USD600 million in Q1 2017. They were driven by a number of large acquisitions aimed at improving companies' product offerings to compete in the domestic market or increasing their geographical footprint.
Indian corporates are generally showing strong earnings and equity valuations. With credit easily available, domestic deal activity is likely to remain buoyant throughout 2018, while outbound activity may become more subdued.
Table 2. Top M&A deals Q1 2018
| | | | | |
| --- | --- | --- | --- | --- |
| Acquirer | Target | Sector | Disclosed values (USD mn) | Deal type |
| Oil and Natural Gas Corporation Ltd | Hindustan Petroleum Corporation Ltd | Energy & Natural Resources | 5,780 | Domestic |
| Reliance Jio Inforomm Ltd | Reliance Communications Ltd (sale of wireless spectrum, tower, optical fibre network and media convergence node assets) | Telecom | 3,750 | Domestic |
| Adani Transmission Ltd | Reliance Infrastructure Ltd - Mumbai power business | Energy & Natural Resources | 2,938 | Domestic |
| IDFC Bank Ltd | Capital First Ltd | Banking & Financial Services | 1,460 | Merger and Internal restructuring |
| Birlasoft (India) Limited | KPIT Technologies Ltd | IT & ITES | 700 | Merger and Internal restructuring |
| Singapore Telecommunications Ltd | Bharti Telecom Ltd | Telecom | 414 | Inbound |
| Ensoso Holdings | Wipro Ltd - hosted data centre services business | IT & ITES | 405 | Inbound |
| Reliance Industries Ltd - JioMusic | Saavn, LLC | Media & Entertainment | 330 | Outbound |
| Shree Cement Ltd | Union Cement Co. PSC | Manufacturing | 305 | Outbound |
| StarTek Inc | Aegis Ltd - BPO business | IT & ITES | 247 | Inbound |
Source: Grant Thornton India LLP, Grant Thornton Dealtracker, 2018
The energy sector accounted for 47% of total deal value, driven by two billion-dollar-plus deals in the oil, gas and power generation segment. Start-ups captured 25% of total deal volume as a result of interest from domestic investors primarily in fintech, travel, food-tech and on-demand services platforms.
Cross-border activity with Europe
Despite an 85% increase in total cross-border deal value in Q1, deal activity with Europe declined significantly to USD190 million, compared to USD564 million in Q1 2017. There were just nine India-Europe deals in the quarter.
The first quarter saw five European inbound deals worth USD89 million, compared to seven deals worth USD417 million in Q1 2017.
Four outbound deals with Europe valued at USD101 million were recorded in Q1 2018, compared to only two deals valued at USD148 million in Q1 2017.
The absence of big-tickets deals resulted in average deal size for Q1 declining considerably compared to the same period last year, at just USD18 million. This is down from USD60 million for inbound transactions, and USD25 million down from USD74 million for outbound transactions.
Homegrown domestic companies attracted most interest from Germany (three deals), followed by the UK (one deal) and France (one deal). The UK, Italy, Switzerland and Germany each attracted one deal involving Indian investors.
The IT, retail and consumer sectors attracted most investor attention, capturing 44% of total cross-border deal volume.
Notable inbound transactions included German company Brenntag AG's 64% acquisition of Raj Petro Specialities for an estimated USD70 million. Turtle Entertainment, also from Germany, acquired a minority stake in Nazara Technologies for USD4 million.
Outbound transactions included Energy Efficiency Services' acquisition of Edina Power Services in the UK for USD76 million, and SH Kelkar & Company's 51% acquisition of Italy's Creative Flavours and Fragrances for USD14.7 million.
Graph 1. Cross-border activity between India and Europe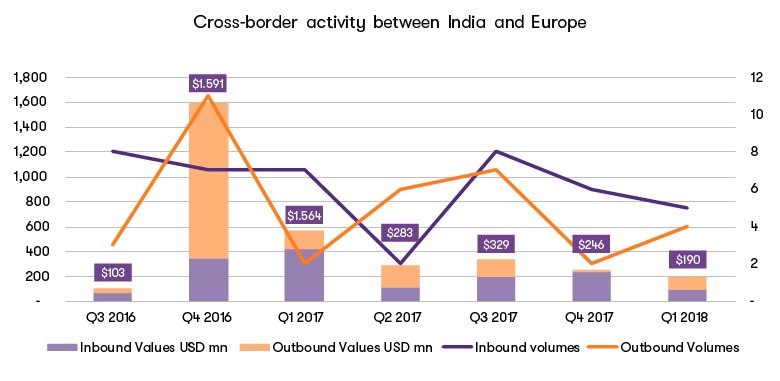 Source: Grant Thornton India LLP, Grant Thornton Dealtracker, 2018
Q1 private equity and venture capital activity
Buoyed by some large-scale investments, private equity deal value almost doubled in Q1 compared to the same period last year, while deal volume remained the same.
There was no repeat of Softbank's mega e-commerce deals with the likes of Flipkart, Paytm, Ola and Oyo Rooms, which dominated 2017. The company did not figure among the top ten deals in the first quarter this year.
Real estate, energy and e-commerce companies, together with a range of start-ups, garnered 75% of total PE investments of USD4 billion in Q1 2018, which was up on the USD2.3 billion invested in Q1 2017.
This was driven by a number of factors including; a growing trend for domestic investors to divest stakes in large; completed and occupied real estate projects to improve liquidity; infrastructure investment trusts expanding their asset portfolios and; the government's focus on clean-tech projects.
Other drivers include e-commerce players securing follow-on funding to enhance their technological edge and expand market reach, and other start-ups obtaining further funding to help strengthen their market position.
Table 3. PE top deals Q1 2018
| | | | |
| --- | --- | --- | --- |
| Investor | Investee | Sector | Disclosed values (USD mn) |
| Blackstone Group LP | Indiabulls Properties Pvt. Ltd and Indiabulls Real Estate Company | Real estate | 742 |
| GIC | Exora Business Parks Limited | Real estate | 406 |
| Alibaba Group Holding Ltd, Sands Capital, International Finance Corp. and Abraaj Capital | Innovative Retail Concepts Pvt Ltd - BigBasket.com | E-commerce | 300 |
| India Grid Trust (IndiGrid) | Sterlite Power Grid Ventures Ltd - RAPP Transmission Co., Kharagpur Transmission Co. and Maheshwaram Transmission | Energy & Natural Resources | 220 |
| Canada Pension Plan Investment Board | ReNew Power Ventures Private Limited | Energy & Natural Resources | 144 |
| Tencent Holdings Ltd and Times Internet Ltd | Gamma Gaana Ltd | Media & Entertainment | 115 |
| ADV Partners | Feedback Infra Private Limited | Infrastructure Management | 105 |
| Naspers Ltd and Meituan-Dianping | Bundl Technologies Pvt Ltd - Swiggy.com | Start up | 100 |
| Ascendas Property Fund (India) | Arshiya Limited - six warehouses | Transport & Logistics | 83 |
| Altico Capital | Phoenix Group | Real estate | 78 |
Source: Grant Thornton India LLP, Grant Thornton Dealtracker, 2018
In line with the long-term trend seen over the last 17 quarters, PE activity in Q1 2018 was dominated by investment in start-ups, which contributed 56% of total deal volume. The total value is USD679 million. Real estate dominated PE investment value, at USD1.5 billion from 10 investments.
Get the latest insights, events and guidance about Indian markets and businesses, straight to your inbox.