NAVIGATING BREXIT
Need practical advice on navigating Brexit?
Discover our practical steps for business leaders
The food and beverage sector continues on a robust path
Our latest edition of Bite Size, a quarterly overview of activity in the food and beverage sector provides analysis of M&A activity in the second quarter of 2015 and looks ahead to the trends we believe will shape the market in the coming months.
Some of the key issues noted in this edition include:
The halfway point of 2015, M&A in the sector has continued on a robust path, supported by both improved global economic conditions and the on-going competitive challenges in the sector. Activity in the lower middle market is healthy as larger companies fill in gaps in their portfolios, while sporadic big-ticket deals also continue to play a role in sector consolidation.
Figure 1: Announced M&A activity in food and beverage - quarterly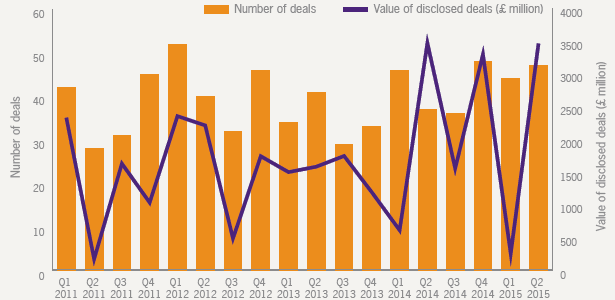 The spikes in deal values are attributable to: the £1.1 billion acquisition of a stake in United Spirits by Diageo plc, and the £1.3 billion sale of Unilever's Ragu and Bertolli pasta sauce business (Q2 2014); the £2 billion United Biscuits transaction (Q4 2014) and the £1.9 billion Iglo Foods deal (Q2 2015).
Growing overseas appetite
There has been a marked change in the number of overseas companies investing in the UK and Ireland.
Megadeals: M&A winning out in the dual track approach
In June, Brazilian food group JBS, the world's largest meat packer, announced that it is to acquire UK-based poultry business Moy Park from fellow Brazilian group Marfrig for £945 million. The deal, which is subject to regulatory approval, will significantly expand JBS's European operations, broadening its portfolio of high value added prepared and convenience products. Previous owner Marfrig pursued a dual track strategy for the disposal of the UK poultry unit. The dual-track IPO approach, in which a company gauges interest for a public listing, but at the same time looks for outright buyers, is becoming more popular.
Sweet cravings
M&A activity in the bakery and confectionery space in recent years has been slightly subdued, in part because of the shift in dietary habits towards healthier foods. Recently, however, there has been a subtle pick-up in M&A in the space, as companies pursue consolidation to meet the challenges of weakening demand, increases in commodity prices and stiffening competition.
Ongoing squeeze drives significant rise in companies in distress
In the first six months of 2015 the number of companies going into administration or liquidation increased by 178%, compared with the last half of 2014. According to analysis by Grant Thornton, 47 companies went into administration/liquidation at the end of 2014, compared with 131 so far in 2015.
There has also been a corresponding upturn in the number of businesses acquired from administration. Four companies have been acquired from administration in both the first and second quarters of 2015, representing a 50% increase on the last six months of 2014. The large majority of companies being rescued have been small operators in the bakery/ confectionery sector and niche companies with strong/heritage brands.
Private Equity looks abroad
Private equity investment in Q2, of both new stand-alone investments and bolt-on acquisitions to existing portfolio companies, brought seven transactions, compared to five in Q1, and a total disclosed deal value of £406 million.
Figure 2: Announced PE activity in food and beverage - quarterly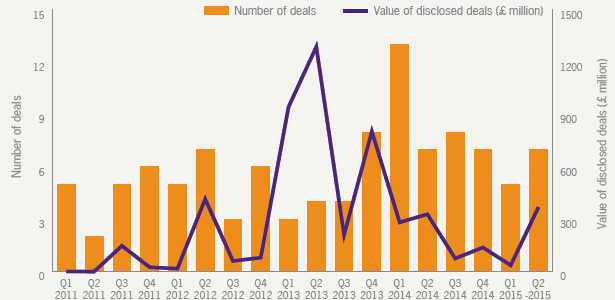 The spike in Q2 2013 deal value is attributable to the £493 million Euro Cater IBO and £715 million R&R Ice Cream IBO; the spike in Q4 2013 deal value is attributable to the £350 million Burton's Biscuit IBO.
Microbreweries: small but growing quickly
The domestic market for craft beer is growing quickly and export sales are also booming, which is attracting interest from global players
We would be delighted to meet with you to discuss these trends in more detail and provide you with an update of our experiences across the sector, and to learn a little more about your growth strategy.
Read the report
Download PDF [1014 kb]