NAVIGATING BREXIT
Need practical advice on navigating Brexit?
Discover our practical steps for business leaders
Welcome to the first issue of Automotive Messenger in 2017, a collection of the latest insights, trends and news in automotive. In this issue we look at what lies ahead for automotive in 2017 in a post-Brexit world.
We will remember 2016 for a number of reasons, ranging from Brexit to the victory of Donald Trump in the US presidential election; and the UK stock market rose to new heights and sterling fell to record lows.
In this edition, we showcase three guest articles.
ICDP, an international research-based organisation focused on automotive distribution, outlines that the automotive distribution is operating in relative isolation and remains an untapped source of value.
Lotus Cars, one of the most well-known UK manufacturers shares how they stay at the cutting edge of innovation in the pursuit of performance; and also look ahead to see what the future of automotive may look like.
Cap Hpi, automotive data specialists, analyse the used car market in 2016 and outline how the used car market is crucial for car dealers in 2017.
For further information, help and related contacts, please visit our specialised Automotive page.
Read the report
Download PDF [910 kb]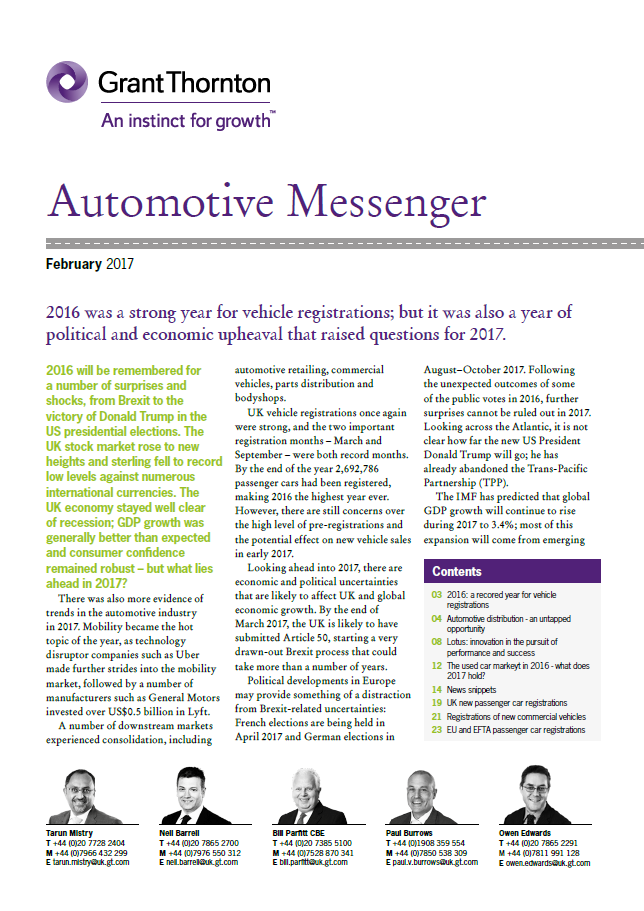 Get the latest insights, events and guidance about the automotive industry, straight to your inbox