NAVIGATING BREXIT
Need practical advice on navigating Brexit?
Discover our practical steps for business leaders
Claiming research and development tax relief is a tried and tested way of driving cash into your business.
But the process is lengthy and arduous.
Using our extensive experience working on claims and our understanding of the issues and concerns of our clients, we've created a streamlined, automated data collection tool for tax claims.
The tool provides:
an interactive claim process which key staff can access whenever and wherever they need to engage with the automated interview process
easy and flexible technology with the ability to pause, save and return as you wish
a transparent single dashboard providing you with real-time detail on claims status, the running total eligible cost, interview progression and a repository for supporting documentation
inbuilt internal technical review to ensure that projects provide a fair and reasonable assessment of the work undertaken and minimising the administration burden.
Book a demo

Risk
A single digital truth for all claim data with a consistent, manageable and scaleable control process.

Commercial return
Shorten your 'contract to cash' process timeline and reduced staff burden.

Future fit
Structured data enables forecasting, KPI monitoring and benchmarking, and changes in legislation are easily integrated.
Steve Burgen, Head of Innovation Tax
"The tool, combined with our wider tax and innovation expertise, offers a holistic service that provides a smooth and effective claims process as well as high quality assurance, insights and recommendations."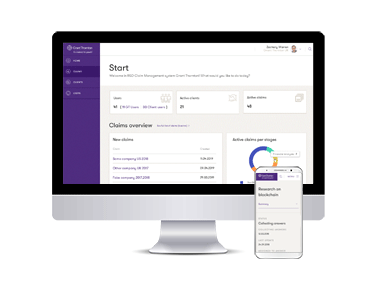 R&D claims platform
The intuitive interface is designed to provide you with a smooth experience, with single view summaries of claims in progress and qualifying spend totals that allow you to manage your stakeholders and plan ahead.