NAVIGATING BREXIT
Need practical advice on navigating Brexit?
Discover our practical steps for business leaders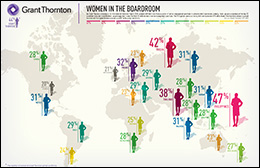 How many women made the C-Suite last year? And which countries are currently topping the list for employing female senior-level female executives?
Find out in Grant Thornton's latest infographic, which maps figures from 24 countries. On a shocking note, neither the UK nor the US even makes the top 20…
Click to view the infographic at a larger size.
UPDATE: Discover the hiring trends over time: Women in the boardroom 2004-2014.
International Business Report data
The map data was sourced from Grant Thornton's International Business Report (IBR) 2009. The IBR is an annual survey of the views of senior executives in privately held businesses (PHBs) all over the world. Launched in 1992 in nine European countries the report now surveys more than 7,400 PHBs in 36 economies, providing insights on economic and commercial issues in the sector.
Women in the boardroom – the winners
Women still hold less than a quarter of senior management positions in privately held businesses globally. Our colour-coded and sized chart lists the percentage of women in senior management roles across the top 22 countries. We've also included percentages for the UK and US, which don't even make the first 22.
The Philippines came out top with an impressive 47% women in senior management. This is followed by Russia with 42% and Malaysia with 38%. Meanwhile, Grant Thornton International is proud to announce that, globally, women make up 44% of its global workforce, while PQ Magazine (February 2010) noted a high percentage of female partners in the firm – 40 out of the 235 partners (17%).
Women have become most successful in increasing their share of senior management roles from 2007 to 2009 in Turkey (up 12%) and Mexico (up 11%).
Women in the boardroom – the losers
The lowest percentage continues to be in Japan where only 7% of senior management positions are held by women. Also appearing low down the league table are Belgium (12%) and Denmark (13%).
The biggest falls were seen in Brazil, where the figure fell 13%, followed by Hong Kong and Botswana whose figures both fell 6%.