NAVIGATING BREXIT
Need practical advice on navigating Brexit?
Discover our practical steps for business leaders
On International Women's Day, we look at the trends for women reaching senior management globally over the past 10 years, and ask what can the UK do to increase the numbers of senior-level women in business?
For proponents of greater gender diversity in the leadership of businesses around the world, the results from our IBR 2014 report – Women in business: from classroom to boardroom are a disappointment. The data shows that less than a quarter of senior management roles globally are held by women (24%). This is unchanged from 2013, and even from 2007, and suggests that the proportion of women in senior management has returned to its 'natural level' following the financial crisis during which women were disproportionately hit.
Read the report
Download PDF [3087 kb]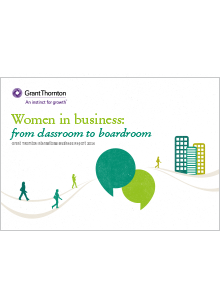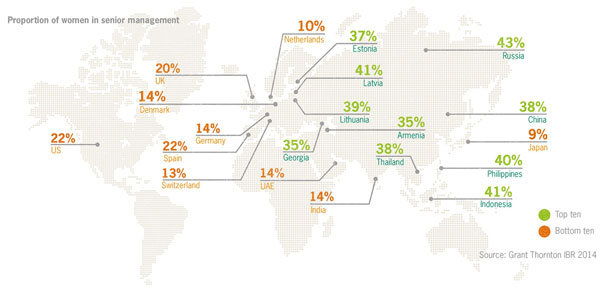 Women in senior management – the leaderboard
Economies in eastern Europe (37%) and southeast Asia (35%) lead the way on women in leadership. Globally, Russia (43%) has the highest proportion of women in senior management, a figure that has held fairly stable since 2004, helped by a gender ratio that favours women by 6:5. This can be traced back to the promotion of women in the former Soviet Union. The communist leaders promised 'equal opportunity for all', best demonstrated through the promotion of women in the rapidly expanding services sectors, such as health, education and accountancy.
In east Asia, the relatively high proportions of women in senior management can be partly explained by the tendency for families to live with or near parents and grandparents, which provides free, in-built childcare infrastructure, allowing mothers to go out and work. Women in Indonesia (41%), the Philippines (40%) and Thailand (38%) all seem to benefit from the support provided by their families.
Women are also well-represented in the leadership of Chinese businesses (38%); similarly to Russia, the focus of socialism on equality may have a role to play here, as well as the one-child policy, which lowered the childcare burden, and rapid urbanization.
Countries employing fewer women in the C-suite
On the whole, developed countries tend to have lower proportions of women in senior management: across the G7, just 21% of senior roles are held by women, compared to 32% in the BRIC economies. Again, there are many possible explanations for this, significantly:
The development of the 'nuclear family' without the childcare infrastructure described above.
Lower career aspirations in the West compared with emerging economies, which are experiencing significant growth and cultural shifts that have spurred female ambition.
The higher proportion of family-owned-and-run businesses in emerging markets.
Japan ranks bottom of the 45-economy survey, as it has done every year since 2004, with just 9% of senior roles held by women, barely changed from a decade ago (8%). Other patriarchal societies, such as India and the United Arab Emirates (both 14%) also rank in the bottom five, although the huge strides these economies have made in recent years in terms of tertiary education could boost the aspirations of a generation of young women, just as it seems to have done in China.
Europe struggles on board diversity despite quotas
Perhaps more surprisingly, [these patriarchal societies] are joined in the bottom five by two European countries: the Netherlands (10%) and Switzerland (13%).
And despite a great focus on increasing female participation on boards across Europe (from introducing quotas, for example), Germany, Denmark (both 14%), the UK (20%) and Spain (22%) also rank in the bottom 10 countries for women in senior roles, with the EU average at just 23%.
Stagnation in the UK – what can be done?
The proportion of women in senior management in the UK moved up slightly this year to 20% – however this still places the Brits in the bottom 10 countries for women in senior roles, against a global average of 24% and the EU average of 23%. Looking at the graph since 2004, it would seem the UK is stagnating when it comes to employing senior-level businesswomen.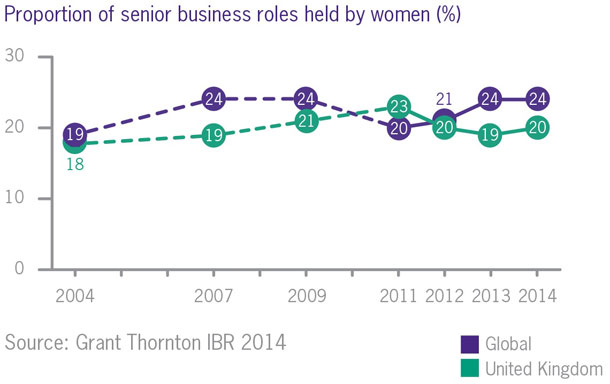 The debate about women in business leadership continues with quotas for the proportion of women on boards in the EU a very real prospect. But is legislation the answer?
Francesca Lagerberg, Global leader – tax services, Grant Thornton International Ltd says in her executive summary in the IBR 2014 report:
"Support amongst businesses for quotas is steadily growing and regulation in Europe seems to be moving in that direction. Personally I have mixed feelings about quotas – if they shine a spotlight on the shortfall of women on boards then that is helpful, but we certainly do not want to get to a point where women are simply brought in to make up the numbers. I am more interested in what businesses can do to facilitate the path of women to the boardroom."
This year's research found that business support for quotas increased globally to 45%, up from 37% 12 months ago. But the data also presented a number of actions businesses could take to support the career paths of women:
Improve mentoring: fewer than one in four companies globally (24%) run (or are considering running) a specific programme to promote women's leadership.
Relieve childcare burden: just 18% businesses globally provide childcare vouchers, 16% provide a salary increase (which might make returning to work more financially viable) and 6% provide on-site childcare facilities.
Hire more female graduates: in an average year, just 21% of the graduates mid-market businesses hire are women. This will help unpack the current male bias around hiring and promotion that is key to increasing diversity.
Download the 2014 report
Find more articles from Grant Thornton's International Business Report, the world's leading mid-market business survey. The data in this report has been drawn from approximately 6,700 interviews conducted between November 2013 and February 2014.
The 2014 women in senior management IBR is available to download here: Women in business: from classroom to boardroom [ 3087 kb ] (PDF).
For more information on International Women's Day, visit the official site.