NAVIGATING BREXIT
Need practical advice on navigating Brexit?
Discover our practical steps for business leaders
Former New Zealand All-Black Sean Fitzpatrick and ex-England rugby coach Sir Clive Woodward explain why rugby and business go so well together.
George Gregan, Australia's talismanic former scrum half, is one of the country's most successful rugby union players. His international career spanned 13 years and saw him win 139 caps. Only two people have represented their countries more in the history of rugby – New Zealand's Richie McCaw and Ireland's Brian O'Driscoll.
Yet just five years into his international career and at the peak of his powers – the same year, in fact, that Australia won the Rugby World Cup – Gregan started his own business: GG's Espresso shop, based in Sydney's bustling business district.
To a football fan this might sound like an odd move, a bit like David Beckham drawing up a business plan for a greasy spoon cafe. But there lies, in a nutshell, one of the major differences between a game in which you throw the ball and one in which you kick it.
Rugby union went professional in 1995, and although the amount of money pumped into the sport has steadily increased, players' wages are still small compared to that of football.
All Black Dan Carter will become rugby's highest-paid player after the World Cup, yet even on his new wages it would take him more than 20 years to amass the annual salary of Cristiano Ronaldo. Ronaldo also enjoys bonuses and endorsements that take his earnings beyond £50 million a year – exactly 100 times more than the fourth highest-paid rugby player, Sam Burgess.
Rugby's historical frugality is a major reason for its close and practical ties to business, says Sean Fitzpatrick, who recently spoke at Grant Thornton's Inspiring Business event, part of a series dedicated to stimulating ideas among business audiences.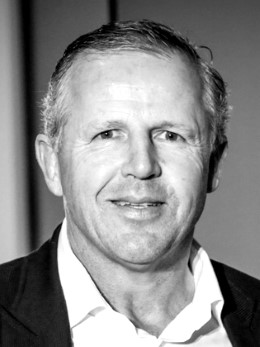 Sean Fitzpatrick
New Zealand All Black: 1986-1997
Captain 51 times
World Cup winner: 1987
Front Row Group director: 2010
Sean is a World Cup-winning All Black with 92 caps to his name, having captained the side a one-time record of 51 times, a figure only recently bettered by Richie McCaw.
"Unlike footballers, most rugby players will have worked. We know that when we finish, we won't have enough money to lie on the beach," he explains during an interview with Strategies for growth ahead of his presentation. "A rugby player has to work with people and adapt to different situations; footballers don't learn those skills because they don't have to."
It's a fact drawn out in the experience of Sir Clive Woodward, the former England coach who steered the team to the 2003 Rugby World Cup title. During the early 1980s he combined his time working as an executive for the technology company Xerox with playing rugby 21 times for England.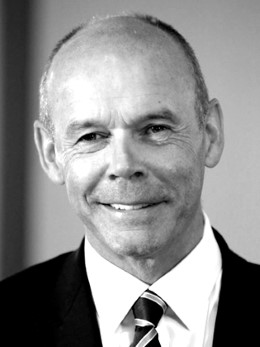 Sir Clive Woodward
England coach: 1997-2004
Rugby World Cup winner: 2003
Southampton FC: 2005
British Olympic Association director: 2006-2012
"From a coaching point of view the business experience has been fantastic; as a player it effectively got in the way because it encroached on training time," says Sir Clive, who delivered a presentation on world-class performance at Grant Thornton's Inspiring Business event.
"When I became a coach all the lessons I learned in business became priceless. When I coached England it certainly helped that the players knew I had been in their shoes and had played for my country, but the biggest thing that helped me was 18 years in business," he adds, referring not only to his days as a salesman and team leader with Xerox but also his stewardship of a small business that at one time employed nine people.
Coaching a team and heading up a business require the same leadership traits, according to Sir Clive. The key is not the team, but the dynamics between the individuals within it.
"Sometimes you can go over the top on 'the team'. We lost the World Cup in 1999, and we had many of the same players and the same coach as we did in 2003. We were a lot better but fundamentally we were the same people.
"Anyone who plays rugby is likely to be pretty motivated. The secret to a great team is allowing those talented individuals to really flourish in a collaborative environment. You cater to every different personality because everyone is different."
For Sean, culture is the most important ingredient in a winning formula. It's no coincidence, he says, that the All Blacks have experienced sustained international success over the course of 100 years, despite the country having a population of just 4.6 million.
"They say that being captain of the All Blacks is more important than being the prime minister. It's a huge responsibility and it takes three or four years to get used to it. It is the fear of failure but as you get older you learn to live with the fear. I loved being an All Black but the pressure was immense," says Sean.
"The culture is the most important thing in a business, too – and it comes from the top. How you act towards people defines how they act towards each other. Make people want to work with you. Respect needs to happen up and down the organisation."
The relationship between business and rugby is born of necessity, but the two are not uncomfortable bedfellows. Former players regularly make a smooth transition to employment or enterprise and thrive in a competitive environment that is different but the same.
George Gregan is just one example of this. His coffee shop now has 16 outlets. At the last count it had a turnover of £5 million and employs nearly 280 people.
"In sport you need drive and determination, and you have to work hard," says Sir Clive. "When players enter the business world they tend to take those traits with them and they tend to be successful.
"It's a way of getting over the disappointment of not playing any more. Gregan is a good example of someone who has channelled that and got the job done."
Words: Dan Matthews. Images: © Matt James
More Strategies for growth
Strategies for growth is our quarterly update for CEOs that explores ways businesses can navigate the current economic climate and unlock growth.
Other articles in this issue include:
CEO insights: tailored content for CEOs and business owners
Receive the latest insights to stay on top of the issues that matter to you. Let us help you set the agenda for the year ahead.