NAVIGATING BREXIT
Need practical advice on navigating Brexit?
Discover our practical steps for business leaders

Local solutions for capacity-stretched hospitals
It's been terrific to see the NHS able to mobilise large-scale field hospitals like Nightingale in London so quickly. But these large-scale centres, while incredibly useful, are not the only way to deliver capacity.
For the next stage of capacity expansion, either in London or across the rest of the country, we should also consider creating more localised facilities in the community. Localised facilities would put less pressure on public transport, limiting the spread of the virus, and be more convenient for patients and staff. It would also limit the concentration of oxygen stores by using smaller individual facilities.
Clearly, we are going to keep needing to find extra in-patient space. We now face delays to cancer operations, while elective surgery is being cancelled again. The NHS has little choice in this, but the impact on patients and their families is heart-breaking. With winter following closely on after COVID-19 is likely to peak, some elective surgery patients could find that, between last winter, the outbreak and this coming winter, they have been waiting 18 months for care. And the collocation of COVID-19 patients with other patients in the same hospital buildings (even if on separated wards) is not ideal. If we could find new ways of working across a bigger local footprint, which would allow us to deliver on some of those more urgent elective cases as well as the surge capacity, it would certainly be a good outcome for those patients.
Taking the pressure off larger facilities
As the NHS frees up beds in hospitals to cater for the increased requirement, the pressure on social care has sky-rocketed. My colleagues who work in social care are helping local councils to find rapid-response solutions for this extra need. Pop-up social care facilities are being created and existing space is being filled up fast. Can the NHS learn from this? Could we also start to find community solutions to creating additional hospital capacity? For example, I live next door to a hospital and there are a number of nearby churches, community centres, hotels and schools, as well as GP surgeries, which are currently vacant. Could we look to convert some of these to field hospitals – either for surge capacity or to try to move some of the COVID-19 activity away from the main hospital site, to reduce cross infection? Would it be more convenient for staff and patients to construct additional temporary capacity in the car park and instead re-designate some of the on-street parking to the NHS? It would reduce the use of public transport, for both patients and NHS workers and, if replicated around London, would allow for a more-localised service.
This kind of approach would also seem to be a good solution in more sparsely populated parts of the country. A single large centre may not be as practical in parts of the East of England or remote parts of Wales or Scotland, compared to creating additional capacity close to existing hospitals.
For social care and community provision, the pressure to keep moving medically fit patients into social care is going to continue and so, pressure on residential and nursing care capacity is only going to go up. This will have longer-term impacts well beyond the immediate COVID-19 crisis. Large numbers of service users are now being transferred out of hospital in record numbers into residential/nursing care.
Whilst we estimate that there were approximately 56,000 unoccupied beds in care homes cross England, which represents about 15% of total capacity, our work with councils has indicated that the unused capacity typically does not meet the needs of the patients in hospitals waiting to be moved to a care home. However, COVID-19 means that councils no longer have a choice. People need to be moved and care homes need to adapt. But how are they going to cope running at maximum capacity with staff shortages? Care workers are having to self-isolate at an increasing rate due to increased probability of exposure.
Estimated occupancy levels across England of care home beds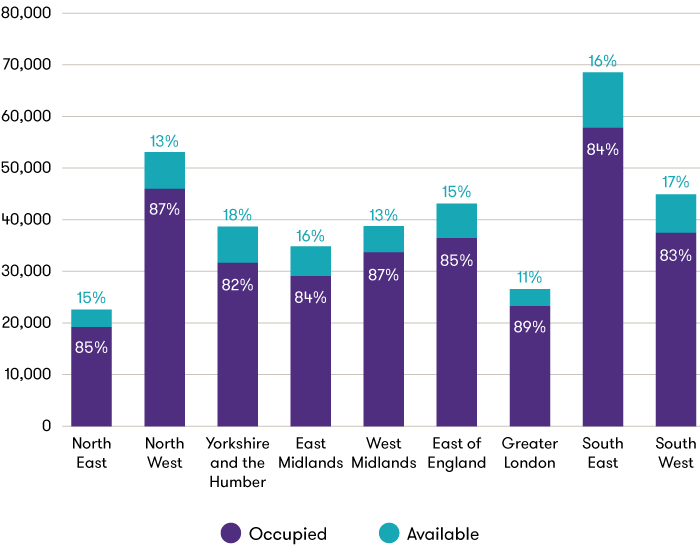 Source: Grant Thornton UK LLP
There are some clever short-term solutions being discussed around the country. In many areas, hotels are already being pressed into service. This new way of doing things has the potential to change the way social care works in the future. The need to try new things in the absence of other options could be a positive force for change. In the short term, though, we have an immediate need to increase capacity within the sector very quickly – and we need to bear in mind that these solutions might well need to stick. It will be very difficult to move people back into the community once the crisis abates needs will have escalated and expectations will have been set with service users and their families. This means that moving new service users out of hospital into an appropriate setting like residential or nursing care come winter is likely to be even more challenging than usual with little to no capacity remaining.
Working together to find solutions
We're going to need to find innovative solutions to tackle these problems. Hotels seem like one possibility in the short term and local authorities are really well placed to identify these possibilities. Are the NHS and local authorities working together to share maps of available property that could meet needs for either in-patient or social care provision locally? In some places it's possible that unused NHS space will be too small to be considered for a COVID-19 unit – but it might be workable for social care.
There's always going to be a need for the big landmark units, like Nightingale, but a larger number of smaller units near to existing hospitals might allow those local hospitals to deliver more of their traditional work, while also treating the surge. This approach would also have the advantage of limiting travel and, therefore, the spread of the virus.
Our health and social care specialists work in the same team. Using our place analytics and social care insights we can help local public sector bodies like councils and the NHS deliver local capacity solutions that work.
For more information please contact Matt Custance.
Get the latest insights, events and guidance about the public healthcare sector, straight to your inbox.