People like having individual choice. This isn't just the domain of the younger generations – as we go through our working lives our needs and preferences change.
The Vibrant Economy Index captures some important aspects which reflect this choice. The choices we have do however depend on many factors, not least a certain minimum level of personal wealth, appropriate jobs within commuting distance and having an acceptable level of connectivity between home and work.
Rural areas score highly in health, wellbeing and happiness
This is highlighted by the 'Health, wellbeing and happiness' data. The more healthy (largely rural) commuter belt areas outside of our major cities are indicative of the choices of some, who can afford the higher property/commuting costs.
This is reflected in the scatter below which correlates house prices against the health and wellbeing score and highlights that many of the healthiest areas also have the highest average house prices levels (top right corner). This includes places such as Hart, Waverly, South Oxfordshire, all being more rural in nature.
The correlation is weakened by the London boroughs (highlighted in green) that don't tend to conform to the overall pattern given the unique nature of the housing market within London. (These are located in the bottom right corner – exhibiting high house prices but low levels of health, wellbeing and happiness.)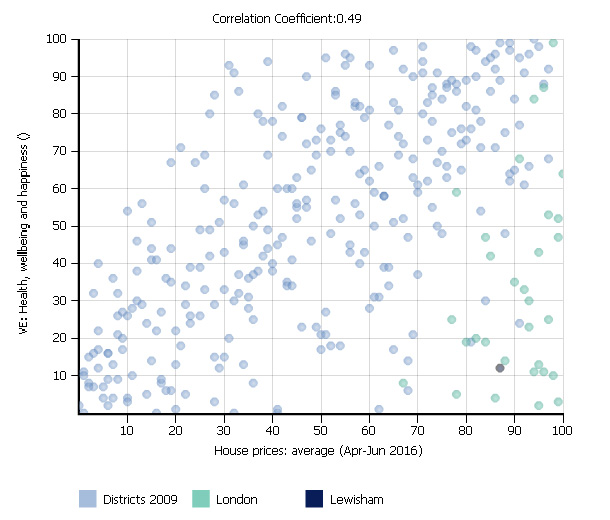 Health and deprivation is a feature of the major cities in the North West, where many of those who live in the surrounding areas actually spend time at work. They rely on those cities for their wealth, but have the choice to live in more affluent surrounding areas if they wish.
There is however a choice, often seen in the younger, pre-family workers, to want to live in those vibrant cities. This is usually reflected in the housing options, with many cities having a prevalence of one-bed apartments to meet that demand.
This choice may be sustained by city planners who wish to increase their city population, as they see it as a key driver of vibrancy to drive further city growth. Manchester is one such place – the city centre residential market is heavily underpinned by the one-bed, young professionals' market.
The importance of connecting UK cities to one another
But this shouldn't be the limit of choice. Why should cities be looked at as independent of one another? Would it not be better to connect cities better, both by great transport options and other infrastructure such as ultra-fast broadband?
In the Northern Powerhouse, the ability of people to work in Manchester and live in Liverpool (or vice versa) would improve economic and social choices. This needs investment in infrastructure to provide a practical and affordable means.
For some the option to work at home provides them with higher levels of happiness. The Index shows higher levels of health, wellbeing and happiness experienced in those areas where there are high proportions of people working from home (eg Eden, South Hams, West Dorset and Mole Valley).
For the commuting population, some will choose to live further afield from their place of work, where the efficiency of transport options offers them the benefit of living in areas with higher health and wellbeing, and yet being able to commute longer distances within a reasonable time.
More information
More information about the Vibrant Economy Index is available on the dedicated online hub.