NAVIGATING BREXIT
Need practical advice on navigating Brexit?
Discover our practical steps for business leaders
Scotland has a rich history of innovation and entrepreneurialism.
From Alexander Graham Bell to Adam Smith, we've been at the forefront of radical thinking. In recent decades, we've also witnessed our fair share of the disruptive change gripping today's world - both positive and negative.
Now both politically and economically, we're at a crossroad, with many potential opportunities and challenges ahead - from our future relationship with the rest of the United Kingdom and the EU, to how we respond to a shifting industrial landscape, ensuring our country is fit to embrace a more disruptive, unpredictable world.
Our purpose is to help shape a more vibrant economy by connecting businesses and civic society. We believe greater collaboration is the key to driving sustainable growth and we're in a unique position to get people and businesses together to start new conversations.
That's why we've launched Vibrant Scotland.Throughout 2018 and 2019, we'll discuss and debate what we can all do to build environments where people and business flourish. Our launch event took place in Edinburgh in September 2018, bringing together more than 200 leaders from a variety of industry groups, politics and the third sector. It was the start of what we hope will be a positive year of dialogue and innovative thinking.
A variety of factors have created an atmosphere of uncertainty, but change can also create opportunity and we all have the chance to play a key role in driving positive change.
Get involved in the conversation. On social media, use the hashtag #VibrantScotland and share your ideas and insight. Or send us an email.
Our Vibrant Scotland report [ 3097 kb ] offers more detailed insight into the research and new thinking driving our series of inquiries and initiatives.
Download the report
Download PDF [3097 kb]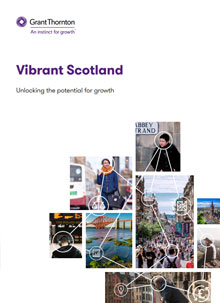 Vibrant Economy Index in Scotland
Our Vibrant Economy Index sparks debate about what type of economy we want to build. It uses multiple datasets to provide a robust, independent framework to help understand the challenges and opportunities in a local area.