NAVIGATING BREXIT
Need practical advice on navigating Brexit?
Discover our practical steps for business leaders
Despite another month of falling vehicle registrations, the UK market is still on track for a strong number of registrations by the end of year.
The state of the market
Registrations in the UK vehicle market fell in September for the sixth consecutive month. A trend which October continued with a decline in new vehicle registrations, down 12.20% month-on-month and 4.55% year-to-date, with registrations decreasing to 2,224,603 units. The SMMT recently reduced its forecast for the full year to 2.565 million units by December 2017, a 4.7% decline on the previous year1.
Consumer confidence is down as Chart 1 clearly shows, thanks to the air of uncertainty created by Brexit and a potential rise in interest rates looming on the horizon. It's this uncertainty that is stunting the market and damaging consumer confidence, and it will likely do so until clarity can be achieved. That being said, 2.56 million sales is far from a worst case scenario.
Chart 1 - UK Consumer confidence index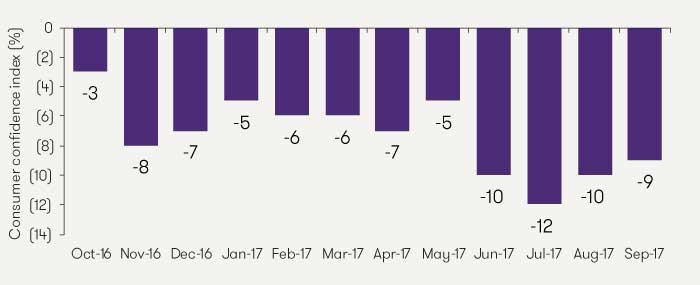 Source: Trading Economics, UK Kingdom Consumer Confidence
Passenger vehicle registrations
Vauxhall has continued to lose market share, falling from 2016's figure of 9.35% to 7.71% of total UK vehicle registrations, with a decline of 21.3% year-to-date in October 2017. Fiat has also seen its unit sales decline by 23.18%, while French manufacturers Citroen and DS fell by 18.99% and 42.75% respectively, year-to-date.

Ford had hoped to find a new path with its scrappage scheme. Introduced before the September registrations and offering money off new models in exchange for old vehicles, it appears the scheme did not have the desired impact, with a market decline of 8.55% in October and a monthly year-on-year decline of 7.93%.

As we have seen in previous months, premium German brands such as Mercedes-Benz, BMW and Audi have continued to buck the trend, with a combined market share of 20.65%, an increase of 6.17% from year-to-date in 2016. Conversely, Ford and Vauxhall's combined market share has fallen below 20% to 19.12%, down 9.72% from last year's combined market share of 21.18%.

Mercedes-Benz was the best performing of the premium German brands, with a substantial increase in year-to-date market share of 7.12%, despite a recent dip in performance with a 1.78% decline within the month of September, compared to the previous year. This puts Mercedes-Benz in a strong and enviable position.
Image 1 – UK new vehicle registrations for October 2017 (YTD)

Source: SMMT, UK new car and van registrations forecast – October 2017
Diesel's decline and alternative fuel's ascent
Diesel units once again took the biggest hit, with a decline in the year-to-date of 14.9% and a fall of 29.9% in the month of September alone. This has resulted in the market share of diesel vehicles falling to 39.4% in the month of October, down from 49.3% in the same period in 2016.
While diesels are floundering in the UK, the ACEA is reporting that it now accounts for over 50% of all vehicles registered in Europe thanks in part to fuel taxes that can be up to 40% less than petrol.
On the flip side of the market, registrations for alternatively fuelled vehicles, such as electric vehicles (EVs), continued to grow throughout September and October. Year-to-date 2017 alternative fuel vehicles increasing by 34.8% YTD% and building on what is still a relatively small market share to reach 4.60%.
Commercial vehicle registrations
As with most of the rest of the market, demand for new light commercial vehicles declined by 7.4% in October, coming in at 24,968 units. Year-to-date registrations dropped by 3.46%, another indication of business confidence suffering in uncertain political times. In fact, commercial vehicles >3.5t and <6.0t declined sharply in the month of October and are down 34.59% and 9.31% respectively year-to-date.
Regardless of the overall dip however, Ford's commercial vehicles <3.5t improved its market share year to date for the size category, rising to 32.43% from 30.68%. The total market for vehicles <3.5t declined by -3.46%.
Vehicle registrations in the European Union

In September 2017, passenger car registrations across the European Union fell by 2.0%, totaling 1,427,105 units. September 2016 figures (the highest total on record to date) constituted a high basis of comparison. Momentum in some of the EU's five key markets is starting to slow, especially in the United Kingdom (‐9.3%) and Germany (‐3.3%). Over the first nine months of 2017, demand for passenger cars remained positive in the EU, with almost 11.7 million new vehicles registered – an increase of 3.7% compared to the same period last year. Italy (+9.0%), Spain (+6.7%), France (+3.9%) and Germany (+2.2%) performed well so far in 2017, although UK car demand fell by 3.9%.
Image 2 – EU and EFTA passenger vehicle registrations September 2017 (YTD)

Source: ACEA, Passenger car registrations: +3.7% over nine months; ‐2.0% in September
Sources:

Read more automotive insights