NAVIGATING BREXIT
Need practical advice on navigating Brexit?
Discover our practical steps for business leaders
It was no shock to the industry that following a strong Q1 2017, the number of vehicles registered at the end of Q1 2018 was down significantly year-on-year.
Driven largely by the change in VED tax in Q1 2017, it came as no surprise that new passenger car registrations for the first quarter of 2018 were down in comparison to that of the previous year. Registrations in April 2018 however, fared much better than April 2017 with an increase in new registrations of 10.4% and 15,835 units. When we combine March and April 2017 with the same period in 2018, we see that the market is currently down 72,498 vehicles. This is a 10.1% decline for the period, indicating the continued weakness of the underlying market.
Looking at the year so far. The market is down 8.8% at 886,400 new passenger car registrations.
Registrations by fuel type
Digging deeper into the registration numbers, it's apparent that consumers are continuing to move away from diesel vehicles. Following the announcement of 'diesel gate' in 2015, diesel vehicles carried on falling in April 2018 with a decline of 24.9% and market share just above 30%. As the dislike for diesel vehicles among buyers continues, many are worried about the environmental impact of diesel and the perceived impact on residual values of these vehicles. Announcements that the government and local authorities are looking to ban diesel from cities and UK roads have also reduced consumer confidence in diesel and hybrid diesel vehicles.
Petrol vehicle registrations showed a strong growth of 38.5% as petrol continues to replace diesel. Alternative Fuel Vehicles (AFV) also sustained their recent upward trajectory, increasing by 49.3% as market share hit 5.6%. However there is a clear indication that the majority of consumers still do not have the confidence to replace diesel vehicles with AFV vehicles. The growth in the AFV market is being driven by petrol hybrid vehicles, as both diesel hybrid vehicles and pure electric vehicles suffered a fall in the first quarter of 2018.
Registrations by brand
It was a mixed picture for the premium brands. Audi continued to grow in April 2018 but this was not matched by BMW and Mercedes Benz as both brands saw a drop of 19.5% and 11.1% respectively. So far this year, BMW market share has declined by 7.0%, almost equalling Mercedes Benz's 7.5% fall. Meanwhile Audi has remained in positive growth for 2018. The three premium German brands are starting to see weakness in their brands. However, their combined market share for the year-to-date was just over 20.0% compared to 19.5% for the same period last year.
The volume market has been affected due to the large amount of publicity, especially Vauxhall's announcement to its dealer network of imminent and significant changes ahead. PSA has indicated that it plans to reduce the current 326 dealer sites, this news was made officially to the Vauxhall retail network on 1 May. Vauxhall vehicle registrations slid further in April 2018, with the company's market share now at 6.68%. It remains unclear to the general public which of the dealers will have their franchise terminated in the next two years.
Consumer confidence
April continued the trend of weakening consumer confidence as potential buyers wait for further news concerning the Brexit and any potential increases this year in interest rates. Subsequently the index fell to -9 from March's -7%. Although there is no evidence of an immediate increase in the index, Trade Economics and its econometric model for consumer confidence forecasts some improvement by the end and into Q1 2019 (estimated to be around -6%). Uncertainty over Brexit, relatively high levels of inflation and potential increases in interest rates continue to hang over the average consumer in the UK. We believe that consumers need positive signs about the general health of the economy before they'll become willing to start purchasing again. According to the April 2018 British Retail Consortium results, general sales were down 3.1%. This is the biggest decline in retail sales since the survey was launched in 1995. However bad weather and the timing of Easter is partly a contributor to this decline.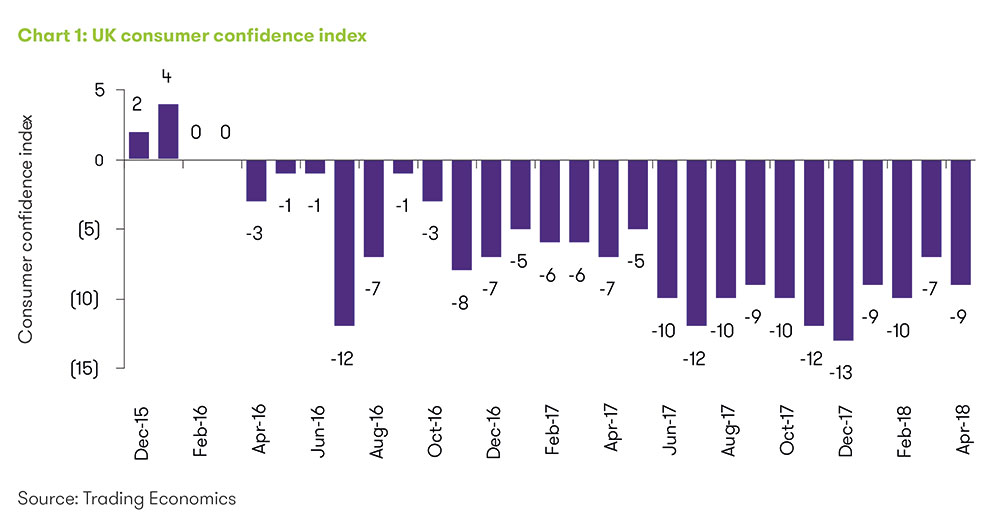 Lights commercial vehicles
Despite a 3.8% increase in April 2018 for UK new van registrations of vehicles under 3.5t, the year-to-date figures show the market for these vehicles was still down by 2.2% at 117,875 units. Registrations for commercial vehicles between 3.5t and 6.0t rose by 28.7% in April year-on-year, and 22.9% so far in 2018. Ford retained the top position with a huge 17.8% increase in the number of units registered in April 2018 (vehicles under 3.5t). This brings the company's performance for the year-to-date with growth of 6.6% and cements its place as the strongest performer among the main brands. Ford now has a 35.1% share of the market and is seemingly leaving the competition in its wake.
Volkswagen held second place with a market share of 12.5%, but only saw a 0.5% increase in unit registrations from the same period in 2017. Vauxhall has seen a 19.8% decline in its commercial vehicle registrations for the year-to-date, which can be attributed to the news of changes in the retail network. Ford and Volkswagen look to be taking advantage of the current uncertainty in the Vauxhall brand. However the introduction of new Vauxhall vans may turn the tide for this brand in the coming year. Three other members of the top ten brands for light commercial vehicles under 3.5t have seen a significant loss of market share this year: Renault (-25.9%), Nissan (-24.5%) and Fiat (-23.4%).
EU registrations
April showed a strong return to growth, with EU vehicle registrations for the month up 9.6%. This was after a YoY decline in new vehicle registrations of 5.3% in March 2018 which was the first decline this year.
The improvement in the growth rate came largely from the UK, which saw a strong YoY improvement for the month of April, with new registrations increasing by 10.4%. The very weak new vehicle registration numbers seen in April 2017, were a result of the change in the VED tax on the 1 April 2017.
All other major European markets, also recorded strong growth in April. Spain increased by 12.3% YoY, France, 9.0%, Germany 8.0% and Italy 6.5%. The new EU member countries also performed well with growth stimulated by improved economic recovery after the global recession.
Year-to-date to the month of April 2018, the EU and EFTA increased by 2.6%, vehicle demand in the UK YTD remained soft down by 8.8%. YTD and the other major European countries increased, Spain is up 11.0%, Germany 5.0% and France, 4.4%.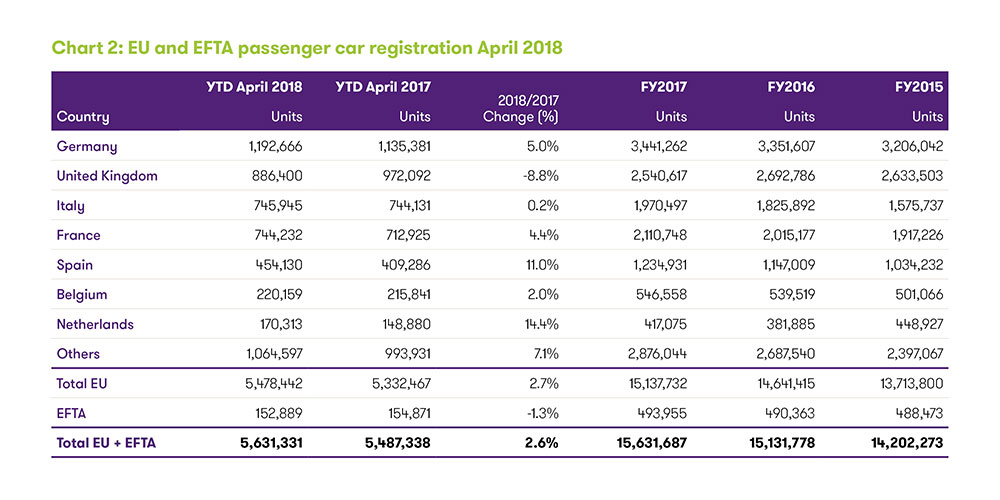 The road ahead
There are a number of factors influencing the underlying market, which looks to continue for at least the short term. Consumers are reluctant to commit to making big purchases until they get a good indication of what the economy will look like post-Brexit and how their wages will match up with inflation. This situation is not permanent though, and the current air of uncertainty will lift at some point. There is always a lag between consumer confidence and new registrations, so until we see a period of growing confidence we are unlikely to see any major dramatic changes in market trajectory. Going forward it is important that manufacturers and motor dealers focus on trading through periods of weaker markets as they have successfully done in the past, in preparation for the eventual return of confident consumers.
References
Get the latest insights, events and guidance about the automotive industry, straight to your inbox