NAVIGATING BREXIT
Need practical advice on navigating Brexit?
Discover our practical steps for business leaders
Vehicle registrations are stabilising in the UK after a period of wide-spread economic and political uncertainty.
Economic and political uncertainty has generated disruption not only in the UK automotive market, but also in other sectors, including general retail and manufacturing. The UK automotive industry has successfully adapted to changes in the past and we believe it will continue to do so. Vehicle registrations are expected to decline in 2017 and continue to decline in 20181. This may herald the start of a period where registrations remain relatively low. Nevertheless, as Chart 1 shows, even if the SMMT forecast is correct and new vehicle registrations decline to 2.594 million, down 3.7% in 2017 and 2.506 million units in 2018, 3.4% down on 2017 SMMT forecasts, this still makes 2017 the third highest year of vehicle registrations.
Chart 1 New UK vehicle registrations 1976 to 2018 (SMMT Forecasts 2017 and 2018)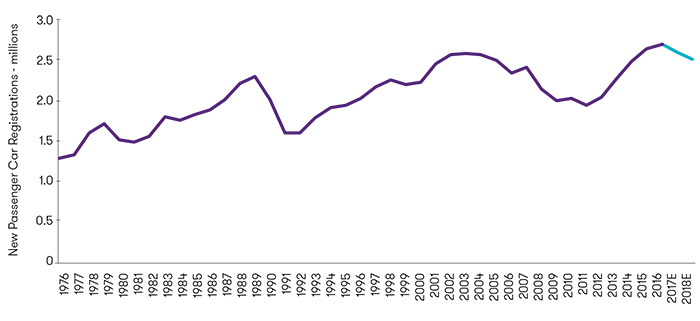 Source: SMMT, UK new car and van registrations forecast – July 2017
Registrations of new passenger vehicles
Registrations at the half year provided a mixed picture, with the first quarter of the year performing strongly and the second quarter's performance softening significantly. Over the year to date (YTD), registrations fell to 1,401,811, a drop of 1.3%. Since the first half, there has been little positive news for registrations with the month of July showing further weakness, down by 9.3% over the same period in 2016. YTD, the number of units registered is 1,640,241 a YTD decline of -2.4% for August. The decline of diesel registrations continues at a rapid rate with the first half YTD showing a fall of -9.9%, which has been exacerbated further by an annualised drop in July and August. However, we still await vehicle registrations for the all-important plate change in September.
For individual manufacturers, there were, as expected, winners and losers in the first half. Jaguar continued to increase in market share to 1.45% aided by the release of the F Pace and consumers' preference for premium brands. Mercedes Benz also continued to gain market share, exceeding 7.1% and breaking away from its rivals BMW and Audi. There was also clear evidence that Mercedes-Benz is serious in its plan to take more market share, with the A Class and C Class both in the top ten best-selling models in the UK during the first half and also in July and August.
Ford – the largest holder of market share – held 12.01% in H1, representing a year-on-year decline of 1.68%. In July, however, the brand's market share fell below 12.0% at 11.85%. This was a 4.23% decline on the previous year and could have been the catalyst for Ford to introduce its scrappage scheme for older vehicles. This scheme may well prompt a rise in Ford vehicle registrations in the crucial plate-change month of September.
Registrations by fuel type
The registration of diesel vehicles continued to decline against a backdrop of ongoing bad publicity over their emissions. This included, in July, the Financial Times indicating that the EU is investigating claims that BMW, Daimler and Volkswagen had colluded on the technical details of diesel exhaust treatment systems1.
In the first half of the year, as Chart 2 shows, diesel vehicle registrations fell by 9.9%, dropping in June by 14.7% YoY and deteriorating further in July by 20.1%. The most recent months of registrations provides no clear indication when this decline will flatten. The SMMT has forecast that, by the end of the year, diesel registrations will account for 43.2% of total passenger car registrations. July YTD diesel registrations market share was 42.7% well below its highest level of 51.2% (November 2015) in the last 24 months and August has not provided any better news for diesel vehicle registrations.
Chart 2 YoY Growth/ Decline in Diesel Vehicle Registrations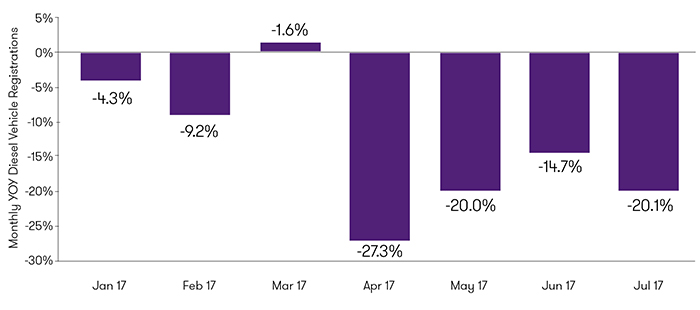 Source: SMMT, UK new car and van registrations forecast – July 2017
Electric and alternative fueled vehicles (EAFVs) continue to gain market share, underpinned by negative publicity for diesel vehicles. In H1, the registration for EAFV increased by 27.4% YoY; market share for these vehicles increased from 3.23% in H1 2016 to 4.18% in H1 2017 (as percentage of total market). The exception was a 30.1% decline (H1 2017, YoY) in the hybrid diesel vehicle subsector.
EAFVs remain a relatively small percentage of market share, but continue to increase amid strong demand for petrol hybrid and pure plug-in vehicles. July YTD experienced high demand for EAFVs with market share rising to 4.3%. As each month passes, this area of the market appears to become more important, not only to new vehicle registrations, but also to the manufacturers. Volvo announced in July that it intends all of its vehicles registered in 2019 to be either hybrid or electric and the UK, and French governments indicated that the sale of new diesel and petrol vehicles would be banned by 2040.
Commercial vehicles
At the half year, light commercial vehicles less than 3.5t declined YoY by 3.67%, however the good news was that the month of June YoY saw an increase of 1.77%. Similarly, July saw the monthly YoY registrations increasing by 1.06%. It is not clear whether this is a recovery for the market or just a small improvement. Ford continued to dominate both the LCV market less than 3.5t and the 3.5t to 6t market with market share of 32.17% and 30.99% respectively. We believe that Ford will increase its market share in September as its recent scrappage scheme includes commercial vehicles. The SMMT released its quarterly HGV registrations; YTD H1 increased by 3.5% and followed a stronger Q2 and increase of 6.3%. 22,177 trucks were registered in H1 2017; this was the highest number since H1 2008, representing a very positive start to the year and an indication that fleet companies are starting to invest in vehicles.
Image 1 - UK New Vehicle Registrations for H1 2017 (YTD)

Source: SMMT, UK new car and van registrations forecast – July 2017
Image 2 - EU and EFTA Passenger Vehicle Registrations H1 2017 (YTD)

Source: ACEA, Passenger car registrations: +4.7% during first half of 2017; +2.1% in June
Sources:

Read more automotive insights
Get the latest insights, events and guidance about the automotive industry, straight to your inbox