NAVIGATING BREXIT
Need practical advice on navigating Brexit?
Discover our practical steps for business leaders
Our 2016 FTSE 350 Corporate Governance Review revealed interesting insights and developments across all sectors; not least how the economic and commercial environment continues to drive improved practice, with investors maintaining pressure on companies to do and say 'the right thing'.
This year's research shows that culture (behaviour and values) is one of the key areas that is in need of attention with only 20% of company reports giving any real insight into how companies set and embed it throughout their organisations. The area of greatest non-compliance with the Corporate Governance Code is in respect of the balance of independent directors on the board - possibly a sign of ineffective succession planning. Reporting on shareholder engagement has continued to slide, down from 55% last year to 36% this year.
The encouraging news is that full compliance has risen and at 62% is the highest ever but underneath this success there remains a significant challenge for our largest companies to embrace the principles of the Code rather than limiting their disclosures to the minimum level acceptable.
If you would like to receive a copy of this year's supporting research data, please contact Alex Worters [alex.j.worters@uk.gt.com].
Watch our video:
2016 highlights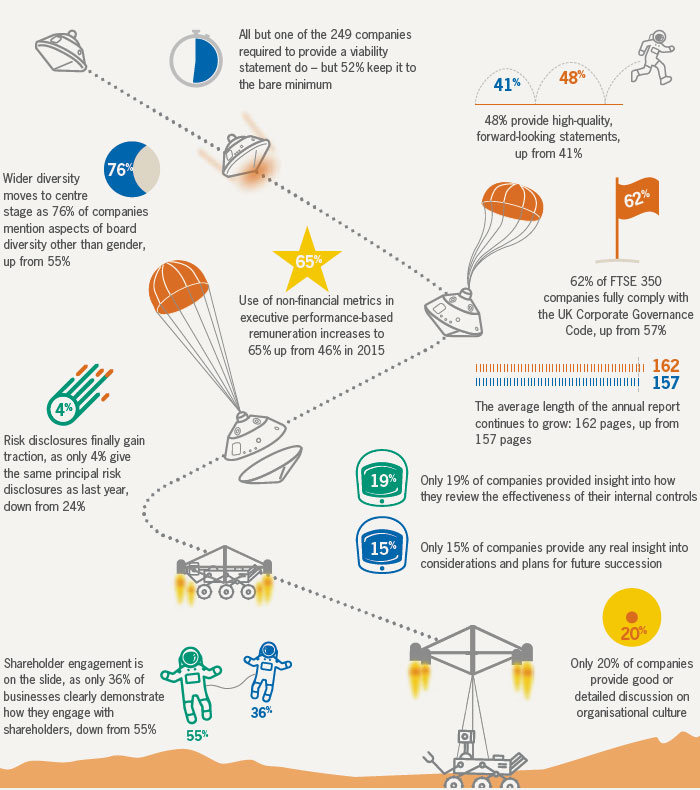 Download the review
Download PDF [3398 kb]