NAVIGATING BREXIT
Need practical advice on navigating Brexit?
Discover our practical steps for business leaders
Our brand new India Tracker highlights the scale, business activities, locations and performance of Indian-owned companies making the biggest impact in the UK.
Indian-owned companies are making a big impact in the UK but where are they based, what business are they in and what is the outlook for further India-UK investment in 2014? We've rounded up the key statistics on our infographic; alternatively, scroll down to get the full story.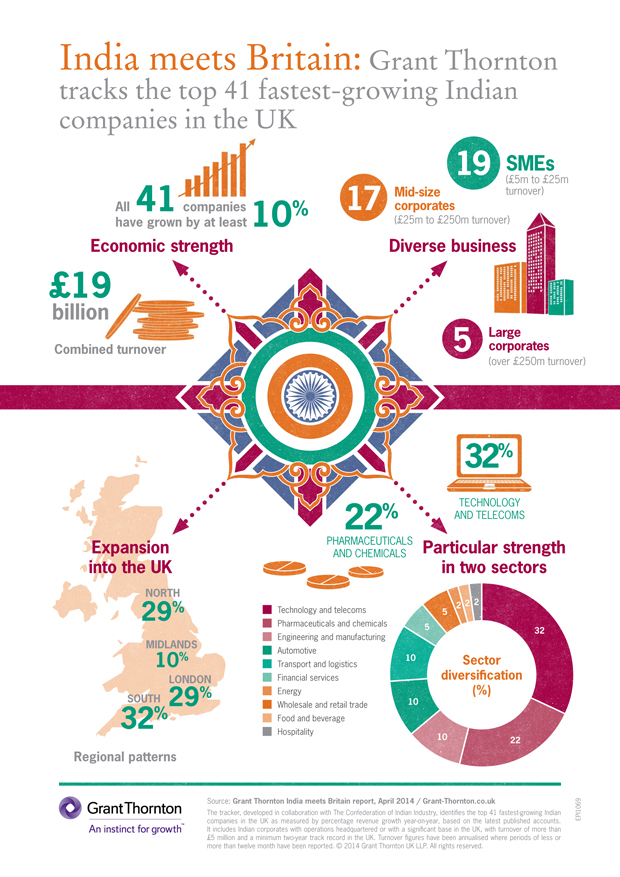 Indian companies role in UK economy
Indian companies follow a relatively well-trodden path to the UK that dates back more than 100 years when Tata first established a UK presence. According to our research:
More than 700 Indian-owned businesses in the UK.
These companies employ more than 100,000 people (figure may include employees in overseas subsidiaries of UK companies).
The Top 41 fastest-growing Indian companies in the UK generate some £19 billion of turnover.
Tata Motors accounts for more than 84% of the turnover figure for this group.
Only five of the fast-growth India Tracker Top 41 are large corporates (with more than £250 million turnover); 17 are mid-sized corporates (£25 million to £250 million turnover) and 19 are SMEs (£5 million to £25 million turnover).
India-UK investment drivers
Our research suggests that the appetite and opportunities for successful UK investment by Indian companies remain strong and may be picking up from the post-2008 slowdown, despite economic difficulties both in the UK and in India. According to a recent report by UK Trade & Investment (UKTI), India is the fifth largest investor in the UK.
Indian investors are attracted to the UK to gain access to leading-edge technology, know-how and research; for direct access to the UK market; and as a springboard into Europe.
Others have been attracted by the ability to acquire iconic UK brands, such as Typhoo, Jaguar Land Rover or fashion retailer East.
Growth rates outstrip UK GDP growth
The Top 41 fastest-growing companies identified by our India Tracker achieved growth rates of more than 10%, with 26 companies achieving more than 20% – far outstripping prevailing UK GDP growth.
The top five companies in the India Tracker more than doubled turnover, no doubt partly as a result of acquisitions. We estimate, however, that overall around 60% of the companies in the Top 41 are the result of establishing and growing greenfield businesses rather than acquisition.
Fast-growth sectors
Half of the fastest-growing companies in our India Tracker Top 41 are in the pharmaceuticals and chemicals (22%) and technology and telecoms (32%) sectors. These sectors have remained strong for Indian enterprises attracted to UK know-how, technology and market positioning.
Engineering and manufacturing account for 13% of the Top 41 while automotive features 10% of the India Tracker companies – unsurprisingly this is dominated by Tata Motors.
Manufacturing companies, particularly food manufacturers such as Britannia Brands, also feature strongly. Many such businesses, have been actively accessing technology and brands in this sector, and successfully exporting this to the Indian market, as in the case of India Hospitality Corporation's acquisition of Adelie Foods in 2012.
Indian companies are based throughout UK
The fastest-growing Indian companies in the UK are fairly evenly spread throughout the country, with just 29% of the Top 41 based in the capital. The North of England has 29% of the total, the South 32%, and, interestingly, just 10% are based in the Midlands, which is traditionally the heart of UK manufacturing.
Outlook for 2014
While there were more encouraging signs for the Indian economy in the last quarter of 2013, India's growth rate remained below 5% throughout the year. Consistent quarter-on-quarter growth and a strong economic recovery are far from guaranteed and investors remain cautious in the face of continued uncertainty. In addition, the weaker rupee may be curtailing the Indian appetite for overseas acquisition.
India now awaits the May 2014 elections, set to play a pivotal role in its economic future. The prospect of a more pro-business BJP government has spurred the markets but there are concerns that progress may be hampered if they are forced into a coalition.
Despite these issues, there is a great deal of pent-up demand among Indian businesses looking to set up in the UK. With many Indian companies having significant cash stockpiles on their balance sheets, we might expect to see some of this potential unleashed as companies seek to replicate the success of our Tracker Top 41 in the UK as and when the economy improves.
Download the latest report
Grant Thornton is widely recognised as one of the leading international firms advising on India-related matters via our South Asia Group and has been involved in every IPO involving an Indian company on AIM, with the exception of the real estate sector.
For more information on our India Tracker and to read the full report, it is available for download here: India meets Britain: Tracking the UK's top Indian companies [ 1068 kb ] (PDF).