In our discussions around the UK, people expressed a strong desire to pool resources and find local solutions to local challenges. Bringing different sectors and people together stimulates innovation, creates social and economic value and helps identify new ways to use existing or disused assets.
Oxford parent POWer
Grant Thornton is looking at how it can help. It's working with TechPixies which upskills mums and helps them return to work or start their own businesses. We're providing our Pow Wow space in Oxford, a purpose-built collaboration and innovation area as a location for one of the social enterprise's three course locations.
What can business do?
There are opportunities in every town and city for business to support by contributing under-used space, resources and expertise. It can:
Help make the most of, and share its, empty or underused space buildings
Support collaborative networks which address local and global issues
Find platforms through which you can help drive the creation of sustainable towns
Read more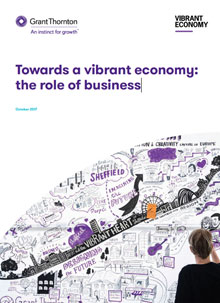 Consider the potential impacts and opportunities it will create for your organisation