NAVIGATING BREXIT
Need practical advice on navigating Brexit?
Discover our practical steps for business leaders
The UK government has proposed a ban on the sale of conventional petrol and diesel cars in the UK from 2040, and remove all emissions producing cars from roads by 20501. A tall order, and one that faces multiple challenges, particularly for infrastructure and energy generation.
Market commentators expect the UK will need to generate substantially more electricity than it currently does in order to meet the demand of refuelling a country full of electric vehicles.
The rise of the electric car
Although the UK has seen an increasing number of new cars registered in the last six years (Figure 1), electric vehicles (EVs) represent only a small fraction of the 2.5 million cars registered each year. The thought of replacing the UK's 32 million cars with all EVs will be of significant interest to the mining industry2. The rise of speciality commodities such as lithium, graphite and rare earth minerals in recent years is likely to gather further momentum, as a result of the demand for these raw materials to produce batteries. Lithium spot prices alone have quadrupled in the last two years to around US$20,000 tonnes, due to its increased demand and perceived shortage of supply.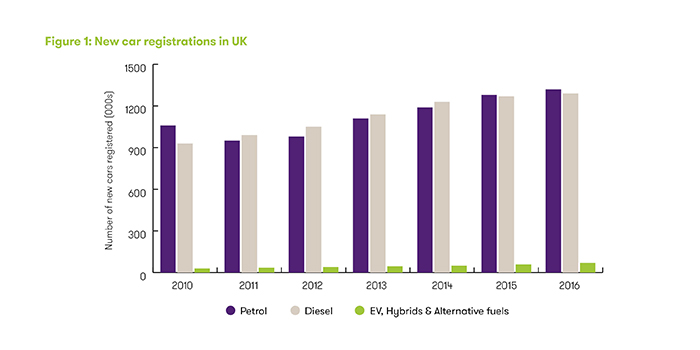 Considering the average EV requires 25-50 kg of lithium for its batteries, we could be looking at demand of 1,600,000 tonnes of lithium in the UK alone by 20503. New lithium mines will come on stream, more efficient battery technology will emerge, hydrogen-based fuel will advance and the lithium demand-supply gap will narrow. However, current global lithium production of around 36,000 tonnes per annum, suggests a monumental supply deficit is looming.
Virtually all car manufacturers are participating in the electric revolution. Volvo has announced that all of its new models launched from 2019 onwards will be electrified. Tesla has overtaken General Motors as the most valuable US car maker, despite selling less than 1% of the number of cars, and is now rated as the 'coolest' car manufacturer in the world in Google's recent survey.
Globally, 72 million new cars were manufactured in 2016, a compound annual growth rate of around 3.7% over the last 10 years with around one third produced by the big three of Toyota, Volkswagen and General Motors4. But with electric cars currently representing only 0.15% of all cars on European roads, the challenge set by the UK government is vast5. It is worth noting that under the UK proposals, even the lowest form of electrification, such as mild hybrids will be permitted. In practice, our view is the ban will likely have little adverse effect on car manufacturers, as tighter emissions regulations will inevitably require hybridisation well before 2040.
Commodities demand for batteries
Lithium has unique chemical properties that include being the lightest metal on Earth. It is used in a number of industries, with around 40% of current demand coming from batteries, in particular batteries for hybrid and electric vehicles. The US Geological Survey (USGS) estimates global lithium resources stand at around 47 million tonnes, of which approximately one third are economically mineable reserves. Production is dominated by two large brine mines in Chile and a spodumene operation in Australia, which together control two thirds of global supply (Figure 2 & Figure 3). Interestingly, the number of exploration companies moving into lithium has grown exponentially in recent years, with the number of companies 'discovering' lithium on existing land previously delineated for other commodities is also increasing.
Supply is not forecast to keep up with demand, with current global production estimated at a mere 36,000 tonnes of lithium. As other countries follow the UK in banning emission producing cars, we would certainly expect the supply deficit to continue to widen in the coming years. That in turn should lead to continued price rises, and further investment into the exploration and development of new lithium deposits.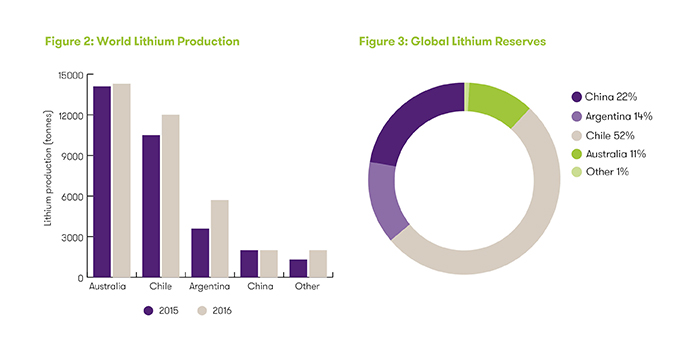 Graphite is another critical commodity used in the production of EVs, with around 25–50 kg of graphite used in the anodes of batteries6. Graphite as an investment case garnered much attention before the world turned to lithium. The subsequent decline in interest for graphite has probably less to do with demand and more to do with the relative abundance of graphite (800 million tonnes of resources).
Currently dominated by Chinese (65%) and Indian production (14%), the existing supply sees around 1.2 million tonnes of graphite produced worldwide per annum. China's dominance of battery-grade graphite production is making it difficult for smaller international players to gain traction. Global annual production of graphite currently stands at around one million tonnes, and although demand is expected to rise in line with electric vehicle growth, we expect the supply side to keep up as the best quality new mines come on stream, and production in China ramps up.
Cobalt is perhaps the least spoken of battery-related commodity, but represents the current 'pinch point' for EV technology, due to cobalt's relative scarcity. The USGS estimates global production of cobalt at only 123,000 tonnes in 2016, with 25 million tonnes of resources worldwide. The Democratic Republic of Congo (DRC) hosts approximately half of the world's cobalt resources, within its copper rich deposits, and a further 14% hosted in various nickel laterite deposits in Australia (Figure 4 & Figure 5). Unfortunately, cobalt mining in the DRC has garnered much negative publicity due to illegal artisanal mining, often involving child labour. This has seen a lack of traction with mining investors, and little appetite for exploration and development of new cobalt mines. It is possible that the proliferation of EVs worldwide will consume most of the world's current known cobalt resources, assuming that technology remains the same. However a more likely outcome is that battery and EV technologies will continue to advance, to the extent that cobalt becomes a far less critical component.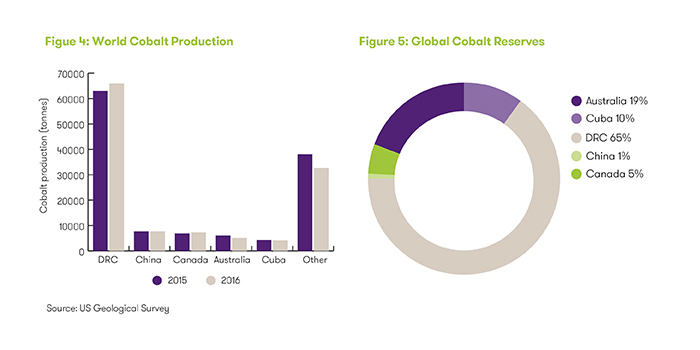 What about energy needs?
For the UK to generate sufficient electricity to charge the 32 million new electric cars, we could potentially need to generate an extra 30 gigawatts, in addition to the current peak electricity demand of 61 gigawatts7. That's the equivalent of building ten new nuclear power plants the size of Hinckley Point, or 10,000 new wind turbines, doubling the current number of onshore and offshore wind turbines in the UK8. It is important to note that the estimate of additional peak electricity demand is based on an extreme scenario modelled by National Grid, who have subsequently clarified that more realistic scenarios would point to additional 4-10 gigawatts required at peak times9. This is partly because of the continuing rise of both storage systems and demand side management, which will continue to help smooth peaking issues.
The growth of EVs and specifically the charging infrastructure to support it, will also help support that management of the grid. As technology develops, we expect vehicles will be able to both export electricity into the grid when needed, as well as using electricity. With a UK electricity market that is currently getting to grips with decentralisation, the challenge will be balancing the system that EV technology requires. There is also the concern in the industry as to whether the charging infrastructure to meet the growth in demand for EV's can be rolled out quickly enough to meet demand. This will be a particular challenge for cities where on-street parking spaces are at a premium and the provision of charging points to meet.
Another issue faced in meeting the electricity supply needs met by EV growth is the amount of power that will be required in developing and producing new EVs. As part of Jaguar Land Rover's plans to roll out new EVs, it was identified that there was a major grid strengthening need in the West Midlands to meet their expected increased power demands. There is significant cost associated with such strengthening of the grid network in addition to having that energy generating capacity available.
As the growth in EV development continues, determining who is going to cover the cost of that capital investment, will be a debate that is unlikely to get resolved quickly. Overall, it seems logical that multiple participants in the EV supply chain must collaborate more directly if they are to solve these issues.
Sources
UK plan for tackling roadside nitrogen dioxide concentrations, Department for Environment Food & Rural Affairs & Department for Transport, June 2017
Graphite: From lead pencil to market leader, First Graphite
Diesel and petrol car ban: Plan for 2040 unravels as 10 new power stations needed to cope with electric revolution, The Telegraph, 27 July 2017