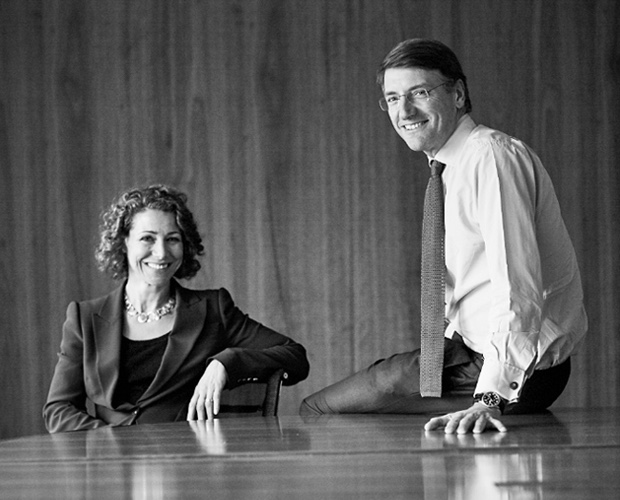 Sir Charlie Mayfield, Chairman of the John Lewis Partnership, swaps notes with Grant Thornton UK CEO Sacha Romanovitch as the firm moves towards a shared enterprise business model.
Grant Thornton is adopting a shared enterprise model in a bid to foster long-term, sustained growth at the firm. It's a model that is exemplified by the John Lewis Partnership, the largest employee-owned company in the UK.
John Lewis is famous for its commitment to customer service and staff engagement. This comes from treating employees like valued individuals, rather than just links in a chain. The UK department store doesn't just talk the talk, either – all of its employees have rights that mimic share ownership, receive a dividend-like slice of the annual profits and are referred to as 'partners'.
"One advantage of an employee-owned business is that it brings the employee and the shareholder together," says Sir Charlie Mayfield, Chairman of the John Lewis Partnership since 2007.
Shareholders often take priority in the corporate world but at John Lewis everyone has a voice. The top brass are accountable to 90,000 employees who are consulted on – and often have direct input into – decisions that can affect their employer's future.
It's a model that Grant Thornton CEO Sacha Romanovitch wants to adopt and adapt to fit the global accountancy and business advice partnership. The key objective, she says, is to optimise the intelligence, creativity and know-how of its employees to work towards a common goal of creating value for clients.
John Lewis was founded on this model. Adapting to a new structure is a trickier proposition but Sacha has won the overwhelming backing of Grant Thornton's partners with her vision.
Sacha's message is that everyone stands to gain from the new structure, which is about empowering people to share ideas, find solutions and make decisions in a way that they may not have the opportunity to do in a more traditional, top-down environment. The intention is to create a more spirited, energised workplace where people can deliver real value for clients.
It's an approach that John Lewis has found breeds loyalty and builds pride among its people, making them feel like they have a real stake in the business.
It also helps in tricky situations. When John Lewis's generous final salary pension scheme opened up a big cost overhang, senior management communicated the problem to all staff and collectively the business agreed to move to a partially defined contribution scheme.
"We were able to do that because we could engage our shareholders – our employees – and explain why we can have the money today or we can have it tomorrow, but we can't do both. Knowledge is fuel to the partnership; we share a lot because it makes people interested," says Sir Charlie. It's challenging times such as this, rather than the good news days, which really bring out the benefits of shared enterprise.
Sacha is seeing Grant Thornton's employees behave more like owners too, demonstrating a helicopter-view of the business, as well as focusing on their day-to-day work.
Behaving like an owner means sharing the responsibility to create value for both clients and the firm. But if you ask people to share responsibility, you have to trust them to deliver and give them the tools to do so. For Sacha, that means creating a more flexible working environment for employees, helping them to understand how the business works and allowing decisions to be taken further down the organisation.
"We have been experimenting with sharing ideas and responsibility over the summer and the results have been positive," she says. "We employ a lot of smart people who create solutions for clients every day.
"It becomes clear that our 4,500 people collaborating will solve problems better than a small group of people on our strategic leadership team. For me, that has been the real prize."
The shared enterprise model is becoming more popular, not because it is charitable but because it is more logical. Quarterly capitalism prioritises temporary gains; the goal of shared enterprise is delivering long-term performance, liberating all your people to make it happen.
Put your hands up if you think the old way is more likely to create long-term, sustainable and constructive growth. Not many of you, I bet.
Words: Dan Matthews Image: © Chris Terry
More Strategies for growth
Strategies for growth is our quarterly update for CEOs that explores ways businesses can navigate the current economic climate and unlock growth. You can read more Strategies for growth articles in our Insights section, or in our digital magazine.
Other articles in this issue include
Subscribe to future issues
To subscribe to future editions of our quarterly email for CEOs, register your details with us at strategiesforgrowth@uk.gt.com.