NAVIGATING BREXIT
Need practical advice on navigating Brexit?
Discover our practical steps for business leaders
Are you ready for the fight?
Much like the prospective political environment, the insurance industry is facing a hugely unpredictable future landscape. Insurers who do not fully develop and implement an overall strategy or vision to combat the coming external pressures will quickly lose their relevance.
The game-changers
The low interest environment is driving capital and competitiveness into the industry. Global reinsurance capital inflows increased significantly between 2008 and H1 2016 [1].
Threat of entry from non-traditional players (e.g. InsurTech firms) is forcing insurers to re-evaluate their place within the value chain.
The de-risking of the insurance landscape is requiring insurers to look at other ways of adding value. For example, driverless cars could reduce worldwide motor premiums, a core volume market, by 45% by 2030 [2].
In response to these game-changers, market players are making land grabs into new territories, pitching their tents closer and closer to the customer. The battle for the insurance value chain has begun and insurers better ensure they are ready for the fight.
The battleground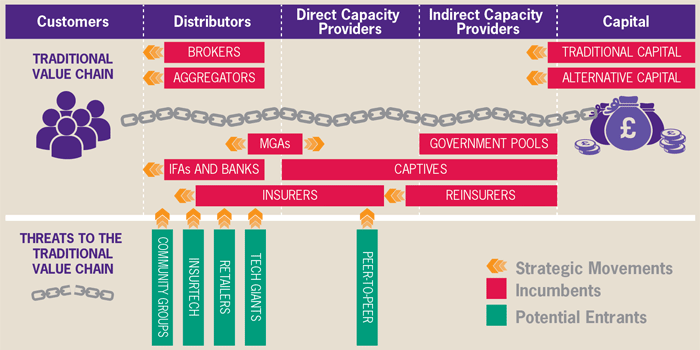 Market players
Reinsurers
Pressures
Almost $250 billion of extra capital has poured into the global reinsurance industry since 2008 due to its double-digit returns [1], making the market more competitive. In order to grow return on equity in this competitive environment, reinsurers need to seek alternative sources of income.
Strategies
Exploiting data advantage - insurers could become data warehouses, although this is precisely what reinsurers are today. Reinsurers have access to huge quantities of data and understand risk on such an aggregated scale that they could leverage this knowledge to become the successful insurers of the future.
Direct capacity - entering the direct capacity part of the value chain allows reinsurers to grow their income at the expense of insurers. Key reinsurance players are already partnering with InsurTech firms, particularly those with a customer experience focus, to provide direct capacity (for example Munich Re's partnership with Wrisk) [3].
Insurers
Pressures
Insurers understand that there is an external threat to their business models emanating from non-traditional players. What is less clear (as shown in the diagram above) is that the consequence of insurers failing to expand towards the customer is that they concede to becoming data warehouses, confined to the direct capacity part of the value chain and competing with reinsurers for their own territory.
Strategies
Increasing direct interaction - insurers are trying to increase their reach in the direct-to-customer (D2C) market. The biggest opportunity is in the SME Commercial Lines market, a traditionally intermediated market whose buyers are increasingly comfortable purchasing insurance online and without advice.
Internet of Things (IoT) partnerships - insurers have a chronic shortage of touch-points and reasons for interaction with their customers. Increasingly insurers are partnering with technology firms to provide value added services, complementing their traditional products and increasing the frequency of customer interaction.
Ancillary insurance - some insurers are taking the IoT strategy even further, making the protection aspect of their service ancillary to the technology product sold.
Traditional intermediaries
Pressures
Online retailers have set the bar very high when it comes to digital customer experience. Traditional intermediaries that cannot match this expectation will be overtaken by aggregators and non-traditional players providing superior customer experience.
Strategies
Customer experience data – intermediaries are exploring how they can leverage big data and flexible digital channels to meet the current and future needs of their customers.
Exploiting new channels - keeping on top of technological developments will be key for intermediaries looking to provide best-in-class customer experience. This could include engaging through numerous mediums such as the Amazon Echo or virtual reality.
Non-traditional players
Pressures
Investments into InsurTech have tripled from 2015 levels to reach £16.5 million so far this year, increasing the intensity of competition between the players and heightening their threat to traditional players[4].
Strategies
Distribution focused - the majority of the non-traditional players focus on the distribution and customer interaction part of the value chain, which is less capital intensive.
Competition and cooperation - some of these players will increase their position in the value chain at the expense of traditional players, others will look to actively work with incumbent players to improve customer experience.
We expect the market to remain very competitive over the next couple of years, particularly as all parties begin to establish and implement their individual strategies in a complex and ever-changing environment. What we do know is that the most successful organisations will be those who are closest and add the most value to their customers.
Authors: Stuart Riddell, Financial Services