NAVIGATING BREXIT
Need practical advice on navigating Brexit?
Discover our practical steps for business leaders
Over the last 12 months, a number of technology applications have emerged which could disrupt the supply teacher market.
The traditional market
The success of traditional supply teacher businesses has been based on signing-up qualified, DBS-checked supply teachers within an area, forming relationships with local schools, providing the necessary introductions through account managed services and handling timesheets and payroll services. Agencies typically earn a margin of £40-50 per day for the replacement teacher.
The technology app proposition
A number of technology application players have emerged in the last 12 months that provide an online database of teachers for both day-to-day and longer-term supply teacher needs. These providers typically conduct candidate vetting, as well as provide timesheet services and occasionally payroll services. Many also have a review feature enabling schools to record feedback on candidates, and teachers to visibly rate schools. Table 1 provides a summary of the new entrants to the supply teacher market.
Table 1: Supply teacher technology players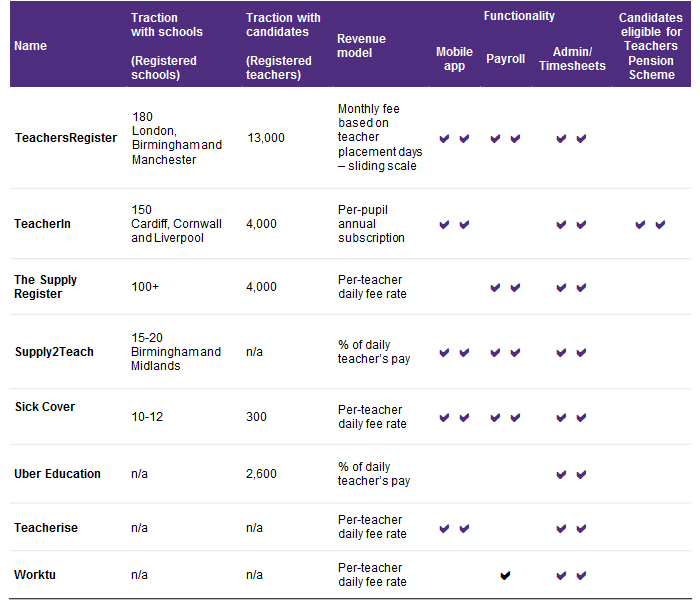 Source: Grant Thornton UK LLP
The revenue model varies across the players, from 'pay as you go' daily fee rate (similar to the traditional model) to an annual subscription model to access the database. The fees charged are significantly lower than a traditional agency would charge and some do not charge finders fees. In addition, they do not charge schools if a supply teacher becomes permanent.
"Apps' fees are lower than traditional agencies. The advantage of using an app is the cost and speed."
Academy
"We encourage schools to test teachers out and transition to permanent. We don't charge a finders fee, unlike the £2-5k they have to pay to break supply contract with an agency."
App player
Challenges to successful disruption
While technology apps could prove highly disruptive of the supply teacher market, they face a number of challenges:
They need to register enough teachers and schools in an area to make it attractive for each group to join and actively use the database. To address this, many of these players are focusing their efforts on a specific region to gain critical mass and proof of concept.
Schools' decision-makers are often conservative in their approach, preferring to speak to an agency, rather than find their own answer online. Some players are countering this by offering an account manager phone service.
Many are not set-up to handle payroll, adding an administrative hurdle for schools.
"I don't see a lot of schools using these apps. I wouldn't use apps for D2D. I don't have time at 7am when I need a teacher to filter and look at 20 CVs on an app or on a website. There needs to be trust and I trust the agency to send me a good teacher when I pick up the phone to them at 6-6.30am"
Primary school
"Schools are traditionally most comfortable with picking up the phone to agencies so that was a hurdle. The prevalence of mobile apps in general, and new generations accustomed to using mobiles is helping to change the mentality."
App player
"We use TeacherIn for D2D but for LT we use only agencies. For permanent or LT placements in the future we will likely keep using agencies since quality is very important. Agencies also have more teachers to offer. We may consider using apps for LT, but they will have to ensure the highest quality of teachers."
Academy
Future for the market
The disruptive technology apps adoption is likely to follow a typical S-curve: slow initially until a level of critical mass is achieved when adoption 'takes off '.
This poses a challenge for pure tech players, as the more agile traditional players have a window of opportunity to invest in technology and leverage their existing candidate/school relationships. However, it is likely that as schools adopt this technology, supply agency margins will fall, albeit offset by reductions in their own headcount costs.
For more information regarding the evolving landscape around supply teachers and recruitment agencies, contact Andrew Hawkins.