NAVIGATING BREXIT
Need practical advice on navigating Brexit?
Discover our practical steps for business leaders
A look beyond traditional economic measures
The Sustainable growth index seeks to define and measure the components that create successful places. The index, currently in its third year, extends beyond the traditional economic measures of success to provide a framework for a broader assessment of sustainable growth across the country.
Our work across public services advisory brings us into contact with many facets of public service. Our transport, real estate, energy, healthcare and infrastructure experts support place shaping through economic growth, financial stability and resilience, and help tackle challenges across many private businesses and government bodies. Much of our work is underpinned by our national insight, data and analytics capability and through these discussions we have seen that the debate – both locally and nationally – is changing; sustainable growth, inclusive growth and good growth – along with others – are now firmly part of the place shaping vernacular.
Increasingly, policy makers recognise that it takes multiple indicators to really understand the strengths, weaknesses, opportunities and challenges of a place. That's why our study looks at over 50 indicators to evaluate all the facets of a place and where they excel or need to improve.
Our index is divided into six baskets. These are:
1 Prosperity
2 Dynamism and opportunity
3 Inclusion and equality
4 Health, wellbeing and happiness
5 Resilience and sustainability
6 Community trust and belonging
These metrics help businesses understand the places they operate in, where their employees live and work and the market they are a part of. It also gives local authorities a broader sense of their challenges and successes and helps them in three main ways:
1 Stimulates debate and discussion locally and challenges the status quo
2 Provides evidence to inform strategic priorities
3 Works as a tool to support investment decisions for maximum impact across economic, environmental and societal needs
Analysing the data
Overall the picture of sustainable growth remains similar to previous years. The south of England dominates the top of the tables and the results consistently underline the inter-relationship between places - with a number of neighbouring areas ranking amongst the country's strongest performers and clear corridors clustering around key transport routes.
Looking below this steady national state points to more significant change at the local level. Southampton's overall ranking is the most improved area nationally driven by significant improvement in relation to resilience and sustainability.
This year's index confirms that cities have a consistent imbalance between high scores related to prosperity, dynamism and opportunity, and low scores for health, wellbeing, happiness inclusion and equality. Disparity between the richest and poorest in these areas represents a considerable challenge for those places.
Inclusion and equality remains a challenge for both highly urban and highly rural places and coastal areas, particularly along the east coast from the North East to Essex and Kent, face the most significant challenges in relation to these measures and generally rank below average.
Applying the lessons of the index
People want to live and work in growing, but sustainable places. Policy makers and businesses want to understand the challenges facing their place so that they can be part of framing the solution. Creating sustainable growth matters and to achieve this national policy makers and local authorities need to do seven things:
1 Ensure that decisions are made on the basis of robust local evidence.
2 Focus on the transformational trends as well as the local enablers
3 Align investment decisions to support the creation of sustainable growth
4 Align new funding to support the creation of sustainable growth
5 Provide space for innovation and new approaches
6 Focus on place over organisation
7 Take a longer-term view
A key learning we have taken from our three years of collecting and compiling this data is that divisions continue to exist in terms of wealth, skills, opportunity, health and infrastructure. A sustained period of growth has not seen differences narrow both between and within places, and it is this which needs to be addressed through concerted and focused action. Otherwise the risk is that sustainable growth, inclusive growth and similar phrases simply become jargon.
Discover our regional overviews of sustainable growth >>
For detailed analysis of this year's data download the full report [ 1312 kb ].
Download the report
Download PDF [1312 kb]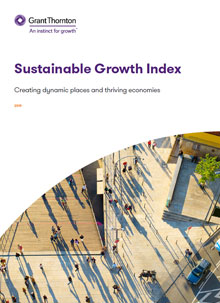 Get the latest insights, events and guidance about the public sector and local government, straight to your inbox.
Subscribe here