NAVIGATING BREXIT
Need practical advice on navigating Brexit?
Discover our practical steps for business leaders
Banks seem to be "making do" with success in a low rate world despite conventional wisdom that low rates hurt banks.
The boards and shareholders of most of the UK's major banks will view 2016 as a good year; profits were up, revenue was stable, and the worst of their conduct issues appear to be behind them, albeit with some notable exceptions.
The Q1 2017 results show this theme continuing. Banks seem to be "making do" with remarkable success in a low rate world despite conventional wisdom that low rates hurt banks.
Analysis of the results shows how banks are managing. It seems that stringent and effective cost management, a simpler business model and leveraging cheaper, digital sales channels for better customer engagement are allowing the UK's best performing banks to not only survive the "new normal" of low rates, but to thrive in this environment.
It appears that those institutions with the best cost: income ratios (and thus, those with the best cost management practices) also have the lowest net interest margin; Lloyds Banking Group (LBG) and Coventry Building Society (See Chart 1). Coventry offers a useful case study as they have a professed strategy to maintain a low net interest margin, low cost model.
Chart 1. Cost income ratio vs Net interest margin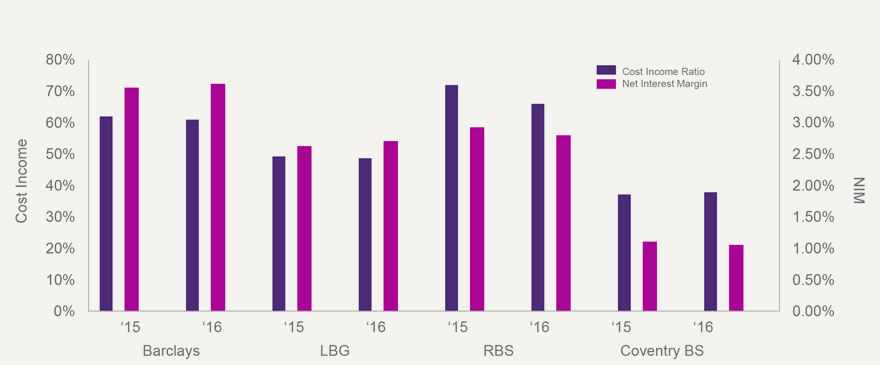 Source: Grant Thornton UK
Cost management
Coventry have a tight control on costs, and a simple product suite. LBG has similar ambitions whilst operating at a vastly different scale. LBG's cost: income ratio is the best performer among the UK's largest banks and is delivering on its strategy to build a low risk, simple, UK focused bank.
Simplicity
Coventry's rivals in the UK, HSBC and Barclays, continue to offer complex (and expensive) investment banking operations, which have yet to see the returns on equity seen before the crash. A simpler product suite is easier to manage and price contribute to this interesting correlation.
Lower cost of sale
Digital sales channels at LBG and others are significantly reducing the cost of sale, whilst improving the customer experience. Channels such as mobile and online banking provide useful data to allow further sales targeting and improve customer retention.
A low cost of sale is critical for success when asset yields remain low. Coventry, like LBG, have a low cost of sale by using an intermediary mortgage sales model, as well as its own digital channels, to help keep costs down.
Investment and technology
Continued investment in digital technology and operational improvements will always help with long-term cost management and banks must proactively apply the profit released by reduced one-off costs to digitise their back-office functions.
Whilst customer facing digital investment is easy to see, banks haven't seriously explored the benefits of digital technology in their core risk and finance operations. Machine learning, data analysis, and automation could reduce costs significantly.
This correlation does not mean that the strategies deployed by other banks are foolhardy. The income from investment banking is recovering too and may return to the lucrative yields seen before the crisis.
With continued Brexit uncertainty, it is unlikely that rates will rise soon, even as inflation increases. As they progress their ring-fencing programmes, perhaps all major banks could do well to look at Coventry and invest in the right change to sustainably prosper in a low rate world.