NAVIGATING BREXIT
Need practical advice on navigating Brexit?
Discover our practical steps for business leaders
Despite austerity, spend on children's social services is rising. So how can councils best get to grips with the drivers for demand and deploy resources wisely?
Headlines continue to report on austerity and shrinking budgets in local government. As a result, children's services have faced challenging savings targets and very difficult decisions over a number of years. However, expenditure on children's social care is actually increasing nationally according to the Grant Thornton CFO insights tool (see figure 1).
Figure 1 – Spend per head on Child Social Care services broken down by authority type (2013/14 - 2015/16)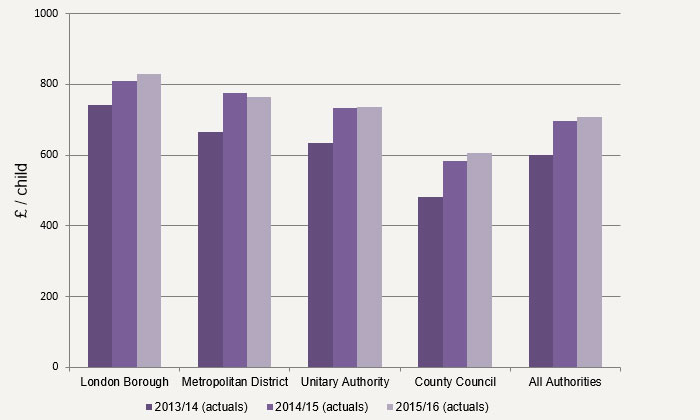 Source: CFO Insights: Revenue Outturn 2015/16, ONS Mid Year Population Estimates 2015
In 2015/16, 73% of all councils exceeded their children's social care services budgets (see figure 2) and as they approach year end for 2016/17, it seems this year will be no different.
Figure 2 – Proportion of councils that overspent on budgets in Child Social Care services and Looked After Children service (2015/16)
| | | |
| --- | --- | --- |
| | Proportion of councils that overspent on budget 201516 (Looked After Children) | Proportion of councils that overspent on budget 201516 (Total Service) |
| London Borough | 73% | 42% |
| Metropolitan District | 75% | 58% |
| Unitary Authority | 68% | 60% |
| County Council | 93% | 63% |
| All Authorities | 75% | 56% |
Source: CFO Insights: Revenue Outturn 2015/16, Revenue Account 2015/16
In 2016/17, those councils with a responsibility to provide children's social care allocated, in total, 46% of their children's social services budgets to Looked After Children (LAC); a far greater investment than in any other area within the children's social services budget.
However, in 2015/16, 75% of all councils exceeded allocated budgets on LAC. County councils were the highest spenders - 93% spent more than their allocated budget. Figures suggest therefore financial pressure has been felt disproportionately on services targeted at lower level need and importantly prevention.
Whilst figure 3 shows that expenditure on LAC is rising year-on-year, the number of children in care has remained relatively stable. LAC rates per 10,000 for England were 65 per 10,000 in 2015 and 2014 - having risen from 64 per 10,000 the year before. Clearly there are other factors prompting this increase in spend beyond the number of children in care.
Figure 3 – Spend per head on Looked After Children services broken down by authority type ( 2013/14 – 2015/16)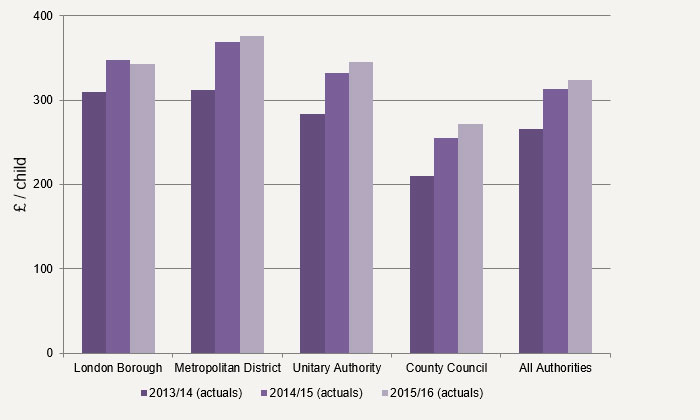 Source: CFO Insights: Revenue Outturn 2015/16, ONS Mid Year Population Estimates 2015
Other reasons for this trend could be a scarcity of provisions geared to meet the complex needs of children coming into care, the increasing cost of providing care; and a lack of management of the market to meet those needs.
However, helping families and children to reduce their reliance on the care system is still essential if councils are going to achieve the scale of reduction in spend that is required.
Demand is not inevitable
Figure 4 shows there is a positive correlation between deprivation and rates of LAC. The danger lies in councils simply accepting that the level of demand is inevitable, rather than challenging themselves to consider how their response could help prevent family breakdown within an environment of deprivation. As figure 4 illustrates there are many examples of authorities, such as several of the London boroughs who, despite high deprivation, have comparatively low LAC.
Figure 4 – Correlation between numbers of looked after children (per 10,000 children) and deprivation, segmented by authority type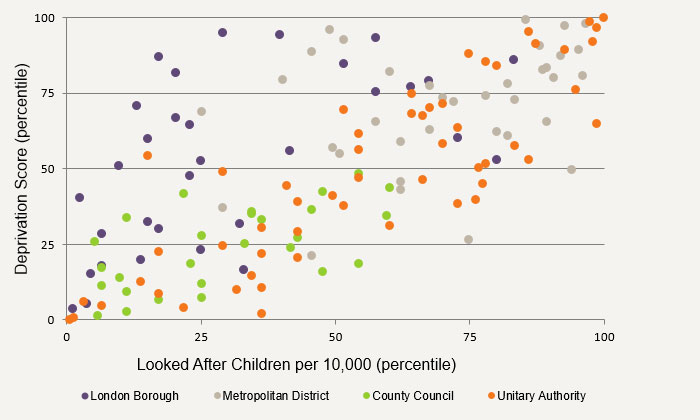 Source: CFO Insights: ONS Index of Multiple Deprivation 2015, Department of Education 2015/16
It is important for councils to review where the level of demand in the children's system could have been avoided had a different, earlier offer been in place for families. According to learnings from a series of demand analysis projects conducted by iMPOWER, 30% - 50% of cases, where children or young people went into care, could have been prevented.
Councils need to ask if non-social care expenditure is delivering a return on investment in terms of reducing more demand upstream. This is not just a challenge for children's and young people's services but also for the wider council and its partners, where services that focus on tackling the cause of family breakdown tend to reside; including the "toxic trio" of domestic violence, adult mental health and substance misuse.
Ultimately, the answer will be for councils and their partners to work closely with families to achieve a positive outcome. This collaborative approach will likely also help save resources. Councils also need to think carefully about how they deploy the resources that remain in wider children's services budgets.
Towards financial sustainability
In order to be safe and sustainable, any reduction in the number of LAC needs to be driven by the achievement of improved outcomes at reduced cost. Failure to stay within the allocated budget for LAC, for most authorities, may reflect that the pace and scale of savings targets have not taken adequate account of this, aiming for too much too soon without the requisite changes to the wider system.
One key challenge is how authorities know whether they are looking after the right children and if they have the resources to adequately manage the number of children in their care. This is where benchmarking their current service outcomes and financial performance against other councils will be key. This will help them understand how they are performing relative to others and prompt a deeper challenge around balancing children care need and staying within budget.
Children's services resources are clearly heavily weighted towards the high need end of the spectrum. Councils need to use data and intelligence at a national and local level as part of a drive to turn this on its head. This will help them more effectively resource to give children the best care.
All of this will need to be managed in a context where, nationally, government is very much focused on supporting, and indeed verifying, adult social care spend via the 3% precept and the £2billion fund recently announced in the Spring Budget.
Ginette Beal, Manager, Local Government Advisory, Grant Thornton and Ebony Hughes, Assistant Director, iMPOWER. A version of this article was first published in The Municipal Journal.
Get the latest insights, events and guidance about the public sector and local government, straight to your inbox.
Subscribe here