NAVIGATING BREXIT
Need practical advice on navigating Brexit?
Discover our practical steps for business leaders
County councils' focus on driving efficiency and developing innovative solutions in response to social care demand has helped prevent the depletion of reserves in the face of austerity. However, it is supply chain management that will make the biggest difference to care outcomes over the next five years.
With their scale and capability, county councils are well positioned to lead the local government sector in this new challenge and were invited to discuss the landscape and possible solutions at a recent County Councils Network (CCN) round table.
Managing increased demand
English county authorities have the largest elderly population by authority-type, accounting for 55% of those over 65. This demographic increased by 18% between 2011 and 2018, and the number of social care clients entering institutionalised care and new clients entering nursing care also increased for both the 18-64 and 65 and older cohorts. However, county authorities in 2018 spent £43 less per head on social care services than in 2011.
Children's services – where county authorities are responsible for 38% of England's spend – has seen an escalating demand over the past six years. In 2017/18, county authorities had the biggest overspend on children's services: £264 million more than they had budgeted1. Between 2017 to 2018 alone, the number of vulnerable children in county areas placed under a child protection plan rose by 35% and Looked After Children (LAC) by 16% 2. Nonetheless, half of county authorities in England have a children's service that is good or outstanding, compared to 35% for England as a whole3.
While this indicates that much is being done in response to demand, there remain significant challenges on the supply side, where capacity is low, the market is fragile and local authorities face a social imperative to prevent a two-tier system.
Capacity in county care markets, particularly on the older adults supply side, is diminishing. Demand for residential placements and staff has outstripped capacity nationally, and only 32% of local authorities said they had access to enough residential homes for children aged 14-15, increasing to just 41% for those aged 16-174. Where there is a shortage of supply, providers are able to name their price'
Operating in a fragile market
Despite appearing to be a seller's market, recent financial difficulties faced by Allied and Four Seasons Healthcare has brought the fragility of care markets into the public domain. Our analysis suggests that this may be the tip of the iceberg, as for some counties the 'at risk' spend in their care supply chain is as high as 35%. The knock-on effect of market failure to residents will be significant, as well as having financial implications for the council.
According to ADASS, the association of directors of adult social services in England, 100 council areas have experienced providers ceasing to trade across home and residential care, impacting more than 5,300 people. It has also resulted in providers handing back contracts to more than 60 councils, impacting just under 3,000 people in 2018/195.
Faced with such challenges and ongoing austerity, local authorities have used their market positon to ensure that contracts deliver value for money. Over time, however, this has adversely impacted private providers' profitability and sustainability, leading to some providers failing, the quality of care reducing or providers taking the decision to focus on the more profitable self-funder market.
The market has also experienced a shift to a two-tier care market. For example, within specialist care provision for children and young people, the limited number of residential children's homes available locally in Cumbria means costs vary greatly between council-owned (at £3,333 a week) and private sector provision (at £1,979 per week). Similar situations across the country are resulting in many authorities looking for care provision outside of their county6.
Download the roundtable write up
Download PDF [260 kb]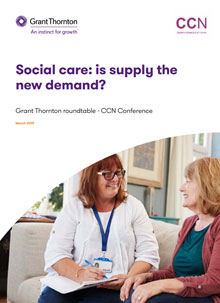 Introducing interventionist strategies
Under-investment in the care estate, particularly in adult social care, has reduced the capacity of local authorities to meet their Care Act duties relating to market shaping. There is a clear need for local authorities, individually, regionally and nationally, to become more interventionist in their markets to reduce variation of expenditure for the same level of service. In particular, this will require upper-tier authorities to take a more prominent role in managing and developing their local care markets.
As counties turn their attention to the management of care markets there are seven areas they should seek to optimise:
Market data: Ensuring market capacity is understood and monitored, particularly in scarce care segments
Cross-border co-operation: Counties should have strong regional arrangements and partnerships with other councils to avoid high out of county costs
Supplier risk: Monitoring suppliers at financial risk. This helps understand possible exit, but also when the estate is underinvested
Capital strategy:There should be an active social care capital strategy, including partnering with the independent
sector to ensure County Hall can generate benefits from the upside of new schemes
High-risk categories:Particular focus is needed for high risk segments of care demand. These areas may include
Childrens Residential, SEND and Learning Disability housing
Quality and Innovation: There should be a care innovation strategy, part of which looks at building design, digital
innovation and care workforce innovation
Engagement:Engagement strategies are needed – providers can offer considerable value but are often not consulted and engaged
Workforce: Securing a motivated workforce in care housing is a job for the council as well as provider
The result of these actions is not just financial benefit, but better outcomes for residents. Whether we have a social care Green Paper or not, it will be down to councils to make this happen and counties have a key role to play in this.
References
1 The figures on overspend data is calculated by comparing Office for National Statistics (ONS) data on 'budgeted' Local Authority Revenue Expenditure and Financing: 2017-18 (June 2017) with actual 'Provisional Outturn' (23rd August) data for the same year. View the publications and data.
2 Children looked after in England including adoption: 2017 to 2018, Department for Education, November 2018
3 Children's social care in England, House of Commons Library, October 2018
4 Pressures on children's social care, National Audit Office, January 2019
5 2018 Association of Directors of Adult Social Services (ADASS) Budget Survey
6 'Children's home placements go up in Cumbria as foster care shortage bites', News & Star, 14 June 2018
Get the latest insights, events and guidance about the public healthcare sector, straight to your inbox.