The Grant Thornton India Watch Index* fell by 4.1% during Q1 running counter to the FTSE 100 and FTSE AIM 100 which rose by 2.5% and 11.9% respectively.
The Grant Thornton India Watch Index suffered a 4.1% decline during Q1 2017 compared with rises in the FTSE 100 and FTSE AIM 100 of 2.5% and 11.9% respectively. This fall was at odds with the previous 12 months, during which the Index grew by a staggering 82.6%, compared with rises of 18.6% and 36.5% respectively in the FTSE 100 and FTSE AIM 100.
The Grant Thornton India Watch Small Cap Index saw a rise of 0.5% for the quarter, although overall it was up by 49.1% over the last 12 months. This slower Q1 growth was due to a number of poor-performing stocks including Oilex Ltd and Infrastructure India PLC, whose share prices each dropped by more than 30% during the period.
Q1 winners
Hardy Oil and Gas PLC
Upstream international oil and gas company Hardy Oil and Gas PLC was Q1's biggest winner, boasting a share price increase of 48% over the quarter. With an overall 89% increase for the year ended 31 March 2017, it has been providing shareholders with strong returns. This recent growth was triggered by a US$28 million plan to reopen an oil field in the Bay of Bengal. Hardy Oil and Gas owns 18% of the field and the agreement is expected to be extremely lucrative for the company.
Lionsgold Ltd
Indian-focused gold exploration company Lionsgold Ltd was Q1's second largest winner, with share price growth of 39.5% over the quarter. There were vast improvements in its stock price over the course of the 2016/17 financial year compared with the year-on-year downward trend pre-2015. The company has recently realised value from its investments in Geomysore Services India PVt. Ltd, which has a major contract with the Jonnagiri project. The Jonnagiri project has secured a 30-year lease to mine 365,000 tonnes of gold ore annually from Gonnagiri.
Kubera Cross-Border Fund Ltd
With a 38% share price increase, this investment company focused on the US-India corridor was the third-highest performer in the first quarter of 2017. This was largely driven by a binding sales and purchase agreement in March 2017 by its subsidiary in Mauritius, which is expected to provide a realisation of value and a cash payout to shareholders.
Q1 losers
Oilex Ltd
After suffering a share price fall of 33%, the petroleum resources company Oilex Ltd was the biggest loser in Q1 2017. A significant revenue drop from US$167 million in FY15 to US$64 million in FY16 was largely due to production ceasing at one of its oilfields.
Infrastructure India PLC
With a share price fall of 32%, the AIM-listed infrastructure fund Infrastructure India was Q1's second biggest loser. In January, the company said its distribution logistics service business was unlikely to generate a profit and that it was finding it difficult to access approved funding. Internal issues combined with squeezed margins across the sector have made it challenging for the company to generate a decent operating profit.
Trinity Capital PLC
Boutique investment banking firm Trinity Capital PLC which invests in Indian real estate and infrastructure, was the quarter's third biggest loser in Q1 with a 27% drop in its share price. The company is continuing to wind down and now has only three remaining investments.
Country outlook
According to the Organisation for Economic Co-operation and Development, India is set to continue along a path of fast growth with a gradual revival in private investment and enhanced private consumption. Public wages and pensions are expected to increase, while excess capacity in some sectors reduces.
India is maintaining its rapid economic expansion through the acceleration of structural reforms and the move towards a rule-based macroeconomic policy framework. One such reform, the long-awaited Goods and Services Tax, is expected to boost competitiveness, investment and job creation.
* What is the Grant Thornton India Watch Index?
The Grant Thornton India Watch Index follows 19 Indian companies (see table 1) listed on the FTSE Main Market and AIM (excluding global depositary receipts). Companies are deemed Indian if they are domiciled in India and/or are foreign companies that hold Indian assets or are investment companies with Indian promoters. Every quarter Grant Thornton analyses the performance of these companies in its India Watch All Share and Small Cap indices. To avoid any distortion of index trends, the largest market cap entity, Vedanta Resources, is excluded from the India Watch Small Cap Index.
Table 1: India Watch Index – List of companies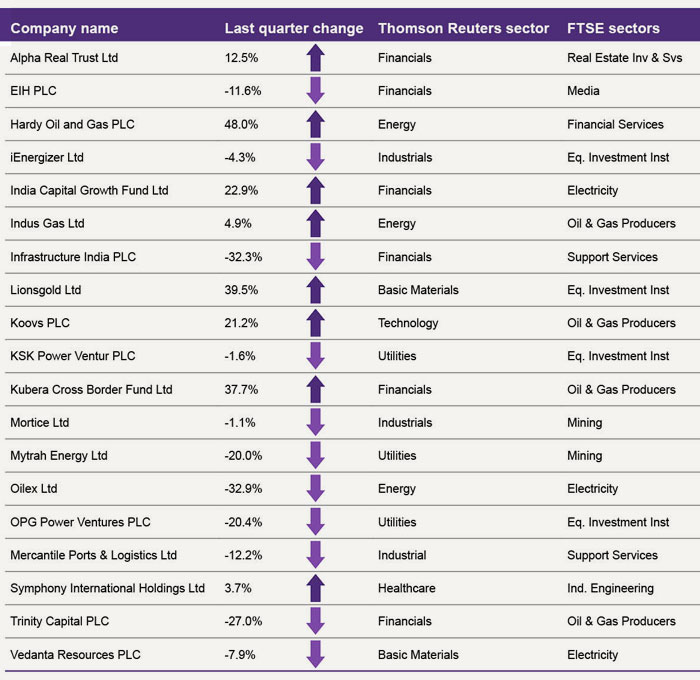 Source: Grant Thornton India Watch