Grant Thornton uses cookies to monitor the performance of this website and improve user experience
To find out more about cookies, what they are and how we use them, please see our privacy notice, which also provides information on how to delete cookies from your hard drive.
Q3 recorded 48 deals in the sector, a moderate fall of 7.7% on the 521 deals that took place in the previous quarter. This level of activity is on par with deal volume in the same quarter last year (49 deals), and is in line with the usual trend for the summer quarter to bring a slight softening in deal activity.
Q3's deals bring the total deal volume for the first three quarters of the year to 140. Deal volumes remain strong in spite of ongoing uncertainty caused by Brexit.
Total disclosed deal value was virtually on par with the previous quarter at £1,114.5 million2 (a 1.5% increase). For the first three quarters of the year, the total disclosed deal value stands at £2.9 billion, in comparison to £6.2 billion in 2016, and £13.7 billion in 2017. The gulf is indicative of the fact that mega deals in 2018 have been absent.
The biggest deal in Q3 2018 (and also overall in 2018 to date) was Diageo increasing its stake in China's Sichuan Shuijingfang Company as it moves to take control of the Shui Jing Fang baijiu brand. The 20.29% stake was valued at £619 million.
Other sizeable deals in the quarter included the acquisition of Midlands-based cider producer Aston Manor by French farming and food co-operative company Agrial for a rumoured £100 million. The acquisition aligned with Agrial's goal of international development, with the UK being the largest cider market globally, therefore strategically extending Agrial's existing footprint in France and the US. Aston Manor adds brands including Kingstone Press, Frosty Jack's and Knights to Agrial's portfolio; as well as a strong export capability to 20 countries globally.
Irish consumer food group Valeo Foods Group continued to pursue its buy-and-build strategy with the support of private equity house CapVest, adding Tangerine Confectionery to the Group for £100 million. The acquisition unites confectionery brands Barratt, Dip Dab and Fruit Salad with those of Fox's Glacier Mints, XXX Mints and Poppets, which Valeo had acquired through its acquisition of Raisio's confectionery business less than a year prior. The deal provided an exit for Blackstone Group LP which had owned Tangerine since 2011.
The dominance of domestic deals increased further in the first half of 2018 to 58:42 with 28 domestic and 20 cross-border deals. In this quarter, there were 11 deals where UK/ Irish companies undertook M&A overseas compared to nine transactions of an inbound nature. UK-headquartered businesses engaging in overseas expansion included British-Dutch consumer goods company Unilever acquiring Denny Ice Cream in Bulgaria, Cambridge Commodities acquiring the ingredients business of Earth Circle Organics LLC in the US, and UK-based PE house Duet Private Equity investing in Nigerian beverage manufacturer AJEAST Nigeria.
Announced M&A activity in food and beverage - quarterly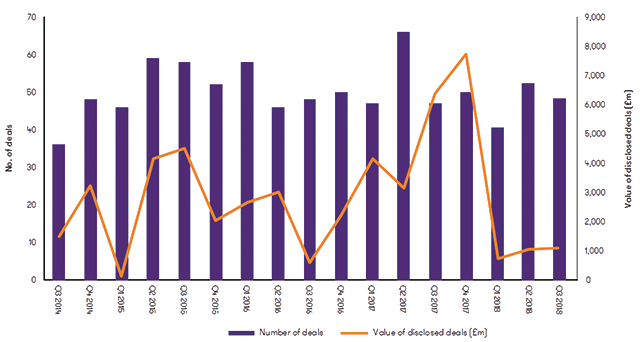 Private equity deals
Q3 2018 saw 10 transactions involving private equity (PE) investment, and a total disclosed deal value of £304.6 million. PE deals in the quarter accounted for 20.8% of total deal activity: a fall on the 30% level in the previous quarter.
Key deals in the period included that of Exponent Private Equity LLP acquiring a 35% stake in milk and dairy ingredients group Meadow Foods. The deal saw Exponent acquire the stake previously held in Meadow Foods by US PE house Paine Schwartz Partners, which it had acquired in 2016. The investment from Exponent will facilitate Meadow Foods' continued growth strategy through both organic expansion and acquisitions.
Under the umbrella of Paine Schwartz, Meadow Foods completed strategic acquisitions in Roil Foods and Fayrefield Liquids, as well as making significant capital investments into its manufacturing capabilities.
In September 2018, Cambridge-based fresh produce company Produce Investments accepted a £53 million takeover approach from private equity firm Promethean Investments. Produce Investments owns potato growers Greenvale AP and The Jersey Royal Company as well as producing daffodil buds. With an enterprise value of £83 million, the deal will see Produce Investments move off the public market to a more suitable private market environment for a company of its size with reduced regulatory burden and costs.
Announced PE activity in food and beverage - quarterly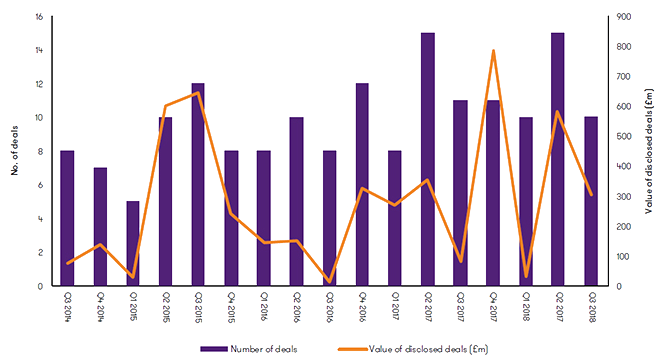 Deal summary - Q3 2018
Large deals (>£250m deal value)
| | | | | |
| --- | --- | --- | --- | --- |
| Sector | Date | Target | Acquirer | Deal value (£m) |
| Alcohol | Jul-2018 | Sichuan Swellfun Co., Ltd (China) (20.3% stake) | Diageo plc | 618.9 |
Mid market deals with disclosed values (£50m - £250m deal value)
| | | | | |
| --- | --- | --- | --- | --- |
| Sector | Date | Target | Acquirer | Deal value (£m) |
| Fruit & veg | Sep-2018 | Produce Investments plc | Promethean Investments LLP (IBO) | 82.7 |
| Confectionary | Aug-2018 | Tangerine Confectionary Ltd | Valeo Foods Group Ltd/CapVest (Ireland) | 100.0 |
| Alcohol | Aug-2018 | Aston Manor Ltd | Eclor SA/Agrial SA (France) | 100.0 |
| Meat | Jul-2018 | Isla Delice (France) | Perwyn (IBO) | 71.1 |
Small deals with disclosed values (<£50m deal value)
| | | | | |
| --- | --- | --- | --- | --- |
| Sector | Date | Target | Acquirer | Deal value (£m) |
| Bakery | Sep-2018 | Ultrapharm Ltd | Finsbury Food Group plc | 17.0 |
| Bakery | Sep-2018 | Haydens Bakery Ltd | Bakkavor Group plc | 12.0 |
| Functional | Sep-2018 | Animax Ltd, Clinimax Ltd | Carr's Group plc | 8.5 |
| Soft drinks | Aug-2018 | Ajeast Nigeria Ltd (Nigeria) | Duet Private Equity Ltd (IBO) | 38.3 |
| Alcohol | Aug-2018 | Purity Brewing Company (minority stake unknown) | BGF | 7.5 |
| Crisps/snacks | Jul-2018 | kids Food Co. Ltd, t/a Kiddylicious | Lotus Bakeries NV (Belgium) | 42.0 |
| Crisps/snacks | Jul-2018 | Fufil Nutrition (25% stake) | Allied Irish Banks plc | 8.9 |
| Fruit & veg | Jul-2018 | Bridge Farm Nurseries Ltd | NorthEdge Capital LLP | 5.0 |
Active sub-sectors
Consolidation in the alcoholic drinks space continued apace in Q3 2018. Notable deals included Purity Brewing Co., the Midlands-based craft brewer, securing £7.5 million investment from PE house BGF to support its organic growth strategy. BGF's investment is intended to support Purity's plans to expand across the UK, grow export sales, and to develop new products.
Also in the craft beer sector, London based craft brewery Fourpure moved to overseas ownership. The acquisition, by Australian-based Lion Pty Limited and a subsidiary of Japanese drinks conglomerate Kirin, gives Fourpure an opportunity to expand in the Australian and Singapore markets.
In the spirits sector, Distill/Diageo and Edrington both increased their US whiskey footprint, acquiring Westward Whiskey and Wyoming Whiskey respectively.
The quarter also saw a number of deals in the bakery sector: the growing demand and popularity of gluten-free baked goods was a key driver in Finsbury Food Group's £17 million acquisition of Ultrapharm, a producer of free-from bread and other morning goods from manufacturing sites in the UK and Poland.
Bakkavor Group plc also acquired Haydens Bakery from Real Good Food plc for £12 million. The deal, which excluded the Chantilly patisserie business, allows Bakkavor to increase its desserts offering and aligns with Real Good's turnaround plan and its focus on core assets.
The meat processing sector and broader protein space has seen steady M&A activity in the past few years, which was also evident in Q3 2018. Suffolk-headquartered duck producer Gressingham acquired JF Edwards (Smithfield) Ltd, a meat wholesaler with four shops in London's Smithfield Market, as well as a butchers shop in London. The transaction allows Gressingham to diversify into new markets and is an opportunity to grow its presence in the the foodservice channel.
Elsewhere, PE house Perwyn invested £71 million in Isla Délice, a leading French producer of halal meat products, and Irish based meat producer Kepak Group acquired the red meat businesses of 2 Sisters Food Group from 2 Sisters and parent company Boparan Holdings.
If you would like any further information, please get in touch with Trefor Griffith.
Footnotes
All deal activity is based on announced date of the deal and includes deals where there has been any UK or Ireland involvement (target and/or acquirer). Administrations, liquidations and receiverships are collated but not counted as M&A unless they have subsequently been acquired.
Deal values are primarily sourced from corporate websites. However, if no press release is available they are sourced from deal databases including BvD Zephyr and mergermarket or from press commentary released at the time of the deal. Deal values may subsequently be amended pending earn outs or other finance arrangements and/ or as further detail is released by the acquirer.