Untapped growth potential
In 2018, UK businesses could leave up to £72.5 billion of untapped growth on the table. Companies need to become purpose-driven, invest in top-line growth, tech confident and networked to unlock their growth potential.
For CEOs of dynamic businesses, download our research Planning for growth: don't let uncertainty hold you back and discover more about the characteristics of growing businesses and how to take your next growth step.
Growing in times of uncertainty
Growth of the UK economy, will to a large degree, depend on the prosperity of the private sector. And yet only 16% of UK businesses in 2017 met the OECD's definition of 'high-growth', defined as 20% turnover growth a year for the last three years.
So we set out to understand the critical accelerators and barriers to private sector growth across the UK. We surveyed 1000 business leaders, across all sectors and regions of the UK, ranging from £10 million to £1 billion turnover.
Read the report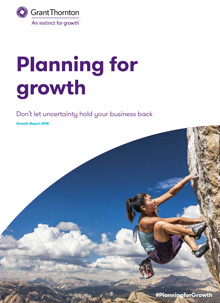 Businesses can overcome the top barriers
Our growth survey found 41% of business leaders believe uncertainty has made their leadership team more risk averse, which is impacting their growth. But it's definitely not all about Brexit and uncertainty. Our research indicates the majority of barriers to growth are internal factors, meaning they remain within a business' own ability to change.