Grant Thornton uses cookies to monitor the performance of this website and improve user experience
To find out more about cookies, what they are and how we use them, please see our privacy notice, which also provides information on how to delete cookies from your hard drive.
Article
Purpose attracts talent in North West
20 Mar 2018
Businesses in the North West could miss out on £7.2 billion1 of untapped growth in 2018.
Our research, Planning for growth, found that in 2018 businesses could leave £72.5 billion untapped potential on the table in the UK. This is the equivalent to creating a new economy the size of Greater Manchester. Or put another way, this level of growth could translate into 1.4 million jobs. In the North West, this figure breaks down to £7.2 billion measured as GVA.
The research also unveiled a sustainable high-growth group of businesses which nationally achieved 20% or more in growth in 2017 – and sustained growth for the past three years2. These Growth Generators are almost five times more likely to be achieving their one-to-two-year growth targets than the rest of the market. And they are also nearly 10 times more likely to reach their targets than low-to-no growth companies. On top of this financial performance, Growth Generators share a growth mindset based on four key characteristics:
1 purpose-driven
2 invested in top-line growth and willing to seek external funding and engage in M&A activity
3 tech confident
4 networked.
Growth Generators: Regional breakdown
The growth picture for the North West
The North West generated £165 billion GVA in 2016, exceeded only by London and the South East. This made the North West the third-highest contributor of the 12 UK regions3.
Yet despite this, our research shows there is an estimated £7.2 billion of economic output still to be realised. How can this be achieved? By adopting the ambitious attitudes exemplified by the Growth Generators.
Carl Williams, Practice Leader of our North West team, said: "In the North West, we're lucky to be home to some truly exceptional and inspiring businesses, a number of which have contributed to this research. However, if we as a region are to unlock our economic potential, it's clear that we must learn from these best-in-class companies by being brave and tenacious in seeking new opportunities to grow.
"These companies are ambitious, purpose-driven enterprises. They are embracing the power of technology, are alive to the possibilities of international trade and open to forging new, value-enhancing partnerships. They are thinking big in terms of external investment and M&A – and have clear strategies to reach the next level."
Top 10 barriers to growth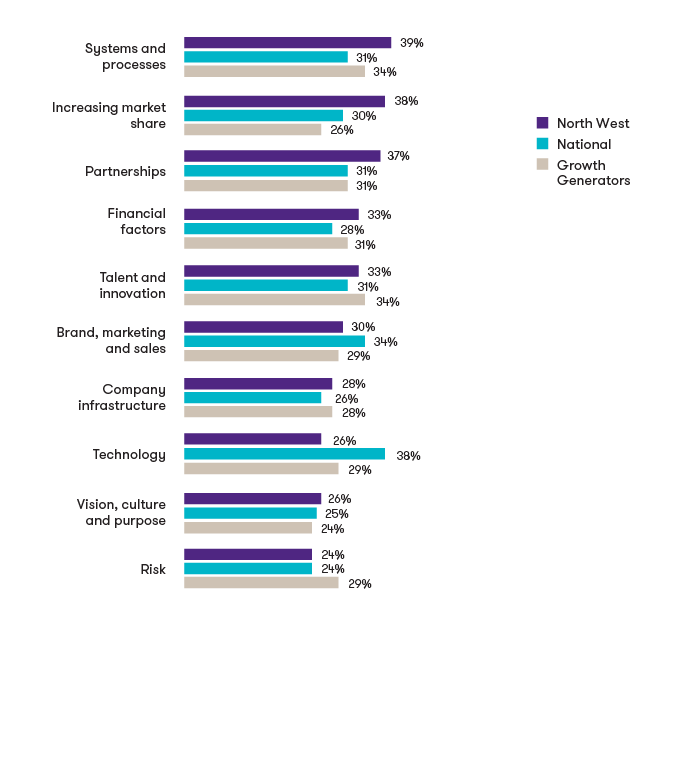 The power of purpose
Attracting and motivating a talented workforce is crucial to commercial performance. This is underpinned by 99% of the region's business leaders who agreed or strongly agreed that they attract new talent because of their businesses' purpose. This is more than firms nationally (93%) and Growth Generators (98%).
William Fletcher, Managing Director of Recycling Lives, said: "Creating demonstrable and measurable social value underpins everything we do at Recycling Lives. We are a commercial business using our operations in the recycling and waste management sector to sustain our own charity, which works to reduce reoffending, tackle homelessness and deliver meals to community groups.
"Our people make our business. We would not be as successful as we are without our team of motivated, highly skilled and passionate people, all focused on helping us to achieve our ambitions.
"As a socially minded but fast-growing and highly profitable company we attract ambitious, commercially focused people, who are as motivated by creating an impact for individuals, communities and society as by making money."
Networked
Manchester is one of Europe's largest hubs for private equity with around 20 firms in the city. Our study found 76% of North West business leaders believed external financial investment was among the most important strategic priorities for top-line growth in the next one to two years – much higher than the whole UK (61%) and Growth Generators (61%).
The region, however, is less bold when it comes to breaking into fresh markets. Just 41% see expansion into new sectors among their most important revenue growth areas in the next three to five years. This compares with 50% for the UK as a whole and 47% for Growth Generators.
Nonetheless, 70% of businesses in the North West said investing in new technology was among the most important strategic priorities for bottom-line efficiency over the next three to five years – ahead of the response nationally (63%) and Growth Generators (64%).
Advice from those with a foothold overseas is highly valued in the North West, cited by 53% of businesses that operate internationally. This is substantially higher than the national average (39%) and Growth Generators (21%).
Tech confidence
Louis-James Davis, CEO and founder of cybersecurity firm VST Enterprises, explained the importance of technology for his company.
He said: "It's a really exciting time for our business. Last year, we closed our fourth round of funding, allowing us to devise a new host of applications for our technology, VCode®, and expand our team of business and security experts. Support from investors has enabled us to achieve this success, and to open new hubs in a number of lucrative markets around the world: India, USA, Hong Kong, South Africa and Armenia.
"Now, we are paying it forward and helping budding new enterprises to do the same. From our northern HQ, we're using our position as a rising tech company to back a host of initiatives to help underprivileged or under-supported businesses in Manchester that are struggling to find a platform for their enterprise to access channels for contacts and investment. As such, we're doing our bit to help the economy of the city and the North West region to continue to grow.
"With the right investment, the north's unique combination of entrepreneurialism and teamwork puts it in a fantastic position to transform itself into a true economic powerhouse."
Invested in growth
Supply chain efficiency is seen as vital to operational performance in the North West with its extensive engineering, aerospace and advanced manufacturing sectors.
It is perhaps not surprising then that North West firms are more likely to drive bottom-line efficiency through supply chain optimisation. This was identified by 62% of businesses in the region as a strategic choice over the next one to two years as opposed to 55% of across the UK and 49% of Growth Generators.
Richard Walker, Director of Iceland Foods, said: "Iceland is a privately owned, family business with a unique, friendly culture, a great track record as one of the best big companies to work for in the UK, a proven determination to do the right thing for our customers and the environment, and a clear focus on long-term growth. In achieving that objective, we've never been afraid to challenge accepted wisdom in any part of our supply chain. Whether that has been in taking artificial colours, flavourings and non-essential preservatives out of our own brand food in the 1980s, eliminating GM ingredients in the 1990s, or now in aiming to remove all plastic packaging from our own brand ranges by 2023.
"In challenging the almost universal use of plastic, we aim to make the food industry as a whole question the sanity of using precious, finite resources to create single-use products that will last half a millennium before they begin to degrade. And by doing this, we aim to make the world a better place for future generations."
Top 10 accelerators to growth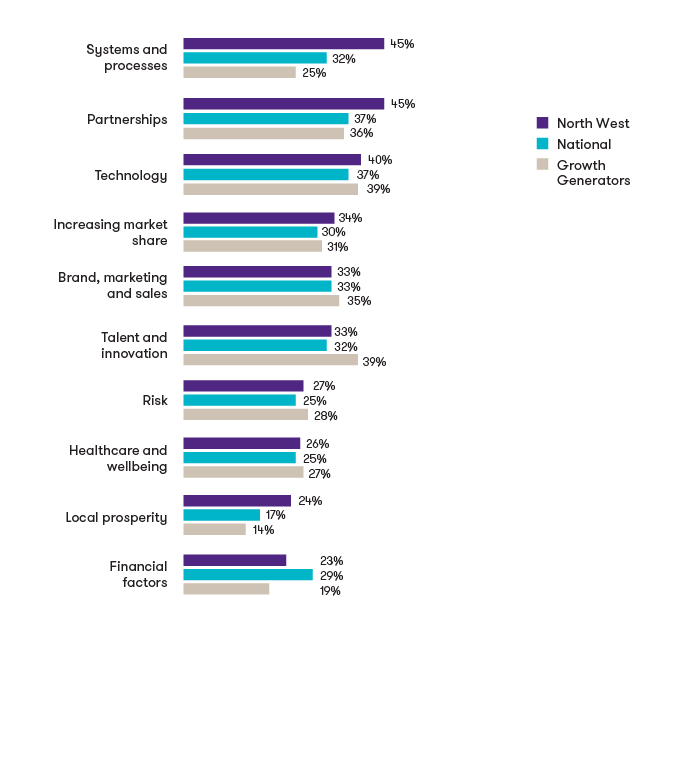 Case story
Our Growth 365 team has helped Pricecheck increase their exports by 45%
About our research
Our growth survey was conducted between August and September 2017. We heard from 1,000 business owners, CEOs, CFOs or CSOs at businesses with turnover of £10 million to £1 billion across all industries and regions4. We also conducted in-depth interviews with 15 CEOs and/or managing directors from high-growth companies, academics and market commentators5. For more about our research, please see our report, Planning for growth.
References
Based on respondents which said in the survey their turnover had increased by 20% or more in the last year
For detail on the full demographic breakdown and statistical analysis see the methodology section of our national report, Planning for growth
For a full list of interviewees see the methodology section of our national report, Planning for growth
Planning for growth
Visit - our growth hub for insight into taking your next growth step