Grant Thornton uses cookies to monitor the performance of this website and improve user experience
To find out more about cookies, what they are and how we use them, please see our privacy notice, which also provides information on how to delete cookies from your hard drive.
Article
Collaboration key growth driver in East of England
20 Mar 2018
Businesses in the East of England could miss out on £5 billion1 of untapped growth in 2018.
Our research, Planning for growth, found that in 2018 businesses could leave up to £72.5 billion untapped potential on the table in the UK. This is the equivalent to creating a new economy the size of Greater Manchester. Or put another way, this level of growth could translate into 1.4 million jobs. In the East of England, this figure breaks down to £5.03 billion measured as GVA.
The research also unveiled a sustainable high-growth group of businesses which nationally achieved 20% or more growth in 2017 – and sustained growth for the past three years2. These Growth Generators are almost five times more likely to be achieving their one-to-two-year growth targets than the rest of the market. They are also nearly 10 times more likely to reach their targets than low-to-no growth companies. On top of this financial performance, Growth Generators share a growth mindset based on four key characteristics:
1 purpose-driven
2 invested in top-line growth and willing to seek external funding and engage in M&A activity
3 tech confident
4 networked.
Growth Generators: Regional breakdown
The growth picture for the East of England
The East of England generated more than £150 billion (9%) GVA for the UK economy in 2016 according to the latest Office for National Statistics figures3. This made the region the fourth-highest contributor of the 12 UK regions. However, in terms of GVA growth, the region fell behind, ranking eighth at 3.3%. This was down from 3.7% in 2015 and 5.7% in 2014.
Our research also found just 4.7% of the region's respondents were Growth Generators. Only Northern Ireland has fewer (2.6%).
Given the regional economy's strengths a world-leading technology sector, key ports and a strong food and beverage heritage – there are clearly missed opportunities for growth. Realising this potential could transform the East of England.
So how can this be achieved? Part of the answer can be found by looking at what the UK's successful Growth Generators are doing differently and what private sector businesses can learn from these companies. What challenges must local firms overcome? How can more business leaders adopt a Growth Generator mindset?
Private sector businesses play a vital role in driving the local economy forward. By asking these questions and working together on solutions, the private sector can lead the way in unlocking the region's full growth potential.
What is holding back our East of England businesses?
Political uncertainty is affecting private sector growth. But with just 19% of East of England businesses identifying Brexit as a top five barrier to growth, this cannot be the only limiting factor.
Our research found the biggest inhibitor of growth for the region's businesses is their brand, marketing and sales capability (44%).
Darren Bear, Practice Leader of our East of England team, said: "Contrary to the current focus on STEM skills shortages, brand, marketing and sales is one of the main talent gaps for local and UK businesses at board level. Establishing the right marketing and sales strategy is now critical to business success at a national and global level."
Top 10 barriers to growth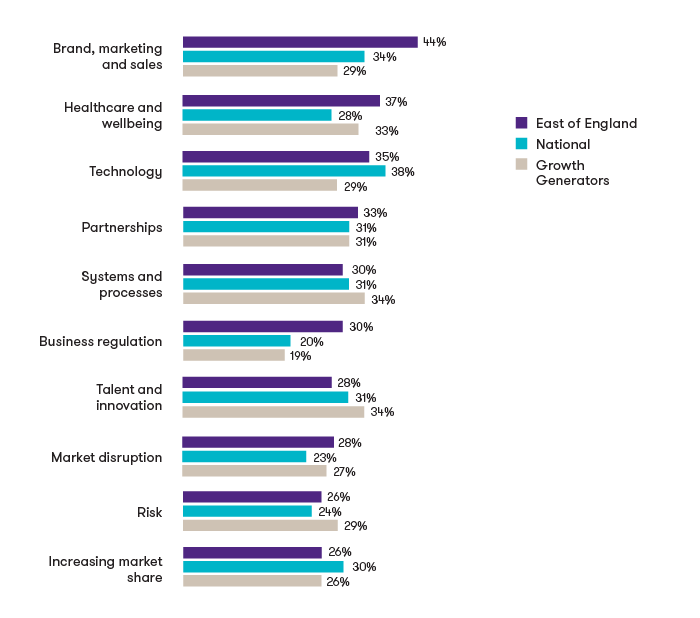 Comparing our East of England businesses to Growth Generators
Encouragingly, 91% of respondents said their business had a clearly defined purpose, sharing a key attribute of Growth Generators.
A further 60% also follow the Growth Generators' lead by looking at external funding to help realise growth strategies. However, fewer (53%) plan to expand through M&A activity compared with Growth Generators (70%) – 58% of East of England businesses aim to simply maintain current growth levels.
Darren said: "Our region's businesses are on the right track, building a strong purpose into their organisations, which aligns their people and culture. With 43% of Growth Generators believing purpose has helped take their company to the next level, this makes strong business sense.
"It's encouraging to see many local businesses looking at external finance to support expansion. However, a similar number are focused on maintaining the status quo. They could be overlooking growth opportunities. M&A activity is the most effective way to deliver scale at speed and enter new markets. With the right support, it doesn't have to be high risk."
Tech crunch
While Growth Generators harness the power of technology, it's proving more difficult for East of England businesses.
Technology was cited as a top three barrier to growth by regional firms with 35% of respondents stating this. Of those who identified technology as a barrier, only 47% are confident they can overcome the challenge. This is less than businesses nationally (55%) and Growth Generators (63%). However, technology ranked as the top investment priority for local businesses going forward with the aim of making it an enabler rather than an inhibitor.
Collaborate and listen
Growth Generators tend to be outward looking and pursue growth through collaboration and a strong international focus. Partnerships were highlighted as the second most significant accelerator to growth for these firms.
Partnerships also rated as a top five accelerator to growth for East of England businesses. They said that seeking advice from family and friends (60%), professionals (50%) and peers (50%) were the most important factors when pushing to the next stage of growth. This willingness to listen to several perspectives, collaborate and adapt is highly valuable.
To boldly grow
Along with UK businesses, relatively few East of England firms (16%) currently trade overseas.
The main factors regional businesses identified to help them achieve international growth more quickly included:
better understanding of overseas markets and customers (86%)
risk exposure in international sectors (57%)
a more powerful brand (57%)
external advisers with international footprints (57%)
"Political uncertainty around Brexit has put almost half the region's businesses off the idea of international expansion," said Darren. "Yet increasing exports is one of the key opportunities for growth.
"Both agile and bold, Growth Generators can more readily overcome the challenges to overseas expansion and use their established networks to navigate international regulation. There is huge opportunity for many more of our region's businesses to do the same."
Bridging the gap
While most businesses are reacting to uncertainty by downgrading growth plans, Growth Generators are proactively pursuing expansion. East of England businesses are, on the whole, following a similar path – but there are further steps to be taken.
Bridging the gap between what is and what could be will help unlock the region's huge untapped growth potential to build an even more prosperous economy across the region.
Top 10 accelerators to growth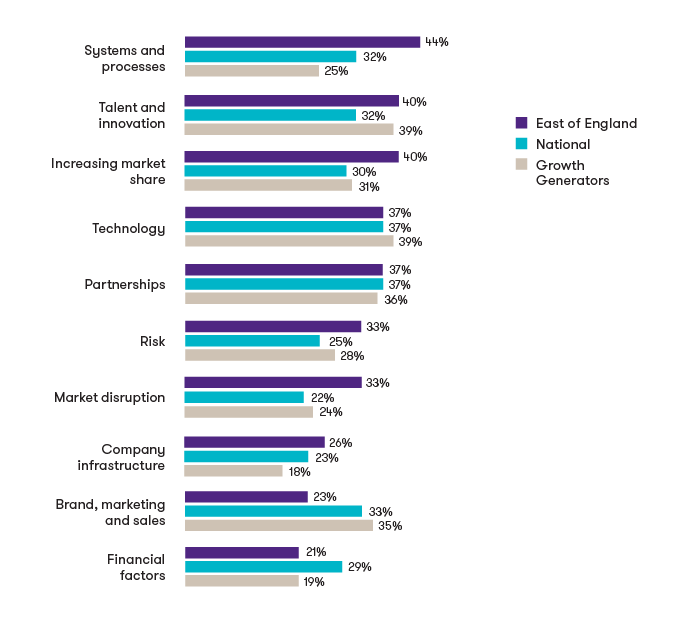 Case story
Our Growth 365 team has helped Pricecheck increase their exports by 45%
About our research
Our growth survey was conducted between August and September 2017. We heard from 1,000 business owners, CEOs, CFOs or CSOs at businesses with turnover of £10 million to £1 billion across all industries and regions4. We also conducted in-depth interviews with 15 CEOs and/or managing directors from high-growth companies, academics and market commentators5. For more about our research, please see our report, Planning for growth.
References
Based on respondents who said in the survey their turnover had increased by 20% or more in the last year
For detail on the full demographic breakdown and statistical analysis see the methodology section of our national report, Planning for growth
For a full list of interviewees see the methodology section of our national report, Planning for growth
Planning for growth
Visit - our growth hub for insight into taking your next growth step