NAVIGATING BREXIT
Need practical advice on navigating Brexit?
Discover our practical steps for business leaders
The recent announcement of plans by the Lloyds Banking Group to transfer large sections of its IT estate to IBM in a deal worth £1.3 billion over seven years has once again shone the spotlight on outsourcing within the financial services industry.
Coupled with other large IT outsourcing deals across the industry, such as the 2015 multibillion pound agreement between Deutsche Bank and HP, indications are that IT outsourcing is in vogue again.
Cost vs. income improvements in the 'lower for longer' environment remain a key driver for outsourcing. The challenging data driven services environment is driving organisations to define what are, and what are not, core strategic capabilities. Our matrix evaluates the impact of outsourcing core capabilities, technology (future proofing) and/or cost reduction from a customer centric perspective (see Figure 1).
Figure 1. Grant Thornton outsourcing matrix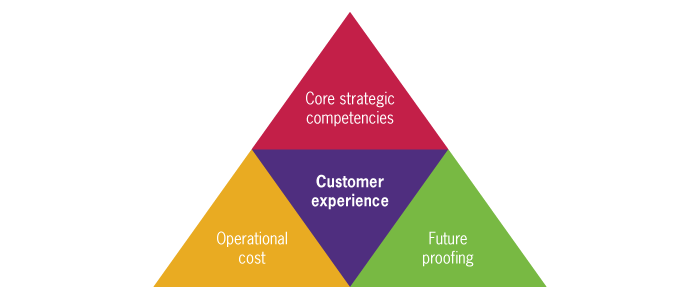 Source: Grant Thornton UK
Additionally, failure over time to invest in IT infrastructure has led to many organisations relying on a patchwork of legacy systems to carry out their core activities. The impact of these factors on the customer experience and potential mitigations should be considered in the overall strategy along with pure cost take out.
According to a report published by EFMA, 77% of retail banks outsource at least one part of their business[1].
Additionally, a recent survey of 70 members of the British Banking Association by the UK Management Consultancies Association revealed that 40% of financial services organisations expect to increase their level of outsourcing as processes and procedures become increasingly commoditised. This would allow these non-core activities to be carried out in lower cost centres[1].
Furthermore, emerging trends indicate an evolution in offshoring activities beyond support functions to include areas such as finance, analysis and account management[1].
Although outsourcing can lead to significant reduction in costs, it can introduce additional risks in the form of complex client-vendor relationships. Additionally, outsourcing arrangements are increasingly scrutinised by the FCA, whose approach has become more interventionist over the years.
This approach by the FCA is justified as failings in outsourcing deals have led to fines being levied across the industry. In 2015, the PRA levied a fine of £1.3 million against Raphaels Bank for failing to carry out the necessary due diligence on its outsourcing partner – effectively exposing itself to severe financial repercussions.
Case in point - RBS fined £56 million over IT outages
In 2014 the FCA and the PRA levied a combined fine of £57 million against RBS for service disruptions that affected 6.5 million of the bank's customers over several week in 2012. Tracey McDermott at the FCA commented that RBS "failed to manage the risks in its IT systems". Following the 2012 incident the FCA requested evidence of board level assessment of IT risk from all major retail banks. The actions of the FCA reflect a shift from a culture of "business continuity" to one of "resilience".
Lessons learned - holistic outsourcing
To mitigate these risks, ensure seamless implementation, and reap full benefit – financial services institutions must adhere to a comprehensive governance framework encompassing the end-to-end client-vendor relationship. An operating model review is required to ensure that the right skills are available to support the outsourcing arrangements.
Our cost optimisation proposition ensures that the cost base of our clients is aligned to their strategic intent, helping them understand where outsourcing can be beneficial. Our tried and tested outsourcing framework and in-depth negotiating and implementation experience has consistently delivered measurable benefits for our clients.
Contact
For more information please contact co-authors Ewen Fleming or Stuart Riddell.
Sources
[1] Wavestone Advisors - "Outsourcing trends in financial services", 2016