NAVIGATING BREXIT
Need practical advice on navigating Brexit?
Discover our practical steps for business leaders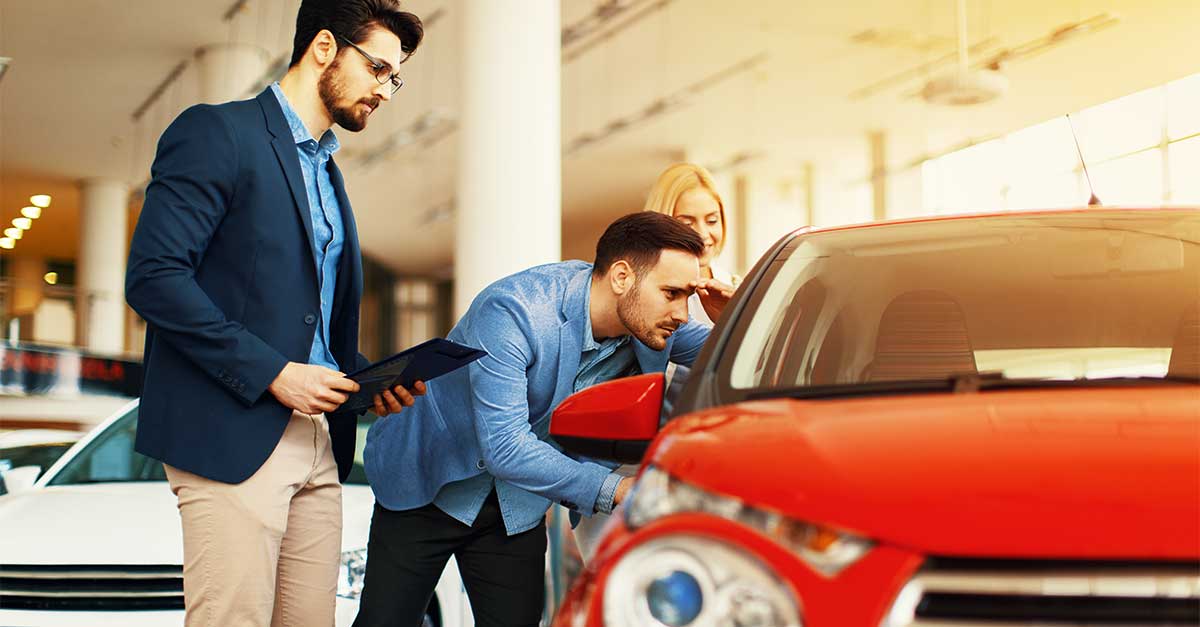 New car registrations were down even further during January 2020. Owen Edwards looks at the market trends.
2020 did not get off to a flying start with January's new car registrations down 7.3% YoY. The greatest decline was in the private market, which fell by 13.9%, while fleet was down by 2.2%. 149,279 vehicles were registered in January 2020, down from 161,013 in January 2019.
Consumer confidence picked up a little in January, improving at -9 from its low levels of -14 in October and November 2019. There appears to be some improvement in consumer confidence, but this will not be reflected in new vehicle registrations for some months, and it is unclear whether confidence will continue to pick up in the coming months. Nevertheless, there is less uncertainty than in 2019 as the Conservative Government now has a clear majority in the Commons and the Brexit process has started in earnest.
Diesel remained the unloved fuel with market share of 19.8% of new vehicles registered and the prospect of further declines ahead. The market share of petrol vehicles also declined, falling to 61.5% 2020 from 63.0% the previous year. Meanwhile Alternative Fuel Vehicles (AFV) posted market share of 18.7%, suggesting that AFVs are now getting close to achieving market share of 20%. It seems only a matter of time before AFV exceed the market share of diesel vehicles. The Government has brought forward its target to cease the sale of all vehicles with an internal combustion engine from 2040 to 2035. However, there is still the question whether there is enough infrastructure for charging these vehicles.
New car registrations - Monthly YoY growth (%)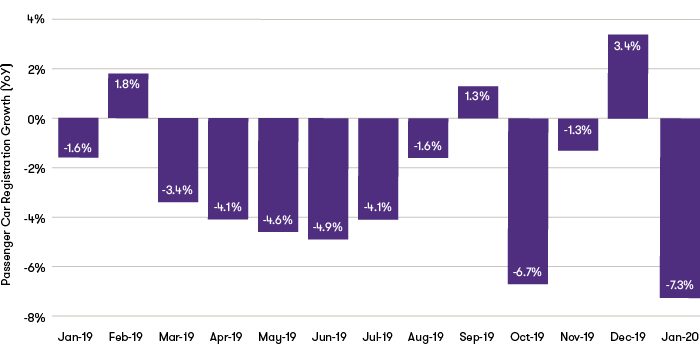 Source: SMMT
Consumer confidence index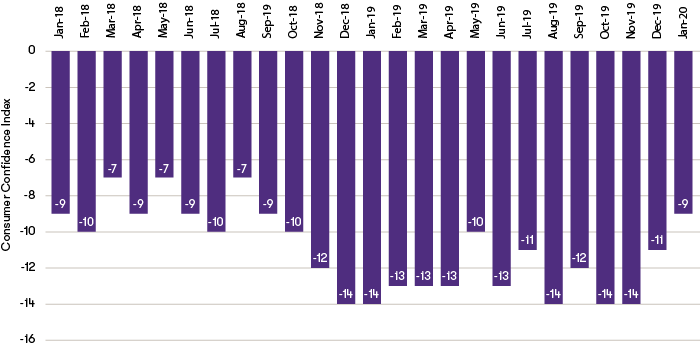 Source: GfK
Several brands posted double-digit falls YoY; some of these declines may have been due to the tactical registration of vehicles in December 2019 in order to meet the CAFE 2020 rules. Other Imports was one of the largest increased and we assume that this rise can be attributed to the increased sales in Tesla vehicles in the UK. There was also a strong performance from two of the premium brands Audi and BMW, increasing by 13.07% and 5.93%.
In the coming months the automotive industry still faces headwinds from weak consumer confidence and uncertainty over the trade agreement for Brexit. This uncertainty is around a number of key areas, will the UK have trade tariffs on vehicles and parts and more importantly the movement of good across boarder, of which any delay will have an effect on the just in time process most manufacturers have.
However, the coronavirus is also expected to slow down global production; plants have been closed temporarily and a reduction in the supply of some automotive components is likely to hit vehicle production. Hyundai has indicated that it will be slowing or halting production in a number of its South Korean plants due to a shortage of parts from China. 40% of Hyundai's total global production comes from South Korea.
Interestingly, Tesla's stock price continued to increase, reaching a high of US $887 per share (Jan 4th 2020) resulting in a market share of cUS$140bn. Panasonic indicated that its battery joint venture with Tesla was now profitable for the first time. Investment firm ARK Invest indicated that Tesla could be valued at US $7,000 per share by 2024, which would give the company a market cap of US $1.2trillion!! However, sales of Tesla's US vehicles fell by 65% YoY in January1, only time will tell.
To discuss these trends further, contact Owen Edwards
New vehicle registrations by brand - January 2020
| | | | |
| --- | --- | --- | --- |
| Brand | Jan 2020 | Jan 2019 | % change YoY |
| Abarth | 220 | 260 | -15.38 |
| Alfa Romeo | 202 | 299 | -32.44 |
| Alpine | 10 | 16 | -37.50 |
| Audi | 9,760 | 8,632 | 13.07 |
| Bentley | 178 | 130 | 36.92 |
| BMW | 10,078 | 9,553 | 5.50 |
| Chevrolet | 0 | 0 | 0.00 |
| Citroen | 3,050 | 3,887 | -21.53 |
| Dacia | 1,222 | 2,475 | -50.63 |
| DS | 285 | 253 | 12.65 |
| Fiat | 1,711 | 1,676 | 2.09 |
| Ford | 16,377 | 16,629 | -1.52 |
| Honda | 3,190 | 3,700 | -13.78 |
| Hyundai | 4,005 | 5,778 | -30.69 |
| Infiniti | 0 | 32 | 0.00 |
| Jaguar | 2,325 | 2,121 | 9.62 |
| Jeep | 472 | 372 | 26.88 |
| Kia | 6,284 | 8,328 | -24.54 |
| Land Rover | 5,613 | 5,601 | 0.21 |
| Lexus | 1,454 | 1,007 | 44.39 |
| Lotus | 9 | 7 | 28.57 |
| Maserati | 71 | 83 | -14.46 |
| Mazda | 2,025 | 2,724 | -25.66 |
| Mercedes-Benz | 11,130 | 12,249 | -9.14 |
| MG | 1,846 | 754 | 144.83 |
| MINI | 2,232 | 3,251 | -31.34 |
| Mitsubishi | 1,413 | 1,213 | 16.49 |
| Nissan | 8,251 | 6,969 | 18.40 |
| Peugeot | 5,129 | 5,653 | -9.27 |
| Porsche | 639 | 581 | 9.98 |
| Renault | 2,904 | 3,365 | -13.70 |
| SEAT | 5,201 | 5,522 | -5.81 |
| Skoda | 4,966 | 5,402 | -8.07 |
| smart | 25 | 490 | -94.90 |
| Ssangyong | 103 | 208 | -50.48 |
| Subaru | 49 | 174 | -71.84 |
| Suzuki | 1,794 | 3,006 | -40.32 |
| Toyota | 7,903 | 8,575 | -7.84 |
| Vauxhall | 9,236 | 12,250 | -24.60 |
| Volkswagen | 13,197 | 13,224 | -0.20 |
| Volvo | 4,107 | 4,079 | 0.69 |
| Other British | 217 | 278 | -21.94 |
| Other Imports | 396 | 207 | 91.30 |
| Total | 149,279 | 161,013 | -7.29 |
Source: SMMT
1. Wards Intelligence, https://wardsintelligence.informa.com/