NAVIGATING BREXIT
Need practical advice on navigating Brexit?
Discover our practical steps for business leaders
New car registrations have decreased in the UK, but the effect is much more significant in China. Owen Edwards explores the situation.
New car registrations in the UK fell during February at an annualised rate of 2.9%, declining from 81,969 units in February 2019 to 79,594. This indicates that the market remains tough, although consumer confidence has picked up from a low of -14 to -7 – a level last seen in August 2018. However, this improvement in consumer confidence should be viewed with a degree of caution as coronavirus may undermine consumer confidence and spending over the coming weeks and months.
UK new car registrations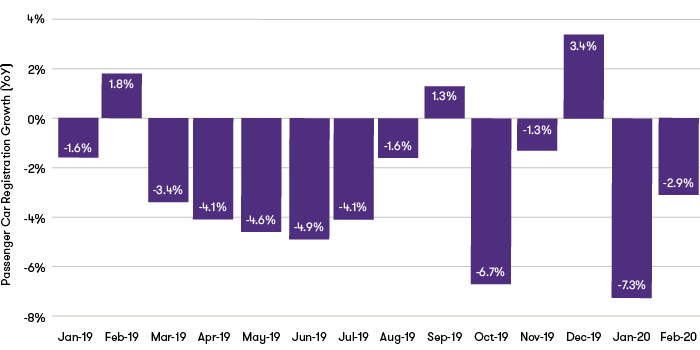 Source: SMMT
Private registrations fell by 7.4%, suggesting that the average retail customer is still not buying cars, while growth in fleet registrations stagnated. Although business registrations rose by 29.6%, this represents a relatively small proportion of the overall market. Only two months into the year, registrations year to date have fallen by 5.8% YoY.
Once again, diesel registrations suffered, declining by 27.1% YoY in February. The market share held by diesel registrations remained above 20% in February; meanwhile, alternative fuel vehicles (AFV) continued to gain market share with the strongest growth in the MHEV diesel sector.
The premium German brands (Mercedes Benz, BMW and Audi) continued to take market share, accounting for a combined 21.2% in February, while the three largest volume brands by market share – VW, Ford and Vauxhall – accounted for 28.3% of new vehicle registrations during the month. Interestingly, both Mercedes Benz (market share 7.2%) and BMW (market share 8.3%) have a greater market share than the third-largest volume brand, Vauxhall (market share 6.4%).
Consumer confidence index
Source: GfK
Although consumer confidence appears to be improving, the consumer confidence index remained in February at -7. Compounding this, there are now other uncertainties on the horizon, notably the rapid spread of the coronavirus in China which is negatively affecting both the sale and supply of vehicles. New vehicle registrations in China in February dropped by 80% YoY as Chinese buyers continued to stay away from dealerships.
China - YoY % change in passenger car sales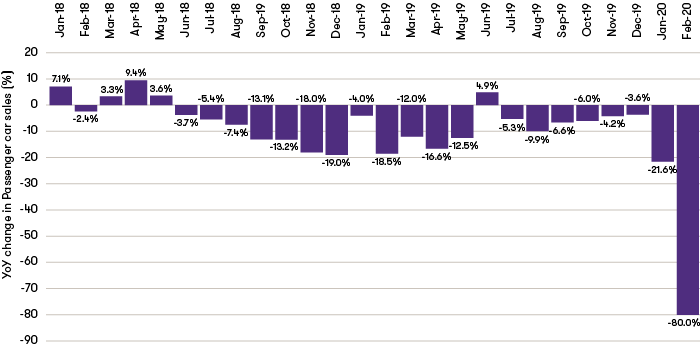 Source: Bloomberg
Although a reaction of this scale is considered unlikely to take place in the UK, it has been reported 24%1 of general retailers have experienced disruption to their supply chains. Moreover, only 7% of retailers said that they were able to switch their suppliers. Furthermore, 23% of people surveyed by Retail Economics said they were avoiding contact with other people, with 15% avoiding public transport. Translating this to the automotive retail sector, this suggests that footfall is likely to be down in dealerships during the crucial month of March.
Compounding this, there is also a risk of vehicle supply shortages as time goes on, as disruptions to supply chains lead to a shortage of parts entering the OEMs. This is unlikely to have an immediate effect because of the long lead time involved in shipping vehicles across the world. Over time, however, a shortage of both parts and vehicles seems inevitable – and a lack of vehicles available to sell will compound problems for importers and dealers. The first quarter and second quarter of 2020 are therefore likely to be difficult for the automotive industry, with the hope of recovery in Q3 and further head winds in the UK are expected in Q4 as we creep closer to the UK exiting the EU.
For further information on automotive business viability, contact Owen Edwards
1. Retail Economics, https://www.retaileconomics.co.uk/