NAVIGATING BREXIT
Need practical advice on navigating Brexit?
Discover our practical steps for business leaders
With base rates at historic lows, customer attitudes to debt, house purchase and new technology are changing. Mortgage providers are evolving using innovations drawn from the retail and telecom sectors to engage their existing customers in different way and secure the significant prize of repeat purchase.
Those providers adopting the innovative practices used in telecoms and retail sectors are seeing a marked increase in performance compared to those following more conservative approaches to retaining their customers.
We can see the impact of technology in our everyday lives, and Financial Service provision is no exclusion.
Technology has redefined the provider's relationship with their customer. Customers now have the power to make an informed choice and execute that decision. Similar to other industries, Financial Services is recognising the customer's affinity to their brand is key to the next purchase.
Given the overall volumes of UK customers rolling off fixed rate deals, mortgage retention is a high stakes business, making it imperative for providers to get their strategy right. Factors such as the role of intermediaries, competitive interest rates, fierce competition, legacy technology difficulties and regulatory obligations complicate change. Perhaps it is unsurprising we see a significant and growing gap between those providers doing it well and those who are not.
Increasing a mortgage customer's affinity to a brand is very tough, not only is the customer's choice of mortgage driven by price (interest rate and fees) and intermediary actions, it traditionally commands a lower degree of 'customer affinity' than other financial service products. The diagram below (Graph 1) highlights (against the four dimensions of customer affinity namely caring, trust, ease of doing business and reputation) the 'affinity' gap between mortgages and other retail banking products.
Graph 1: Overall market advocacy for mortgages in UK retail banking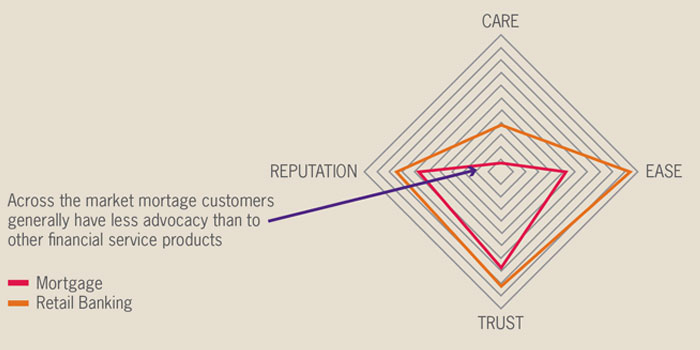 Source: Grant Thornton's Customer Loyalty and Experience Index (CLIX) 2016*
The regulatory environment also remains challenging as the FCA focuses on the mortgage market in a post MMR (Mortgage Market Review) world.
Regulatory challenges for providers include:
how fairly and sustainably providers are making their money
the level of transparency in their relationship with brokers (in particular in the use of panels)
whether decisions accurately reflect the customer's position (for example the right loan to value, or overall degree of customer exposure)
their ability to identify vulnerable customers.
Regulatory scrutiny is only likely to increase as the FCA's thinking matures and focuses on areas such as back book premium pricing, understanding of individual customer circumstance and 'non-disturb' strategies.
The industry response is sharply divided, those providers adopting innovative solutions and those who continue to make slow, incremental steps. This latter group is seeing a 'car crash' unfolding as they project levels of mortgage roll over and the increased likelihood the customer will leave. After all, there seems limited point in making a mortgage sale at a tempting (loss leading) rate only to lose it 24 months later at roll off as a result of poor customer engagement.
Good practices include building customer affinity around trust and caring, from the moment the business is written. This can be achieved through proactive customer engagement using relevant (not sales) content, personalised messages, integrated channels and unique propositions to encourage roll over not roll off. By leveraging their existing customer data, supplementing it with wider data sources and deploying strong data analytics innovative providers are in a strong position.
Some firms seem unable to change their old practices and continue to only re-solicit their customers in the last few months before roll off, using contact strategies suiting their systems and processes rather than engaging customer in their channel of choice, in addition the providers do not offer those customers unique propositions which leaves them exposed to the threat of brokers building a stronger bond with their customers.
Customers will reward firms who are seen to be putting them first and who have fostered a relationship with them over the whole period of the mortgage deal. Without that customer oriented approach rolling over rather than rolling off would be like the roll of a dice…… down to chance.
Authors: Ewen Fleming, Paul Willis and Charles Roe.
* Grant Thornton's Customer Loyalty and Experience Index (CLIX) 2016 is available upon request, please contact Paul Willis.