Grant Thornton uses cookies to monitor the performance of this website and improve user experience
To find out more about cookies, what they are and how we use them, please see our privacy notice, which also provides information on how to delete cookies from your hard drive.
The recent commodity price correction has severely affected the mining sector in Africa, and while some prices - gold, for example - have recovered some of the losses, they are still well below historic highs.
Given the economic slowdown in China, trade wars, the strengthening dollar, Brexit and general uncertainty, many companies currently find themselves in a vulnerable position with challenges likely to intensify in the first half of 2019. The good news is that there are opportunities for businesses with effective corporate governance, an understanding of the funding landscape, growth options and strong balance sheets.
We analysed the recent performance of over 200 companies with mining interests in Africa. Our findings showed that while financial performance has not recovered sustainably, average net debt and total liabilities on the balance sheet of miners with subsidiaries in Africa are still comparable to 2012 levels. That suggests the sector has not moved on favourably from where it was five or six years ago, in terms of reducing debt and generating shareholder value.
Our research findings
Market capitalisation decreased from £2.1 billion to £1.6 billion
EBITDA dipped to £306 million before increasing to £621 million
Net debt increased from £565 million to £567 million
Total liabilities remain largely unchanged at £2 billion
Average financial position of companies with mining interest in Africa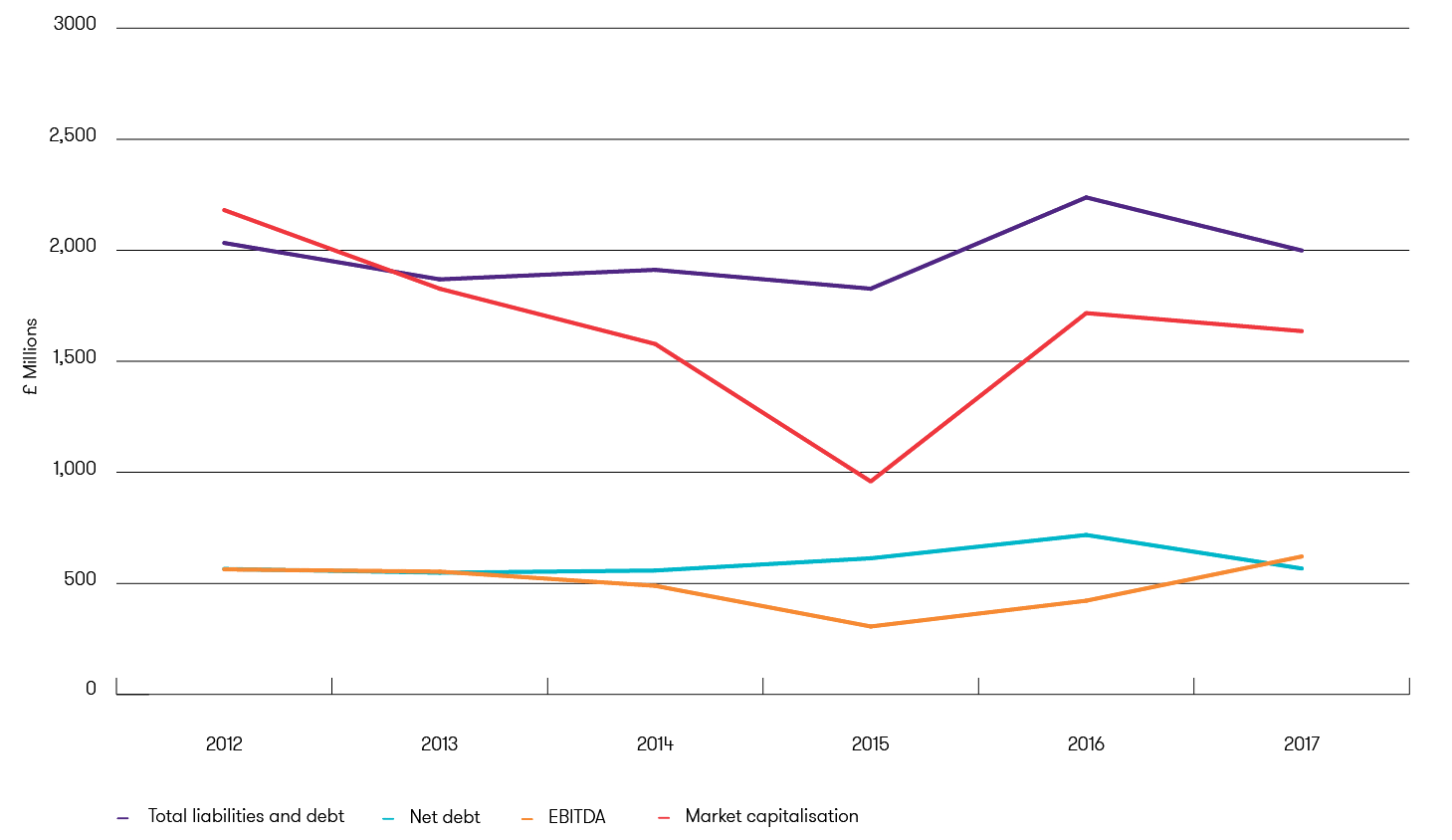 Source: Grant Thornton UK research, 2018.
At the same time, our research demonstrates the difficult environment facing stakeholders, with the commodity price slump significantly affecting market capitalisation. The combination of falling market capitalisation and higher levels of debt does not bode well for capital expenditure, as both are highly likely to be prioritised when commodity prices begin to recover, absorbing any additional cash generated and hindering development of further assets.
Mining companies need to brace themselves for another tough market cycle and address the problems that might prevent them from accessing desperately needed capital from banks, stock markets or private equity.
Overcoming barriers to funding is vital in Africa
The danger for many companies is that, having already suffered an extended period of low cash generation and lagging share values, shareholders will not be in a strong position to provide new capital. Traditional sources of funding will also be scarce as African banks have not recovered from the last natural resources downturn and are still under pressure to address existing non-performing loans.
The alternative funding options are largely restricted to private equity or the stock market, which may not be suitable for all companies.
Ensuring your business is an attractive investment
There are a number of immediate steps that business leaders should take to become more attractive to investors.
Get your board in shape. Enhance decision-making processes, strengthen boards with experienced independent directors, improve reporting of effectiveness and accountability, and distil general corporate governance principles throughout the organisation. Find out more in our Corporate Governance Review 2018.
Address your financials. Many companies have not deleveraged, and they still have unsustainable levels of debt on their balance sheets. These companies need to engage with their creditors and the banks that fund them to explore how they can optimise their capital structures and gain enough headroom to introduce further funding to sustain growth in the future.
Review and dispose of non-core assets and unattractive commodities. There are certain assets and minerals that will attract a premium based on current global trends, such as cobalt, nickel and anything connected to battery technology, which is going to drive the electric vehicle revolution. Other once-staple commodities like thermal coal have become less promising over time and may be worth divesting. Read our latest insight about the electricity revolution and the rise of the electric car. Moreover, African mining companies need to focus on those assets which generate the most shareholder value, which are generally those which benefit from low cost, high grade and long mine lives.
Understanding best-practice governance for your business, as well as the funding and growth options best-suited to your needs requires an investment of time and access to external advice. There is still huge potential and untapped resources in the market, but in order to seize opportunities the pain needs to be faced now, and financial problems tackled head-on.
For more information, or to discuss opportunities in Africa please contact Amaechi Nsofor or Richard Tonthat.
Specialist international services