Grant Thornton uses cookies to monitor the performance of this website and improve user experience
To find out more about cookies, what they are and how we use them, please see our privacy notice, which also provides information on how to delete cookies from your hard drive.
Are FM deals back on trend?
Overall M&A activity in the UK facilities management sector suffered a slowdown in 2018 (see figure 1), but we've seen an increase in mid-market deals as companies look to consolidate in a fragmented market and bolster their specialist service offerings.
Figure 1 - UK facilities management management transactions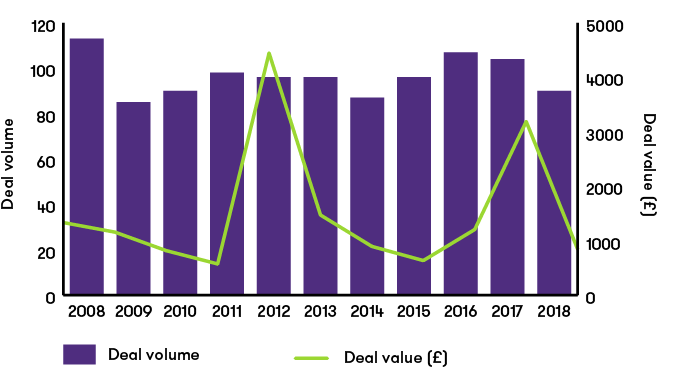 The FM sector saw a dip in both the value and volume of M&A deals completed during 2018, compared to the previous two years. We tracked a total of 90 deals valued at just under £850 million last year.
So, what's behind the slowdown?
M&A has been more subdued across all sectors over the last year. In the FM sector, what we've seen is really a return to the more normal levels of deal activity seen in 2014-15, following a spike in deal values in 2016-17.
That spike was largely the result of a number of major transactions in the sector, as larger European corporates looked to capitalise on the post-Brexit referendum devaluation of sterling. These included Elis's £2.2 billion acquisition of Berendsen to create a pan-European textile, hygiene and facility services business and Engie's £330 million acquisition of Keepmoat's regeneration business.
Corporate caution
We saw a reduced appetite among European conglomerates for larger transactions during 2018 as Brexit loomed closer, and a shift in thinking away from foreign exchange arbitrage. The big exception to this trend was Atalian's acquisition of Servest's UK operation for a reported £540 million.
A combination of Brexit uncertainties, the 'Carillion effect' and an emphasis on enhancing the value created by recent M&A activity, has led to a shift in focus for a number of larger FM players. From market observations, It seems their priorities are now optimising operations and strengthening their balance sheets.
Companies that have previously been very active on the acquisition trail now appear more cautious, although there's always the possibility of opportunistic deals. These companies are now more focused on optimising capital structures by deleveraging to support long-term sustainable growth.
Mid-market opportunities
Despite the overall trend for a slowdown in M&A, there continues to be a steady level of activity in the mid-market. This is due to further consolidation plays from SMEs looking to diversify their services as the FM market continues to grow steadily.
Our research supports this. It shows that average deal value for sub-£100 million deals in the FM sector in 2018 increased by more than 50% compared to 2017.
Growing concerns over the delivery of large total facilities management (TFM) contracts in the wake of Carillion's collapse last year, together with the government's initiatives to encourage SMEs to win public sector contracts have bolstered opportunities for mid-market contractors.
So, we may well see further M&A opportunities for these mid-market players as they look to capitalise on bundled contracts from blue-chip clients as a platform for future growth.
Take Marlowe plc's acquisition strategy for example. The company has made more than 20 acquisitions since 2016, focused on regulated services, recurring revenues, operational complexity, economies of scale and strategic fit in a fragmented market. Chief executive Alex Dacre says that Marlowe's "disciplined approach to M&A, quick decision making and the operational improvements we implement, when married with our access to capital to invest in growth, creates superior returns and provides a platform for significant growth".
Sub-sector trends
It's the fire and security and mechanical and electrical (M&E) sub-sectors within FM that have been the most active for M&A over the last year, accounting for 38 deals (see figure 2), primarily driven by mid-market players.
Figure 2 - UK facilities management sector target classification 2018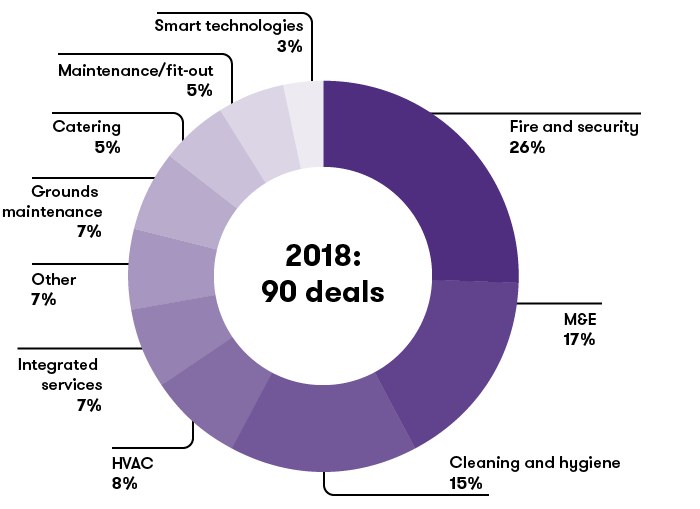 Fire and security
UK companies continue to commit more resources and budget to regulatory compliance and fire risk assessments in the wake of the Grenfell Tower tragedy. We've seen continued growth of M&A in this sub-sector, with 23 deals in 2018, as mid-market players look to capitalise on increased client spend and the ability to self-deliver these critical services.
For example, our corporate finance team advised on the disposal of Thermotech Solutions to Atalian Servest, enabling Atalian to provide what is describes as "a critical self-delivered solution in the rapidly expanding fire protections sector".
Mechanical and electrical (M&E)
The M&E sub-sector has also witnessed high levels of activity, contributing 15 deals in 2018. The importance of uptime to M&E assets within critical environments has made FM companies that can self-deliver technical M&E services particularly attractive to mid-market acquirers seeking to strengthen their service capability and improve margins.
In particular, we've seen lots of M&A interest in companies that deliver electrical compliance-related services. The ability to use smart technologies to deliver these services offers buyers long-term visibility of earnings and better margins.
This rationale was the key driver behind PTSG's acquisition of Guardian Electrical Compliance last year for example. According to PTSG, the transaction reflects its determination to further grow its revenues from compliance-related services, which it says are now at record levels. "We believe Guardian's proprietary software is unique in the market and, when combined with our own in-house platform, Clarity, will provide our customers with a highly advanced and compelling compliance solution", it said.
Cleaning and hygiene
There has also been strong interest in acquisitions of cleaning and hygiene specialists, which accounted for 15% of M&A market share last year.
The fall-out from blue-chip clients tendering TFM packages to larger corporates following the Carillion collapse has created an opportunity for mid-market players to capture more bite-sized contracts as a platform for growth. And some of these companies are now looking to consolidate these activities through acquisition.
Disruptive technology
New technology and automation continue to play a key role in shaping and disrupting the way FM companies deliver their services. Innovative tech is increasingly being used to optimise end-to-end maintenance of both technical and people-led services.
As the previously hard lines between technology and FM continue to blur, we can expect to see further M&A activity, particularly as clients place greater emphasis on supporting the wellbeing of their people rather than focusing purely on cost-cutting measures.
Engie's acquisition of Smart Buildings, an online, cloud-based building management provider offering software-as-a-service solutions is just one example of how these trends are shifting the M&A focus from pure-play scale to optimising service delivery.
According to Engie, this acquisition is the next step in achieving its goal of being a key player in the smart buildings market. "By combining the cutting-edge technology that Smart Building Ltd has developed, with our strength in FM and energy, we will be able to add even greater value for our customers in helping them to improve their performance, optimise their workplaces and increase employee wellbeing," the company said.
Deal outlook - So where does M&A go from here?
The dip in M&A activity seen over the last year in the FM sector has been due primarily to the slowdown in corporate activity influenced by the continuing uncertainty over Brexit. However, we expect this drop in activity to be offset by an increase in non-core disposals, meaning potential carve-out opportunities for niche PE houses and mid-market trade buyers.
With corporate boards exercising greater caution over their acquisition strategies as they focus on the fruits of their recent M&A exploits, we're also likely to see a greater focus on deal vetting, upfront due diligence and more onerous legal processes to get deals over the line.
We're expecting a continued steady flow in mid-market deal activity, as both private equity and trade buyers look to seize opportunities in specialist sub-sectors such as fire and security, M&E and compliance-led services. Increasing use of disruptive technology is also playing a growing role in shaping the direction of the sector and this is likely to continue the move away from pure-play acquisitions for scale.
As ever, we are here to help companies on both sides of the M&A fence to understand the issues and make the most of the opportunities the FM market presents.
For further information, please contact Usman Malik.