Big-ticket mergers and acquisitions dominated Indian deal activity in the first quarter of 2017. Q1 witnessed one of the largest deals ever seen in India, with the merger of Vodafone and Idea, estimated at a whopping US$27 billion. This alone drove a two and a half-fold increase in overall deal value compared to the same period last year.
Overall, there were nearly 300 deals recorded in Q1 2017 with a total value of US$33.7 billion. This was a sharp increase in value compared with the first quarter of 2016, which saw deals worth US$10.9 billion. The number of deals in Q1, however, declined by 27%.
M&A activity was driven largely by consolidation among domestic companies. Private equity investments remained subdued, except at the smaller start-up end of the market and cross-border deals were similarly muted for the quarter.
Table 1: Deal summary - Q1 2017
Volume
Value (US$ million)
2015
2016
2017
2015
2016
2017
Domestic
65
66
54
1,497
2,464
2,558
Cross-border
64
51
46
5,297
4,860
1,717
Merger & internal restructuring
2
7
5
11
563
27,265
Total M&A
131
124
105
6,805
7,886
31,540
Private equity
220
284
192
2,594
3,024
2,116
Grand total
351
408
297
9,399
10,910
33,656
Cross-border includes
Inbound
29
19
24
4,728
2,460
1,137
Outbound
35
32
22
569
2,400
580
Source: Grant Thornton Dealtracker
Q1 M&A activity
Indian M&A transactions alone were valued at US$31.5 billion in Q1 2017, a four-fold year-on-year increase. The primary driver of this growth in M&A activity was strong consolidation in the domestic market. This was supported by healthy capital markets and easing credit conditions, which enabled companies to strike big-ticket deals either to slash debt or consolidate their market share. A number of these M&A deals have been driven by companies aiming to achieve forward or backward integration to give them competitive advantages and opportunities to optimise returns.
By contrast, cross-border deal activity is yet to pick up pace in 2017 compared with previous quarters due to uncertainties in the global economy.
Table 2: Top M&A deals - Q1 2017
| | | | |
| --- | --- | --- | --- |
| Acquirer | Target | Sector | Disclosed values US$ million |
| Oil and Natural Gas Corporation Ltd | Gujarat State Petroleum Corporation Ltd.'s – Krishna - Godavari basin | Energy & Natural Resources | 1,195.26 |
| PropTiger Realty Pvt Ltd | Housing.com - Locon Solutions Private Limited | Start up | 250 |
| Bharti Airtel Ltd | Tikona Digital Networks Pvt. Ltd's 4G business | Telecom | 244 |
| Havells India Ltd | Lloyd Electrical and Engineering Ltd - Consumer durables business unit under the Lloyd brand | Manufacturing | 235.29 |
| Bharti Airtel Ltd | Telenor (India) Communications Pvt Ltd | Telecom | 235.29 |
| JERA Co. Inc | ReNew Power Ventures Pvt. Ltd | Energy & Natural Resources | 200 |
| Alibaba.com Singapore E-Commerce Pvt | One97 Communications Ltd - Paytm | E Commerce | 177 |
| Piramal Enterprises Ltd - Critical Care | Mallinckrodt LLC - portfolio of anti-spasticity and pain management drugs | Pharma, Healthcare & Biotech | 171 |
| Aurobindo Pharma Ltd- Agile Pharma BV | Generis Farmaceutica SA | Pharma, Healthcare & Biotech | 142.5 |
| Abertis Infraestructuras SA | GMR Jadcherla Expressways Private Limited (74%) and Trichy Tollway Private Limited (100%) | Infrastructure Management | 133.09 |
Source: Grant Thornton Dealtracker
Key M&A sectors
In addition to the big-ticket consolidation in India's telecom sector amid increasing competition, the energy & natural resources sector also saw M&A transactions worth more than US$1 billion.
Consolidation in the start-up space drove M&A deal volumes. Another interesting trend saw increased consolidation between legal and consulting firms in India such as the deal between Link Legal India Law Services and DH Law Associates; and between Phoenix Legal and ASC Legal, Solicitors and Advocates (India). Growing competition and the imminent introduction of the Goods and Services Tax (GST) in India is encouraging players in this segment to consolidate and expand their footprint in the country.
Q1 private equity and venture capital activity
Private investment activity started Q1 2017 on a tepid note, with private equity deal-making remaining weak.
Venture capital firms were cautious about backing start-ups in the first three months of the year, recording just US$2.1 billion in investments – a 30% fall compared with Q1 2016. Interestingly, however, in an environment of reduced investments from larger venture capital and private equity players, we witnessed a greater number of smaller angel and seed-stage investors backing start-ups, compared to levels seen in the previous quarter. By contrast, companies looking for larger investments may struggle to find investors in the coming quarters.
Table 3: Top PE deals - Q1 2017
| | | | |
| --- | --- | --- | --- |
| Investor | Investee | Sector | Disclosed values US$ million |
| Warburg Pincus | PVR Ltd | Media & Entertainment | 120.4 |
| Caladium Investment Pvt Ltd | CanFin Homes Ltd | Banking & Financial Services | 113.12 |
| True North | Home First Finance Company India Pvt Ltd | Banking & Financial Services | 100 |
| Carlyle Asia Partners and Tiger Global Management | Delhivery - SSN Logistics Pvt. Ltd | E Commerce | 100 |
| TA Associates, True North, Tata Opportunities Fund, LeapFrog Investments, SIDBI, Kotak Mahindra Old Mutual Life Insurance Ltd and Edelweiss Tokio Life Insurance | Fincare Business Services Pvt Ltd | Banking & Financial Services | 74.63 |
| Sands Capital, International Finance Corp, Accel Partners, Flipkart Ltd and angel investor | Zinka Logistics solutions Pvt Ltd - Blackbuck | Start up | 70 |
| Piramal Fund Management | Vatika Group | Real Estate | 62.5 |
| FTV Capital and Zodius Capital | MarketsandMarkets Research Pvt. Ltd | IT & ITES | 56 |
| REA Group and SoftBank | Proptiger Realty Pvt Ltd & Locon Solutions Private Limited - Housing.com | Start-up | 55 |
| Tencent Holdings Pvt Ltd, Sequoia Capital, Matrix Partners, Google Capital, Sofina, RSI Fund, Thrive Capital, ru-Net and Altimeter Capital | Practo Technologies Pvt Ltd | E Commerce | 55 |
Source: Grant Thornton Dealtracker
Key private equity sectors
The eCommerce sector continued to attract private equity and venture capital investments, with US$562 million invested across 12 deals in Q1. Notably, 118 start-ups received combined investments of more than US$428 million – an encouraging sign for India's emerging start-up ecosystem.
Cross-border activity between India and Europe
Cross-border activity in Q1 2017 stood at US$564 million, a two-fold decline compared with an unusually active Q4 2016. There were only nine cross-border transactions in Q1 compared to 18 in the previous quarter, but the value of these deals increased five-fold on a year-on-year basis.
Outbound activity declined by 82%, while inbound volumes also remained muted compared with Q4 2016. France led the inbound activity both in terms of values and volumes. Deals included Ingenico Group's acquisition of TechProcess Payment Services Ltd estimated at US$88 million, the Louvre Hotels Group's acquisition of a majority stake in Sarovar Hotels Pvt. Ltd estimated at US$50 million; and the sale of Hindustan Motors' Ambassador brand to Peugeot – valued at US$12 million. Portugal and Switzerland attracted the attention of domestic investors with Aurobindo Pharma Ltd - Agile Pharma BVs' acquisition of Generis Farmaceutica SA for US$142.5 million; and Aurobindo Pharma Ltd's acquisition of four biosimilar products from TL Biopharmaceutical AG.
The infrastructure (32%) and manufacturing (30%) sectors led inbound deal activity in value terms, while outbound deal activity was exclusively in the pharma sector.
Graph 1: Cross-border activity between India and Europe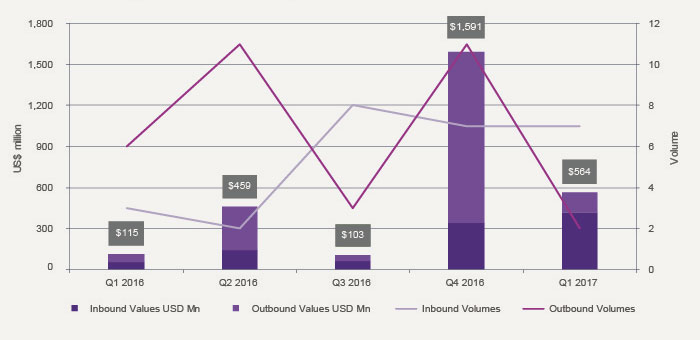 Source: Grant Thornton Dealtracker
Outlook
M&A activity in 2017 is expected to stay positive owing to the sustained interest in the Indian economy. A focus on consolidation and expansion are set to be the major themes behind deal activity, particularly for the healthcare, telecom, e-commerce and infrastructure sectors. In the financial services sector the possibility of new business models emerging post-demonetisation, continued fund-raising by non-banking financial companies (NBFC) and a consolidation push by micro-finance firms will play a big role.