NAVIGATING BREXIT
Need practical advice on navigating Brexit?
Discover our practical steps for business leaders
Find out what the UK mid-market looks like – and what is holding it back – as we present our Agents of growth infographic and research into mid-sized businesses.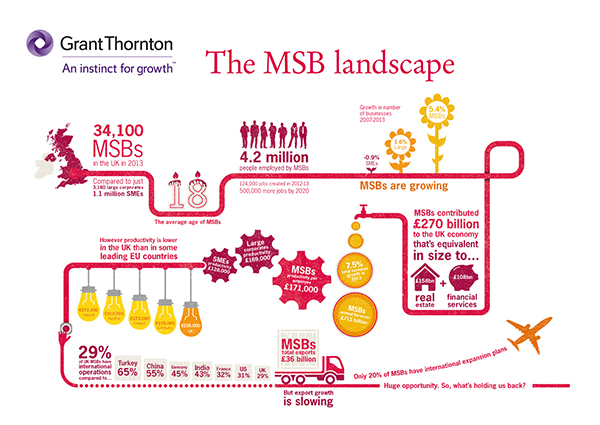 Our infographic – download the report to see at full size – outlines some of key numbers in the UK's medium-sized business (MSBs) landscape:
34,100 MSBs in the UK
Average company age of 18 years old
Contributing £270 billion to the UK economy
4.2 million employees
124,000 jobs created in 2012-13
Sector grew through the downturn – 5.4% between 2007-13
Higher productivity per employee than SMEs or large corporates
£36 billion in exports
29% have international operations
Only 20% have international expansion plans
Our extensive research, conducted along with the Centre of Economics & Business Research (Cebr), provides the most comprehensive picture yet of UK medium-sized businesses and how they are outperforming the market on many fronts. Yet the research, as well as our recent Agents of growth summit events for MSB leaders, also highlighted significant obstacles to further growth and expansion.
This analysis has been summarised in our report, Agents of growth: The power of mid-sized businesses, where we reveal a segment of the UK economy that is seeking – and finding – growth despite recent tough economic conditions.
Scott Barnes, CEO, Grant Thornton UK, introduces the research in his executive summary:
"The UK mid-market – around 34,000 firms of 50 to 499 employees – is a vibrant and dynamic business segment, the unsung powerhouse of the economy. MSBs are often overlooked by policy-makers, whose initiatives are geared either toward large corporates or small enterprises, yet they play a pivotal role in employment and innovation. This is why we have conducted, for the second time, extensive research into the behaviour, performance and attitudes of the UK MSBs.
"The outcome of our research reveals that the mid-market was the most resilient segment during the economic downturn. In recent years, these businesses have shown an impressive rise in productivity – placing them on a par with large corporates – and their employment growth now beats that of smaller and larger firms. They have also outpaced larger and smaller firms in R&D and capital spending growth. What's more, they are optimistic about the future, generally expecting to increase their workforce and turnover.
"Our research gives insights into maturity, ownership and debt gearing, and also reveals the challenges and obstacles to growth perceived by MSB leaders. What emerges is a generally conservative attitude to risk and a low appetite for international expansion. The challenges identified by business leaders include access to suitable funding, a shortage of skills and expertise, and excessive red tape.
"These challenges were echoed by delegates at our recent Agents of growth summits for mid-market leaders, held in Reading, Birmingham, Manchester and London. Often, solutions to these challenges may be found on a local level – a fact underlined by the Local Enterprise Partnerships (LEPs) at our summit events. To help overcome challenges and support mid-market ambition in their region, local authorities need to continue to develop their understanding of the needs of MSBs in their area and target resources in response, in alignment with their overall strategies for economic regeneration and driving business growth.
"Given the potential of the mid-market as an economic powerhouse for the UK, I hope this report demonstrates how vital it is that challenges are addressed both nationally and locally. That's why we have made recommendations to both MSBs and the Government on how we maximise growth opportunities for the mid-tiers, and create a stronger economy for all."
Download the full report
Download PDF [7328 kb]