Grant Thornton uses cookies to monitor the performance of this website and improve user experience
To find out more about cookies, what they are and how we use them, please see our privacy notice, which also provides information on how to delete cookies from your hard drive.
Capital allowances have enjoyed a number of years of relative consistency, without any landmark changes in budget announcements
In the 2017 Budget, for instance, the main change was to make enhanced capital allowances (ECAs) available on vehicle charge points. A year on, ECAs are to be scrapped and a number of other major alterations have been announced in one of the most eventful budgets and significant financial bills in the history of the capital allowances regime.
Some changes were anticipated, while the more major reforms were completely unexpected. As such, there are now, more than ever before, significant opportunities for businesses to claim more tax savings by carefully considering the segregation and treatment of commercial construction projects. The key is to consider the capital allowances changes early to ensure opportunities to optimise tax savings are not lost. So, what are the proposed Financial Bill (No.3) 2018 changes and how can they affect your business?
Annual investment allowance increase
Since April 2018, the annual investment allowance (AIA) has allowed businesses to claim 100% of a set threshold of qualifying expenditure on plant and machinery in the year expenditure is incurred. Although the AIA threshold was 'permanently increased' to £200,000 in the Spring Budget of 2015, it has changed again for the seventh time in 10 years and been 'temporarily increased' to £1,000,000 from 1 January 2019 to 31 December 2020. It is expected that the AIA will return to £200,000 after this date, but this could be altered again by either this government or the next.
Special Rate Pool reduced
The writing down allowance rate for qualifying plant and machinery in the special rate pool will be reduced from 8% to 6% per annum. This includes integral features, such as air conditioning and lighting systems, as well as long life assets. This change has been made to partially fund the introduction of the structures and buildings allowance (SBA) and will take affect from April 2019.
ECAs scrapped
ECAs are a 100% first year tax relief to business incurring qualifying expenditure on energy and water efficient technologies. The government has announced ECAs will end in April 2020, although ECAs on electric vehicle charge points will continue for companies until April 2023. The government announced that ECAs added complexity to the tax system and there are more effective ways to support energy efficiency.
In practice, ECAs were woven into a complex framework and the administrative burden of claiming ECAs was felt by many businesses. However, it is disappointing that simplifications to the framework were not proposed rather than ending the relief, as there is now little incentive for SMEs to invest in efficient technologies over cheaper, less efficient installations.
Structures and buildings allowance
Without doubt, the biggest capital allowances change was the creation of a whole new relief. The SBA allows a taxpayer to claim all of their capital expenditure on non-residential building construction projects, including new build, refurbishments and fit-outs, as a 2% straight line deduction against taxable profits over 50 years.
On face value, this is great news for taxpayers, as previously non-qualifying expenditure on construction projects can now be claimed as a form of tax relief. This brings the taxation treatment of commercial properties more in line with the accounting treatment. As always though, the devil is in the detail, and the SBA comes with its own complexities that have to be considered carefully before claiming, including:
SBA will only be available on non-residential building and structure construction projects. This does not include expenditure on land or dwellings, including 'other buildings that function as dwellings' such as student accommodation facilities. Shared areas used for both dwelling and commercial use will not qualify for SBA. Where a building or structure is divided into separate parts, that is residential and non-residential, an apportionment of the expenditure may qualify for SBA but with de minimis rules.

The SBA is only available for projects where the related construction contract has been entered into on or after 29 October 2018. Any business that has entered into a construction contract before this date will not be able to claim SBA, even if the project expenditure is incurred after this date. Anti-avoidance rules will apply to prevent manipulation of this rule.

SBA qualifying expenditure will not be eligible to be claimed as an AIA, this will still only be available for qualifying plant and machinery expenditure.

SBA will interact with capital gains tax/chargeable gains (CGT), in that the base cost for CGT purposes will be lowered by the amount of SBA claimed. This will result in a full or partial claw back of the SBA claimed, depending on the claiming entity and the tax rates applicable.

There are no disposal adjustments where SBA is claimed and a purchaser will simply continue claiming the 2% straight line relief over the rest of the 50 year period remaining.

SBA must be claimed in the year the capital expenditure is incurred. It cannot be carried forward and claimed in later periods, it will be lost.

There will be a set of rules and tests to determine whether the SBA remains with the lessor or transfers to the lessee where there is a granting of a lease that is "substantially no different from a purchase of the interest in land". The SBA technical document also suggests that SBA may revert back from lessee to lessors where short leases expire and the freeholder retains their interest.

There are further complexities regarding apportionments and notional SBA claims when a property is acquired from developers or non tax paying entities.
The government has announced a consultation on SBA technical aspects. We have scheduled a meeting with HMRC and HMT to discuss and clarify these points.
The new capital allowances regime
The above announcements represent big changes in the capital allowances landscape but they also present a number of opportunities, particularly in claiming the SBA on elements in new construction works that would normally be 'non-qualifying' for plant and machinery allowances (PMA).
Since the Budget 2018 and the release of the Finance (No. 3) Bill 2018, we have carried out a number of studies on example construction projects, assuming the scenario that the expenditure could qualify for SBA and the £1 million AIA is available.
For instance, using an office construction project as an example, a typical PMA review exercise could identify £5.5 million of PMA against £11.5 million of total construction costs. The balance of £6 million would be treated as non qualifying for PMA purposes. This would provide an estimated tax saving of £940,000 over time, based on the 19%/17% corporate tax rates.
However, where this £6 million non qualifying expenditure is instead allocated to SBA and claimed alongside PMA, the potential tax saving increases substantially to £1.96 million over 50 years, based on a 19%/17% corporate tax rates.
The difference between claiming SBA only, PMA only or SBA and PMA on this example project is displayed in the below cash flow graph, showing estimated tax savings over a ten-year period [see graph 1].
Graph 1: Example tax treatment cash flow comparison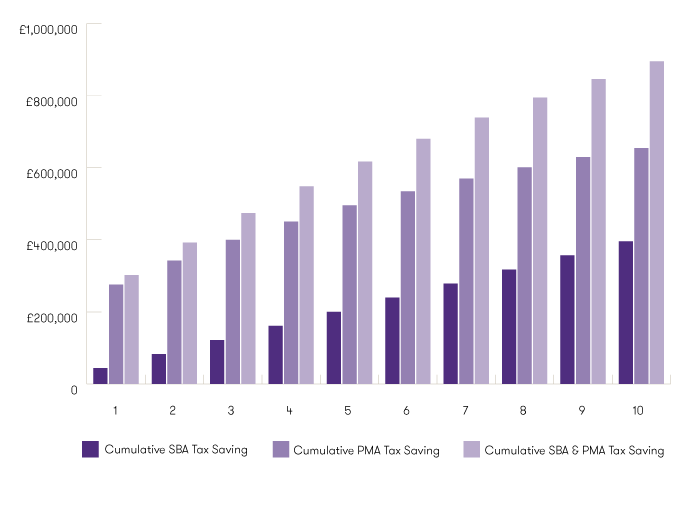 This highlights the opportunities available in the new capital allowances regime. There are a number of considerations that need to be taken into account before making an SBA claim. Take, for example, our sample office project above. A freehold investor developer would likely sell the property in the medium- to long-term, which, depending on market conditions at the time of sale, could result in a CGT charge where a gain is realised and the SBA would be clawed back.
We recommend early consideration of these changes to ensure maximum advantage is taken of the opportunities the new capital allowances regime presents. If you would like any further information, or have any queries on SBA or capital allowances, please get in touch with Peter Stoddart.
Budget 2018
Read our live coverage of the 2018 Chancellor's Budget.
Find out more