NAVIGATING BREXIT
Need practical advice on navigating Brexit?
Discover our practical steps for business leaders
To remain a vibrant capital, London must attract people to live and work here. This is under threat from a mounting housing crisis.
Our Vibrant Economy Index shows that for an area to be vibrant, it requires resilient, affordable and attractive built environments. However, many cities across the country are struggling to match the growing demand for accommodation and London is no exception. The housing shortage is driving property prices and rents up and is causing Londoners to leave. To remain competitive, we must address this now.
Setting ambitious targets
To tackle the growing need for housing, the Mayor of London has increased the target of building 50,000 new homes each year to 66,000. However, our research shows that we are still falling seriously short of the level of housebuilding needed to combat the ongoing housing crisis.
Working with London First and drawing on our latest detailed Ordnance Survey data, EGi data and Place Analytics' modelling capabilities, our latest research tracks the disruption in housing supply between planning submission, approvals and building completions. Our research shows:
Planning applications are up, but permissions are falling
2017 saw a record number of planning applications: nearly 80,000
The number of 2017 applications represented a 14% increase on 2016 and over 50% on 2010
The number of homes given planning permission continues to fall, from 54,941 in 2014 to just 48,024 in 2017
The 'attrition rate' is increasing
The number of new homes that do not start construction or complete within three years of receiving planning permission has grown, with the attrition rate increasing from 33% in 2016 to 46% in 2017. Of the 55,000 homes granted planning permission in 2014, around 30,000 were built or under construction by the end of 2017
More affordable homes
30% of the 2017 planning permissions were for affordable homes (c14,000 dwellings). This is almost double that of 2010
Affordable home completions increased with 7,510 built compared to 2,379 in 2010
Uneven delivery of homes across London
Around 3,300 homes were built in outer London in 2017 (TfL travel zone 5 and 6)
13% of London's completions are in outer boroughs, despite making up more than half of London's land mass
1,029 new homes completed last year in TfL travel zone 5, compared with 10,106 in zone 2
How can we build more homes to keep London competitive?
Both permission rates and completions are far short of what is required to meet the mayor's new target of 66,000 homes. However, separate research has found that an area's housing supply is significantly boosted by investment into transport infrastructure. Prioritising this type of investment will have a positive impact on the delivery of new housing in London.
Notes:
Analysis of new build developments of 10 homes and more. Excludes homes developed under permitted development rights – conversions from commercial or other use – that are not required to go through the planning system
Fixing the Housing Crisis: Performance Indicators
Download PDF [887 kb]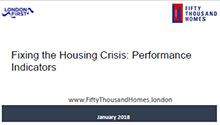 Get the latest insights, events and guidance about the public sector and local government, straight to your inbox.
Subscribe here