On 31 January, Leeds's private, public and third sectors gathered to plan a future Leeds City Region renowned for inclusive growth and successful collaboration. This was the Leeds Live Lab.
More than 300 guests gathered at the NEW DOCK development in Leeds to share ideas about connecting the city's sectors and creating opportunities for city-wide inclusive growth.
Following the appreciative inquiry approach, guests at the Live Lab were encouraged to conceive ideas to contribute to the city's existing strengths, rather than focusing on challenges.
Andy Wood, Grant Thornton UK Yorkshire Practice Leader kicked off the event, describing Leeds as a place to be incredibly proud of, but a place where there is still much to do.
Throughout the day, guests spoke honestly about how they imagine a future Leeds where the private, public and third sectors can collaborate. They were united in optimism that the Leeds City Region could be re-shaped to ensure that everyone who calls it 'home' can benefit from its growth.
The audience was encouraged to think creatively, producing everything from playful limericks to illustrative mind maps and the beginnings of a mayoral campaign.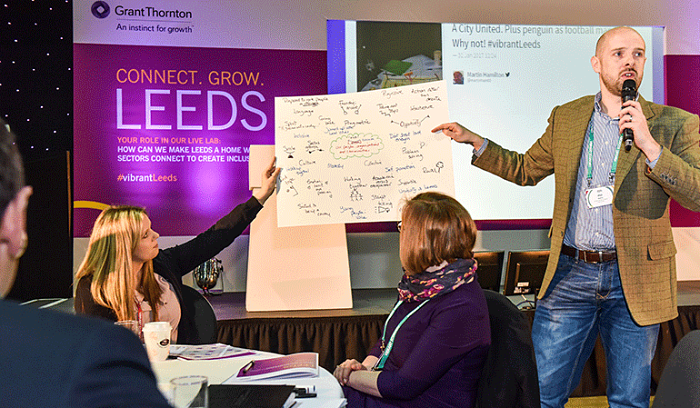 Across the day six key themes arose:
1. Equal opportunities to harness the city's commercial growth
Leeds is a prosperous city, but some areas have been 'left behind'. To become a hub of inclusive growth, Leeds' city centre and suburbs cannot remain divided by a massive wealth and opportunity disparity. Attendees presented boosting access to education and recruitment as ways to increase opportunity.
2. Breaking down sector barriers
It's time to build on recent success and foster collaboration between Leeds's private, public and third sector organisations. Guests used the Live Lab as an example of bringing people who wouldn't usually meet together and helping attendees realise there is far more that unites the city's champions than divides them.
3. Shout about Leeds
Uniquely placed as the leading legal and financial services centre in the UK after London, Leeds boasts strong retail, digital, health and education sectors. In the words of Judith Blake, Leader of Leeds City Council: "Leeds does not just hide its light under a bushel, it hides the bushel also. Leeds must embrace its strengths and shout about what makes the city region a great place to live and work."
4. Greater connectivity
The need to develop improved inner-city transport. One popular proposal was to create a Leeds City Region bond that collected resources from local businesses and organisations to develop a city-wide transport system. A system that would be low-cost, green and community-owned.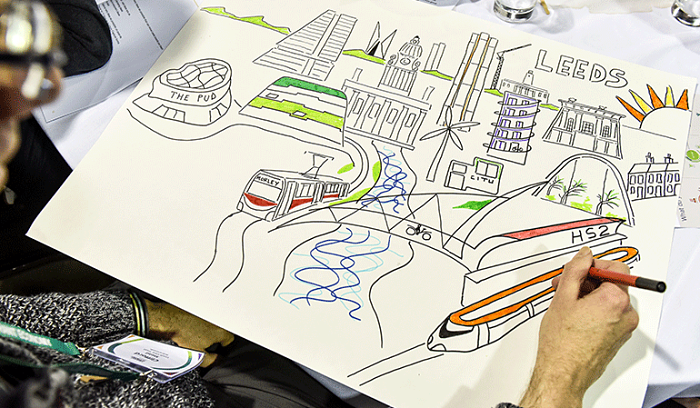 5. Leading locally
Leeds does not have a devolution deal, many guests called for more political power to be devolved to the local level. Striking a deal with Westminster was a proposed avenue to access the resources and authority to achieve long debated and desired projects.
6. Building a 'compassionate' economy
Leeds has a vibrant third sector environment, populated by large anchor organisations and innovative start-ups. It is within their reach and remit to lead on the delivery of more inclusive growth in the Leeds City Region, creating a more 'compassionate' economy. Chief Executive of Leeds City Council, Tom Riordan said the council would continue to forge links between third sector organisations, as well as helping them cross barriers and work closely with other sectors.
Conclusion
To close the day, Judith Blake reminded attendees that one key outcome of the Live Lab was building and sustaining quality relationships. She called on guests to recall why they attended the event in the first place, and why inclusive growth deserves to be at the forefront of their minds: to create opportunities for the city and all the people who live in it.
Our purpose in action
Each year we select 100 inspiring leaders based on their commitment to growth, innovation and purpose.